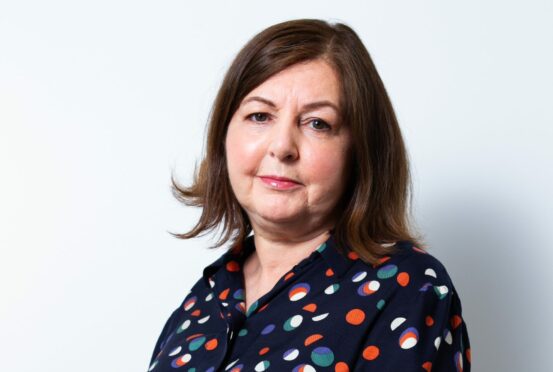 Women in Scotland are ­missing out on one of the safest and most pioneering hormone replacement therapies for the menopause because of a postcode lottery.
A follow-up to TV presenter Davina McCall's landmark menopause documentary investigates the treatment options available to menopausal women across the UK, including the newest form of hormone replacement therapy (HRT) – body identical Utrogestan.
It found that in two of Scotland's biggest cities, Glasgow and Edinburgh, Utrogestan is not on the GP's advisory list of preferred HRT prescriptions.
The natural progesterone and transdermal estrogen extracted from plants is an exact copy of a woman's hormones and, since the estrogen is taken through the skin, there's no risk of causing blood clots, unlike other forms of HRT. It is deemed to be safer than combined estrogen and progesterone pills.
The drug is readily available on prescription in some parts of the UK, mainly the south-east, but has yet to be approved by the Scottish Medicines Consortium (the body that advises doctors on drugs to prescribe) because it was deemed too expensive. The decision was made in 2009 and has not been re-assessed.
The documentary, a follow-up to Davina McCall: Sex, Myths And The Menopause, comes as the UK is facing an acute shortage of HRT products. Demand for HRT products in the UK has grown over the past few years due to increased menopause awareness, with high-profile names like McCall and Mariella Frostrup campaigning for better access to medical treatment.
In her latest documentary, McCall speaks to women whose lives have been ruined by the menopause, including a Scottish teacher who lost her job and another woman who considered taking her own life.
McCall herself confessed to crying in her car and wondering if she would have to give up her presenting career when she struggled with autocues and couldn't remember celebrities' names. Her brain fog was so bad she wondered if she had Alzheimer's.
But she – and many of the women interviewed – said starting treatments, including HRT and testosterone, turned their lives around.
Producer Kate Muir says it is "shocking" women in Scotland do not have access to the same treatment options offered in other parts of the UK. The journalist and author, who has written many books and made several documentaries highlighting menopausal issues, said: "The main thing the documentary highlights is the inequality in access to care. Body identical HRT is particularly important. It's the safest means of HRT. But in some areas it's not on the formulary of prescription drugs. Instead, older therapies are being prescribed, which can carry health risks. So Scots are not being put on the safest version of HRT."
In the documentary, Kilmarnock-based GP Dr Helen Smith types Utrogestan into her prescription system only to see a red warning flag – and a message to say the drug isn't recommended by the SMC and she should consider an alternative. The only option is for GPs to prescribe it "off-licence" on a case-by-case basis.
But, at just £18 per woman per year, Muir believes it should be more readily available. She said: "In Grampian and the Highlands there has been some movement to prescribe it off-licence and it's easier to get in these areas than Glasgow and Edinburgh. Some doctors are doing that but on average GPs don't. Whereas in London and the south-east it's readily prescribed."
Muir says Utrogestan has been proven in studies to have no risk of blood clots and strokes, unlike older forms of HRT.
Dr Paula Briggs, consultant in sexual and reproductive health, works at Liverpool Women's Hospital and is the chair elect of the British Menopause Society. She revealed starting HRT at perimenopause stage could be the best option for women.
"I see lots of women who have suffered for five to seven years and things happening like marriage breakdown or loss of jobs, and then they start HRT and feel better," she said. "So I think it's important women are given the right information earlier."
Briggs agrees Utrogestan is safer than other methods and says almost everything she prescribes is body identical. After filming, McCall said: "We must rethink everything. I hope viewers will feel empowered and more confident and will have enough knowledge to go and talk to their GP."
The Scottish Government said: "We are committed to ensuring women experiencing menopause receive equitable access to medicines. A range of treatment options are available on the NHS in Scotland without any charge for prescription, and there is a specialist menopause service in every mainland NHS board and support in place for the island health boards.
"Where licensed medicines, such as Utrogestan, are not routinely available on the NHS, because they have not been approved by the SMC, clinicians can still prescribe them on a case-by-case basis.
"We have encouraged the ­manufacturer of Utrogestan to resubmit its medicine to the SMC."
Women deserve so much more than this
By Dorothy Byrne
The UK shortage of HRT and the difference in where you can get testosterone on the NHS are just two reasons why Scotland needs a women's health champion.
Too many women are going to their GP about the menopause and told it's just something they need to suffer or are put onto antidepressants.
HRT isn't right for every woman but every woman has a right to speak to their GP and find out if it is right for her. Women are being denied their basic needs. We know a percentage of women are not even informed by their doctors that they could potentially benefit from HRT. It's a scandal that it's only really in the past year that attention is being given to the problems women have in the menopause and to the ways in which they are being denied HRT.
There are more ways now of women dealing with the menopause but they aren't being told about them. Three years ago, I gave a lecture about suffering during the menopause. People said: "I can't believe you talked about the menopause."
Now, lots of people are speaking out but we need more than speaking out. That's why Scotland really needs a women's health champion.
Dorothy Byrne is the former head of news and current affairs at Channel 4. The last show she commissioned before leaving was the first Davina McCall documentary on the menopause
---
Davina McCall: Sex, Mind And The Menopause, Channel 4, 9pm tomorrow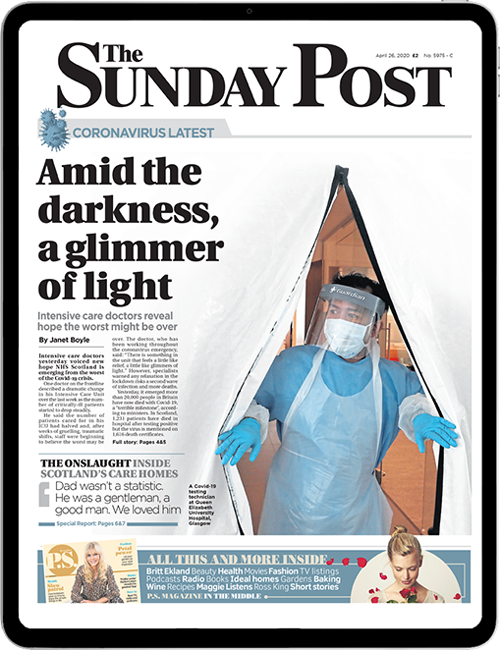 Enjoy the convenience of having The Sunday Post delivered as a digital ePaper straight to your smartphone, tablet or computer.
Subscribe for only £5.49 a month and enjoy all the benefits of the printed paper as a digital replica.
Subscribe