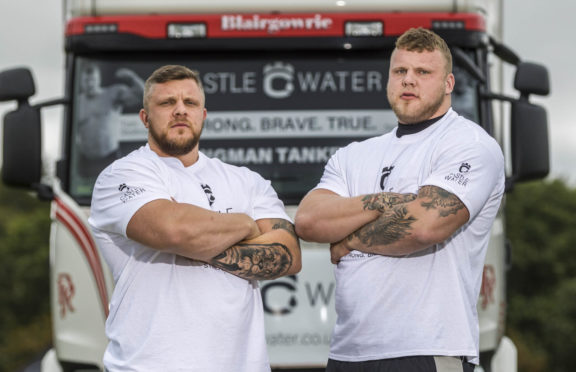 It's 10 years since an introverted, autistic teenager found himself in a gym for the first time.
Today, Tom Stoltman is one of the biggest names on the strongman circuit and an inspirational role model with fans around the world.
The 26-year-old giant from Invergordon, Easter Ross, will be one of the star performers in this year's World's Strongest Man, a Christmas TV staple for the past four decades that is back on our screens this week.
Tom, who is 6ft 8in and weighs 28 stone, has seen his life transformed since entering the sport and he now visits schools giving talks and inspiring children to believe in themselves. And he hopes to become an ambassador for an autism organisation in the near future.
"The gym and strongman have changed my life and saved my life," Tom admitted. "Before this, I wouldn't talk to anyone, I didn't have a girlfriend, and I heard people say I would stay at my parents' house until I was 30 or 40 years old and wouldn't be able to keep a job or stay in college.
"When you have autism and people say those things, it sticks in your head. So I thought I was a failure and wasn't going to do anything. Now, people can look up to me and it's a special feeling.
"If I hadn't got involved in ­strongman, I think I would have been in a dark place. I wouldn't have left my parents' house or got married or be as socially involved as I am now. I would have locked myself away.
"I know that's where I was heading – head down, quiet. Being told from a young age that I had autism meant my childhood was hard. I didn't develop until later. Everything was slower. And if my parents or brother went out I'd be screaming until they came back.
"Primary school was OK because it was so small, but when I went to secondary school things went downhill. I was out of school all the time. Then I decided to open up and tell my friends and teachers. The support I got was unbelievable, so that's why I'm so open about it now."
Tom occasionally watched the World's Strongest Man competitions on television, but he wasn't obsessed about it. When his older brother Luke, who is 36, began to compete in the sport, it inspired Tom to get involved. The pair, described as the world's strongest brothers, now travel the globe together competing in strongman events. They opened a state-of-the-art gym earlier in the year and their brand is going from strength to strength.
"We're a household name in the strongman field now," said Tom, who gave up his job in security two years ago to become a full-time competitor. "People travel from across the UK to see our gym. We have our own merchandise line and we send 40 to 50 orders a day to America, and we have more than 100,000 subscribers to the YouTube channel we started less than a year ago.
"I watched World's Strongest Man on TV a few times when I was young, but I was more interested in football at that point. I started going to the gym at 16 with some mates, but it was just a bit of fun, nothing big.
"At 17, Luke took me under his wing and said we'd do it seriously. I'd got a buzz when I saw Luke competing in his first Scotland's Strongest Man competition, so I thought I'd give it a go. There was a gym a half-hour from where we live that had all the kit. I got into it and loved it.
"My first competition was when I was about to turn 19. It was Highland's Strongest Man, which I won comfortably. So I was chucked in at the deep end, coming through the qualifiers for Scotland's Strongest Man and coming fifth, and then qualifying for the UK event. I was up against men at 19, which was scary but also cool.
"Luke and I are best friends – we travel together, compete together, run a business together. We have each other's backs when we compete and that's an advantage we hold over others. It's like we come as one. We'll scream for each other against others, but we also go all out against each other."
Tom, nicknamed The Albatross due to his giant wing span, also credits the support of his wife, Sinead, as well as his wider family and circle of friends, for helping him to succeed. And he wants to extend that show of support to others who might need a helping hand.
"I've been to a few schools to give talks and there have been kids there with autism. To have someone talk to them who also has autism makes them more engaged and it's changed a few of their lives – their behaviour altered afterwards. I also had some troubled kids from my old school down to the gym during the summer, just to teach them some discipline, and they loved it – a few joined up to the gym as a result.
"I want to be an ambassador for autism. It's something I'm working on. I get people messaging me all the time telling me I'm a role model. I'm just a normal guy from the Highlands, so for people to say they look up to me is a great feeling."
Tom set a new world record in the Atlas Stones – the premier strongman event – at Britain's Strongest Man earlier this year, lifting five of the giant concrete balls in just 16.01 seconds. During lockdown, he twice broke the world record for the heaviest atlas stone lift, picking up an incredible 630lb stone and dropping it over a bar.
At the 2020 World's Strongest Man contest, held last month in Florida, Tom came agonisingly close to winning the entire competition.
"I came fifth last year, so all I wanted was to improve. One wee slip cost me the title, but I was buzzing to make the podium – the first Scottish guy to do so – and now I'm just looking ahead to next year. I have big goals for 2021. I want to win Britain's Strongest Man, then Europe's Strongest Man, and then on to the Worlds again. I've also been invited to the Arnold Classic, which is the biggest competition going in some people's eyes with Arnie being there. I hope to come in the top four or five of that.
"By going into strongman, I placed myself in uncomfortable positions. When I started out, I had to get Luke to talk to the cameras for me. But I realised if I wanted to be good at this I had to do things I didn't like, and now it's routine for me. I can keep up with the best in the world, and that's a good feeling."
---
Diet of a giant: 10 meals and 12,000 calories a day
Tom says the toughest part of being a strongman isn't the training, it's the recovery and sheer amount of food they need to eat every day.
"Keeping up the calories is hard," Tom admitted. "Out of competition season, Luke and I will eat 7,000 to 8,000 calories a day, which is high for everyone else but low for us, because right now we're always hungry."
A typical day will see Tom have 10 eggs and 100g of porridge for breakfast. For lunch, he'll have 340g of protein – either chicken, mince, steak or fish, with 200g of veg and 150g of carbs such as white rice or pasta. His pre-workout meal around 4 or 5pm will be something like a double dirty burger and chips, or macaroni cheese, and then post-workout it'll be the same meal as he had for lunch. Before bed, he'll have a protein shake and a punnet of fruit.
"It's important to time our meals correctly, because if it comes to 8pm and we have no meals left, we'll be starving.
"It's an eye-opener at competition time – that's when you realise it is a lot of food. Before World's Strongest Man, we were eating 11,000 to 12,000 calories a day, eating every 60 to 90 minutes.
"We have a nutritionist who tells us exactly what to eat and when. Right now, I'm eating five meals and one shake a day, but at competition time it will be eight to 10 meals.
"The gym is the easy part – anyone can lift weights – but eating and recovery are the hardest things. What we do outside of the gym is what makes you the best or not the best."
---
Watch World's Strongest Man 2020 from Saturday 26th December at 6.45pm on Channel 5. The World's Strongest Man 2020 final will air on Friday 1st January at 7.30pm on Channel 5.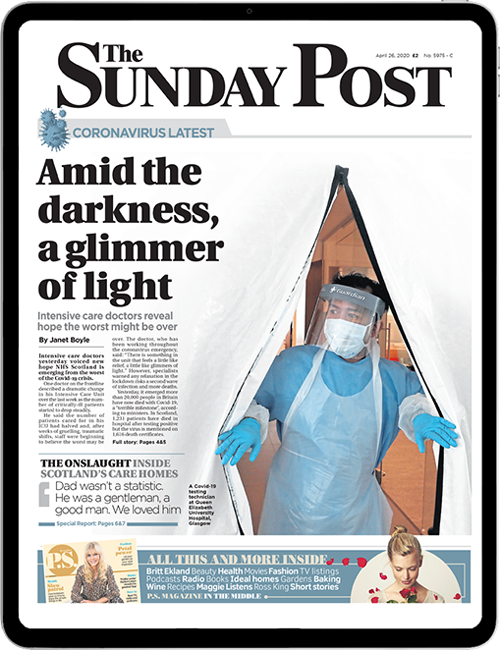 Enjoy the convenience of having The Sunday Post delivered as a digital ePaper straight to your smartphone, tablet or computer.
Subscribe for only £5.49 a month and enjoy all the benefits of the printed paper as a digital replica.
Subscribe