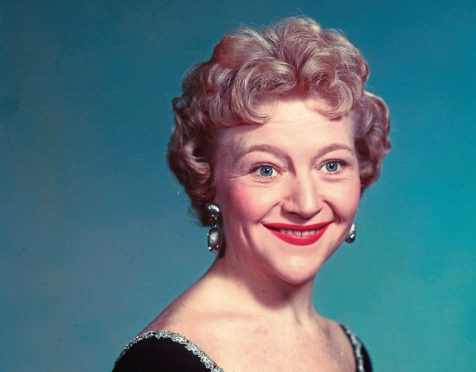 Well-loved character actress Dora Bryan forged a successful career for herself playing carefully etched cameos and the occasional meatier part on stage and screen.
Whenever a casting director required a dizzy barmaid, assiduous waitress or, as Dora once told me, "tarts with a heart of gold", they invariably turned to the Lancashire-born actress, who died in 2014 aged 91.
But as well as portraying a host of working-class screen characters, a browse through her lengthy CV reveals Dora's adeptness at turning her hand to everything from tragedy to farce.
Arguably her most significant role was Helen in A Taste Of Honey. In the 1961 film, Dora played the alcoholic mother of Rita Tushingham in an excellent portrayal of British working-class life set against a backdrop of industrialised Salford.
When offered £1,500 or a cut of the profits for starring in the film, Dora's instincts saw her accept the flat fee because of her scepticism over the planned profits – a decision she later regretted.
"This was certainly my most important and favourite role, the one I'll be remembered for – along with Hello, Dolly!," she told me.
"Other films I made weren't particularly demanding so I just floated through them, but I had to dig deep inside to act the part of Helen."
In recognition of her outstanding performance, she was awarded a Bafta for Best Actress. One would have expected the award to precipitate an influx of decent film offers, but she didn't appear in another picture for five years.
Theatre, though, was always her predominant medium, with screen work regarded as a secondary career. "Acting in films was often just a bit of fun – the icing on the cake."
It wasn't long before Dora's familiar face became a firm favourite among theatre and cinemagoers as she breezed through a myriad of stage shows and more than 50 films.
Born in Parbold, Lancashire, daughter of a cotton bobbin mill director and seamstress, Dora's career began in the 1930s with the Drury Lane Babes at the Manchester Palace, earning a meagre wage of 2s 6d.
Her acting career developed in earnest when she joined Oldham Repertory Theatre in 1938.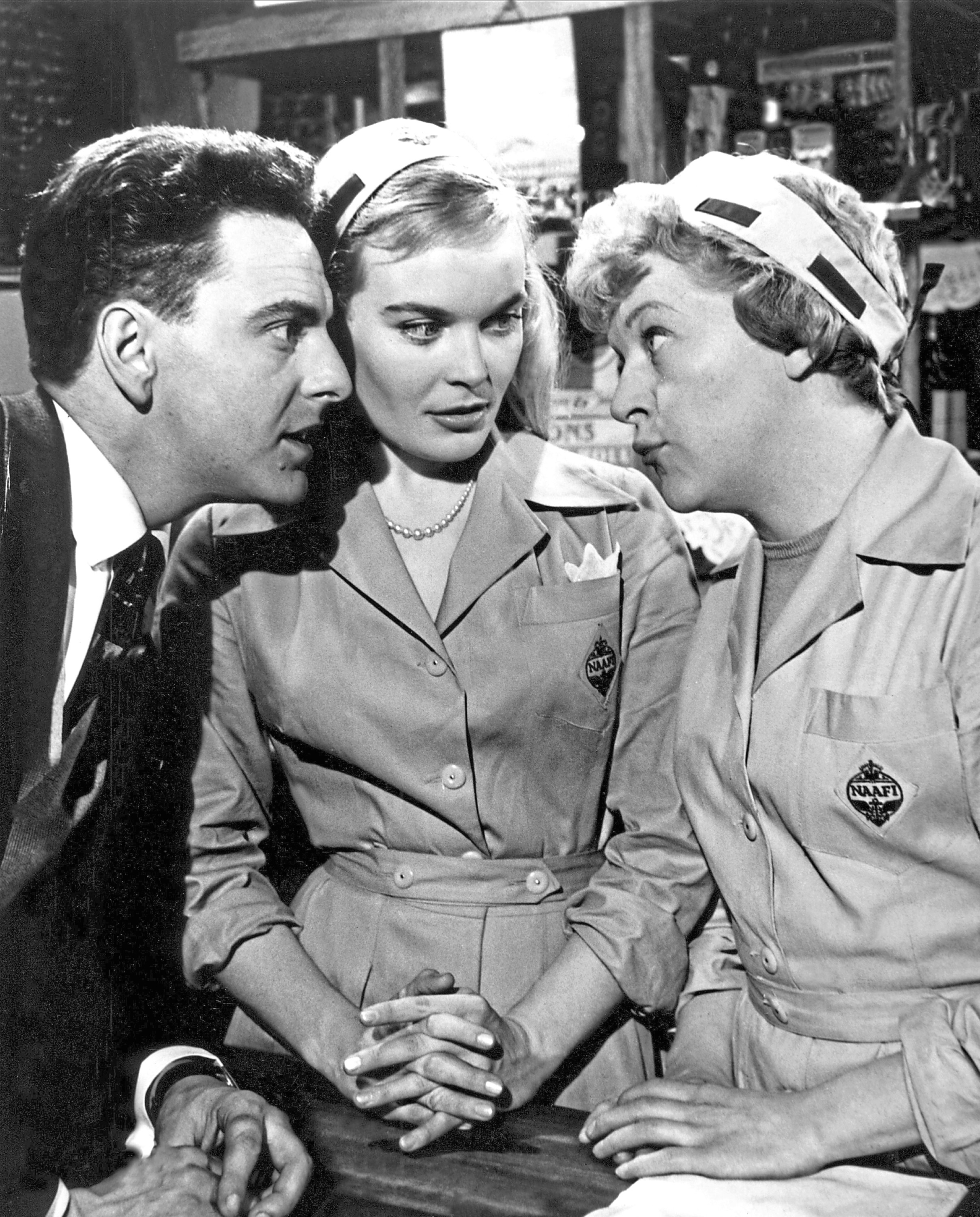 One of her duties as assistant stage manager was taking charge of props – and events did not always go to plan.
"Once, I was in charge of the special effect records. An actor who couldn't play the piano was going to pretend with the help of a record. But as he walked on stage, strolling towards the piano, I accidentally started the record. The actor's face was a picture of panic as he made a mad dive for the keyboard."
Such mishaps did not ruin her prospects, however and by the time war broke out in 1939, Dora was not only a leading lady but had met her husband-to-be, cricketer Bill Lawton.
The location, however, was far from romantic. "While walking back from the theatre one evening, I passed four boys outside the public toilets. Three whistled as I went by, but the fourth didn't and seemed interesting as we glanced at each other."
By coincidence, they met at a local dance the following evening and romance blossomed. They were married more than 50 years before Bill's death in 2008.
During the war, Dora joined ENSA and entertained troops in Italy, but on the cessation of hostilities, she set about establishing her name on the London stage.
It wasn't long before, aged 23, the first film offer landed on her doormat. The 1947 film Odd Man Out starred, among others, James Mason, Robert Newton and Kathleen Ryan.
While Dora's sparkling cameo carried no dialogue, it was a convincing little scene with her playing a young blonde giggling in a phone box while Mason waited outside.
Although a fleeting appearance, the performance impressed director Carol Reed sufficiently for her to be hired for his next film, the 1948 thriller The Fallen Idol.
Based on a Graham Greene short story, Dora played a tender-hearted prostitute – although Dora is surprised she ever made it to the film studio in the first place. She recalled: "I had to arrive at Denham Studios by 7am. Being young and naïve, I hadn't considered studying the route.
"To make matters worse, it was mid-winter and heavy snow had fallen. I ended up walking through fields of snow in high-heeled shoes, a little red suit my mother had made and plastic mac. By the time I arrived, my feet were wet and the shoes ruined."
At the studio, Dora was unsure what role she was playing and hadn't even been sent a script – a common occurrence for many of her early films. Often, her scanty number of lines were learnt on the day of recording.
"It was only when Carol Reed met me on set that he explained what the story was about and where I fitted in. He said there were a few lines of dialogue but if I didn't like them, I could say whatever I wanted.
"I asked what I should wear and he replied, 'That will do.' I was horrified to think I was playing a prostitute in my own clothes."
Dora's film career reached its peak in the early 1950s, at which point she was appearing in around five films a year, including some tastier roles, such as Gladys in You Know What Sailors Are.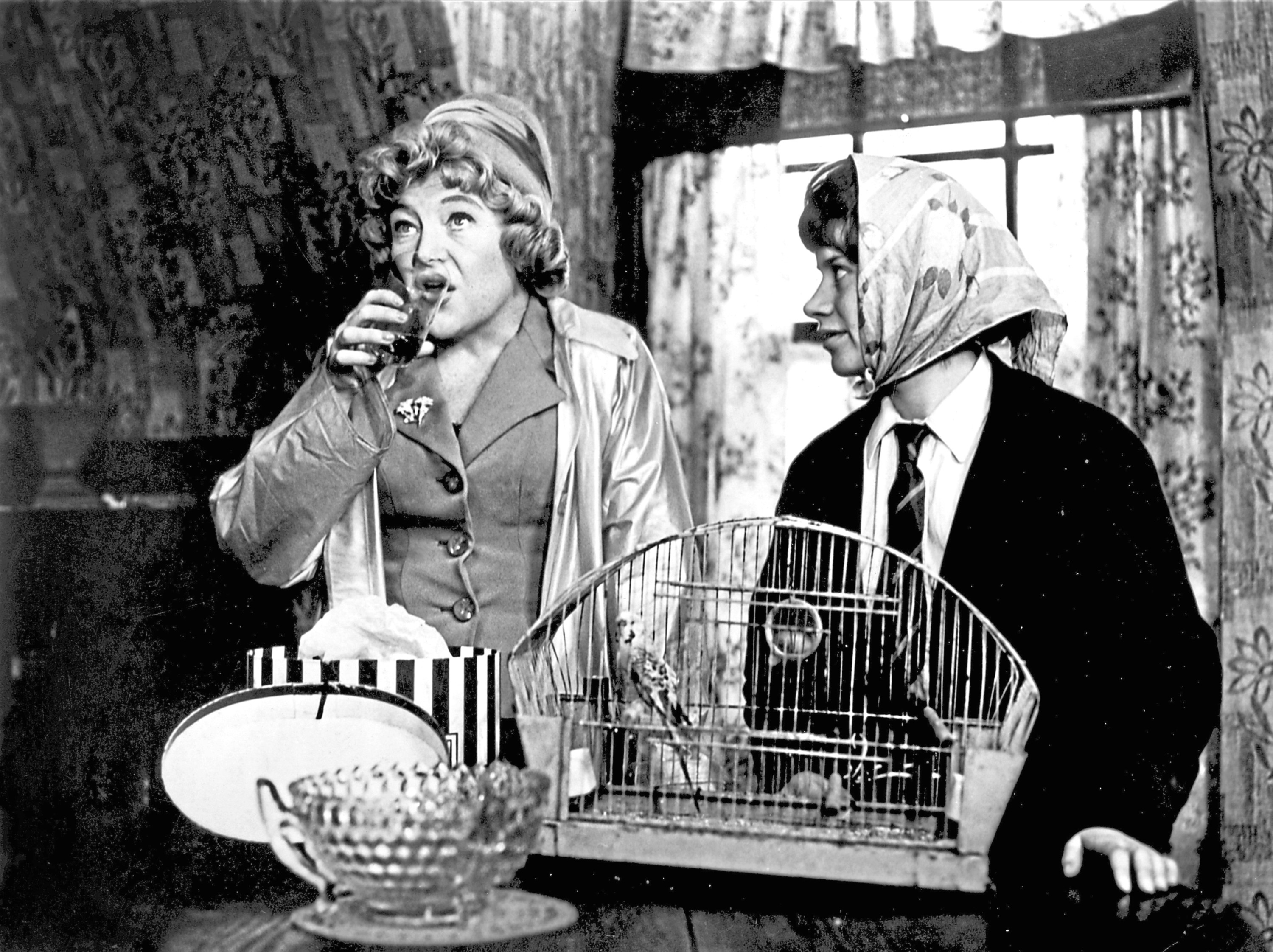 While Dora admitted that some of her earlier appearances were quickly forgotten, she could never forget playing a mermaid in 1954's Mad About Men – mainly because she nearly drowned.
The mermaid's tail was six feet long, so impractical that she was wheeled to the set in a wheelchair. To represent the sea, a large tank was filled with water and fish added for a touch of realism.
A problem occurred when Dora was placed in the water. Because the tail was so buoyant, it rose to the surface so forcefully that she spun in the water and, within seconds, her head was submerged. After being pulled out, she was sent home to recover from the shock.
During the 1950s, other notable film credits included playing an effervescent hotel receptionist in The Green Man, housemaid in Child In The House and an eccentric NAAFI cook in Carry On Sergeant.
However, as the decade drew to a close, film roles declined. She remained continuously in demand on the theatre scene, though, with just occasional film appearances from the 1960s onwards, including playing a headmistress in 1966's The Great St Trinian's Train Robbery.
That year was also memorable because she was invited to lunch with the Queen and Prince Philip at Buckingham Palace – an enjoyable experience she'll never forget.
"At the end of lunch, I took too many grapes. The problem was how I'd deal with the pips. I didn't feel able to drop them or put them on my plate so decided the only alternative was to swallow them."
While film offers declined, her life in the theatre continued apace. Between 1963 and 1970, she appeared in seven productions. But on stage she'll always be best remembered as Dolly Levi in Hello, Dolly!.
Although the lion's share of her work was on the stage and big screen, Dora regularly popped up on TV – she even had her own shows during the 1960s, including Our Dora and According To Dora.
Her last notable role on TV was in 2000, playing Ros Utterthwaite for five years in long-running sitcom Last Of The Summer Wine.
Eventually, a failing memory and struggles to remember lines brought down the curtain on a highly successful career for which she was rewarded with a Bafta, Laurence Olivier Award and OBE.
During a long career, Dora made millions laugh, but away from work she endured many painful periods in her life.
The loss of three babies, a nervous breakdown, her daughter's early death and a battle with alcohol took their toll.
On top of this, Dora and her husband lost a fortune in a disastrous business venture. However, she fought each calamity with the same resolve as she applied to her professional life.
From a meek little 12-year-old earning 2/6 in Jack And The Beanstalk to leading lady in her 20s, Dora Bryan's endearing qualities helped make her one of Britain's most popular and highest-paid stars.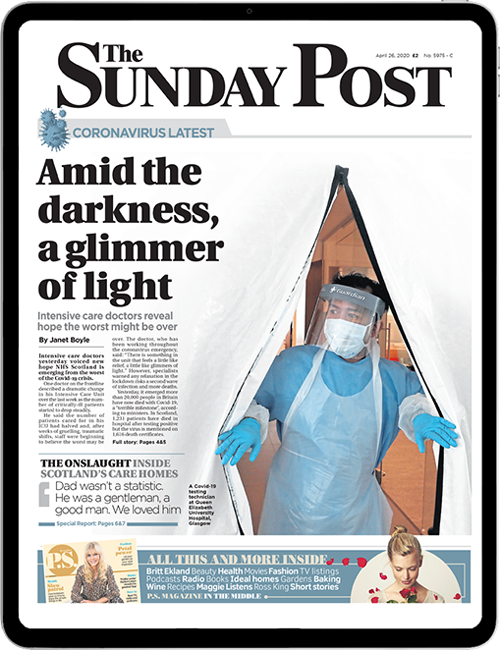 Enjoy the convenience of having The Sunday Post delivered as a digital ePaper straight to your smartphone, tablet or computer.
Subscribe for only £5.49 a month and enjoy all the benefits of the printed paper as a digital replica.
Subscribe