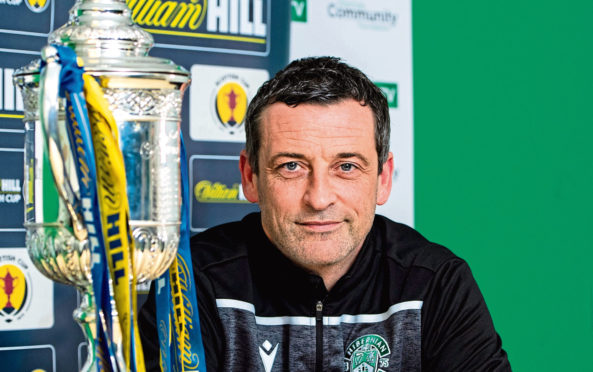 Jack Ross is firmly focused on negotiating the potential banana skin of this afternoon's Scottish Cup tie with BSC Glasgow.
And not just to avoid the ignominy of slipping up against to the side currently sitting fourth in the Lowland League.
The Hibernian manager wants a safe passage into the quarter-final draw done and dusted over 90 minutes, so that there's no added pressure put on his team's hectic schedule.
"I have lost count of the number of games we have had in so many days since the winter break," said the Hibees gaffer.
"I think this BSC game is our seventh in 21 days. We have had a crazy schedule since coming back.
"We had nine from me coming in near the end of November to the start of the winter break at the end of December.
"I am used to being busy, and I had 61 games with Sunderland last season.
"So I was looking forward to coming back up here and having an easier life in terms of the number of games you are involved in.
"It hasn't been like that.
"I remember when I was down south looking at the Scottish fixtures. St Mirren, whose results I always looked for, seemed to play every two weeks because of international breaks and so on.
"You then have to cram all the other games in.
"Of course, we didn't help ourselves by drawing with Dundee United at Tannadice in the last round, which added to our schedule.
"I know how tough it is to factor in all the things that come up over the season.
"But I am fine with it, and we have boys who played in England who think our schedule is perfectly normal.
"So far, we have handled it OK.
"In the last few games, we have tried to make two or three changes to keep it fresh in certain areas. We will look to do that again against BSC.
"However, by and large, it will be our strongest possible team.
"We have had them watched them and our analysis will be the same as it is for every game.
"My approach, behaviour and preparation never varies, no matter who we play.
"There is a consistency to what we do and that is one of the keys to how I work.
"That keeps the players level with what we are doing.
"This is a huge game in our season and that is the great thing for me.
"I can point that out to them, and they know I am not playing mind games with them.
"They know the prize that is at stake and what it will mean for our season.
"We are going from playing at Ibrox against Rangers to playing a non-league team at Recreation Park.
"But I will offer BSC the same respect I do to a Premiership side."
The Hibs boss will be returning to where his management career started, just over four years ago, and he is looking forward to seeing some old faces around the Alloa ground.
It will be a trip down memory lane for defender Darren McGregor, too, although his recollections are less fond.
He was in the Rangers side humiliated by a 3-2 defeat from Alloa Athletic in the Challenge Cup semi-final of December, 2014.
Less than two years later, he was part of the Hibees side that ended 114 years without the Scottish Cup by defeating the Light Blues at Hampden.
Reflecting on the semi defeat, McGregor said: "I think that's disappeared from my mind, to be honest.
"When Rangers dropped down the leagues, we were probably expected to win more games than not.
"There were a couple we went into and – whether it was the wrong approach or complacency – we got beat.
"So against BSC, we will definitely be well aware of that. Your mind can wander, but I think we know about how important the Cup is to the fans and to this club.
"We know how important a run can be in generating money, and a feelgood factor.
"There could be positive repercussions for the league as well, and the whole morale around the place.
"We've been spoiled the last few years with trips to Hampden.
"There are quite a lot of guys, though, who haven't tasted that.
"They probably don't understand the magnitude of it, and hopefully over the coming weeks, they will.
"I had one of my worst games there against Aberdeen (in the 2017 semi-final), partly because I was at fault for a couple of the goals.
"That was horrendous.
"We are in the game to play in these spectacles – semi-finals and Finals.
"So it's up to us to try to get our foot in the door, and through to the next round."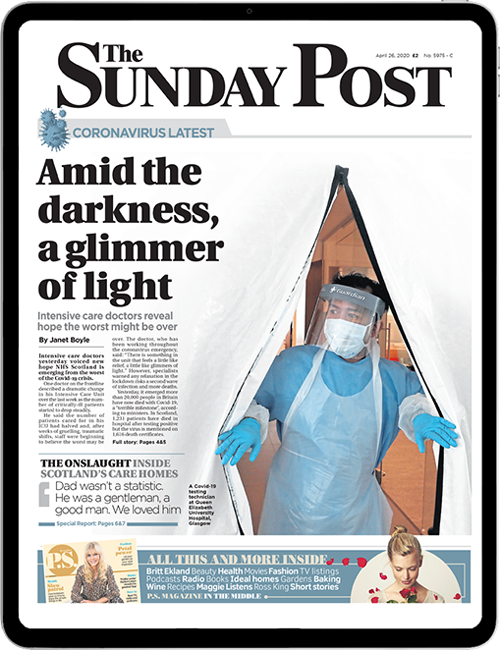 Enjoy the convenience of having The Sunday Post delivered as a digital ePaper straight to your smartphone, tablet or computer.
Subscribe for only £5.49 a month and enjoy all the benefits of the printed paper as a digital replica.
Subscribe