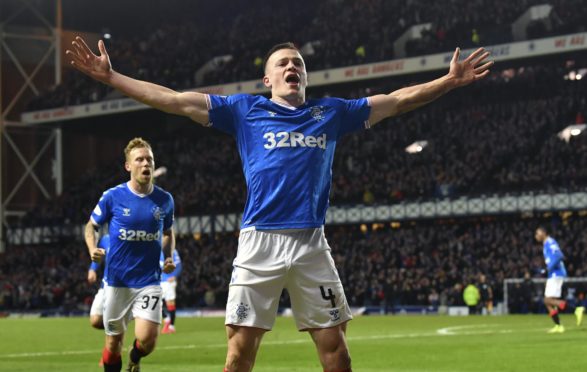 Steven Gerrard gave George Edmundson a slow start to his Rangers career.
But the Ibrox boss believes he can become a pillar of strength at the club for many years to come.
Gerrard maintains it's disrespectful to suggest the 22-year-old will have to eventually move on to achieve success in football.
Edmundson made his second Premiership start of the season in the Light Blues' midweek victory over Hibs.
He hit the net and had a powerful performance in defence.
His ability to get attacks moving – as well as stopping the opposition – was the reason for Gerrard picking the 22-year-old.
He said: "We just felt for the Hibs game that George was the right man, because he moves the ball well.
"What we've lacked at times when teams camp in, is the speed of our ball circulation.
"Instead of going from A to B, George can get it from A to C. He's that type of player.
"I love his attitude. But I want George to challenge me.
"I've got four good centre-backs, although Filip Helander is injured at the moment.
"I don't want George to be happy to be No. 4. No-one should be happy. Everyone should push and want to play. That's exactly what he's doing.
"He's given me food for thought every time I name an 11 or 18.
"If you judge things solely on training, his performances have been as strong as the other three."
Gerrard explained why he has gradually introduced the former Oldham Athletic man into the starting line-up.
He went on: "I think it was important with the level he was coming from, his age and the size of the move, that we didn't toss him in and just say: 'Go on, off you go'.
"We maybe did similar but in a shorter period with Filip as well, where you want them to see the astroturf games.
"They can also see what Pittodrie and Celtic Park are like. They can get a feel and experience on the eye before they go in.
"I'm very protective of centre-halves at his age. I don't want to ruin them, I don't want to put them in too soon or when they're not ready."
Edmundson had to overcome a number of knock-backs to make it to Rangers.
He was rejected by Manchester City as a kid, and only a late change-of mind saw him earn a professional contract at Oldham. He was initially told he was being released.
Gerrard said: "That's the reason he's the character he is now. He appreciates every moment of being contracted to Rangers.
"This was a 'wow' moment in his life that he got the opportunity to sign a long-term deal here and come from Oldham to a club this size. It was huge for him and his family.
"I see it in his eyes every day. He really wants to make this work for himself.
"I'm looking forward to seeing how he blossoms."
Playing for Rangers, maintains Gerrard, should be seen as a major achievement.
He said: "Sometimes people disrespect the size of the Old Firm clubs.
"I get asked the question quite a lot about players, even guys like Alfredo – how far can they go?
"Rangers are there, Rangers are a top club around Europe, playing in European competition. Rangers get 50,000 through the door every other week.
"Some players are content to see out their career here, and understand and respect the size of the club they're representing.
"So I'm not going to say he can go wherever, because it would be disrespectful.
"It wouldn't surprise me if he became a mainstay of this club for a long time, if that's what he wants."
Rangers travel to Kilmarnock on Wednesday night, and midfielder Joe Aribo is one man not fazed by playing on the plastic pitch.
The Ibrox men have only won two of five games under Steven Gerrard at Rugby Park.
Aribo said: "From previous results, you could say it's the opposition causing us a problem and we can't use the surface as an excuse.
"It's still a flat pitch and we can still play on it. I grew up playing on astro. That's all I played on until I got a bit older, and then I went on to grass.
"The positive for a player like me is that you're not going to get a bobble on a pass."