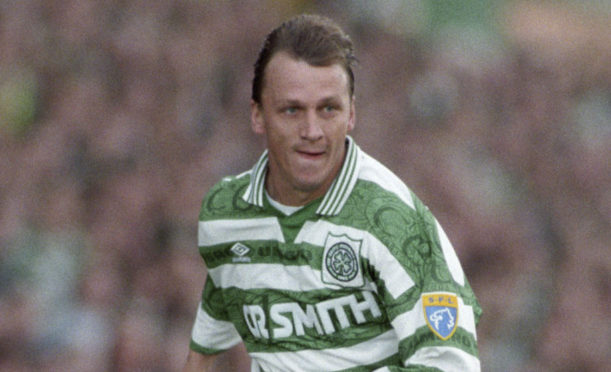 As he prepares to take on Rangers, Hearts manager Daniel Stendel has revealed one of his heroes pulled on the hoops of Celtic.
Growing up in the old German Democractic Republic, Stendel idolised Andreas Thom, the communist country's star player and prize asset in the 1980s.
Only after the Berlin Wall came down in 1989, and Germany was reunified, did Thom leave the East behind to become the first player to sign for a club in the West.
Later, after that groundbreaking move to Bayer Leverkusen, the striker would depart his homeland for three years at Celtic, where he lifted the League Cup in 1997.
More importantly for the Parkhead outfit, Thom helped them clinch the league title the following year to prevent Rangers from sealing a historic 10-in-a-row.
Thom's part in that triumph, as well as a stunning goal in a 3-3 draw with Rangers at Ibrox not long after arriving in 1995, ensure he is still revered by Hoops fans.
And Stendel admits his compatriot was his idol, as well as Diego Maradona, despite the part played by the legend in Germany losing the 1986 World Cup final.
The 45-year-old said: "My hero growing up was Diego Maradona.
"The first World Cup that I really remember watching was 1986, in Mexico, and Maradona was the best player.
"It doesn't matter that we lost in the final, the best player was Maradona.
"But the other player, who also played in Scotland with Celtic, was Andreas Thom.
"I was born in East Germany and he was my idol in my own country and maybe our best striker.
"That was when he played in East Germany, but I remember he also played here in Scotland.
"He is also a coach now. Some years ago he was the youth coach with Hertha Berlin and we played against them in a cup final and we won!"