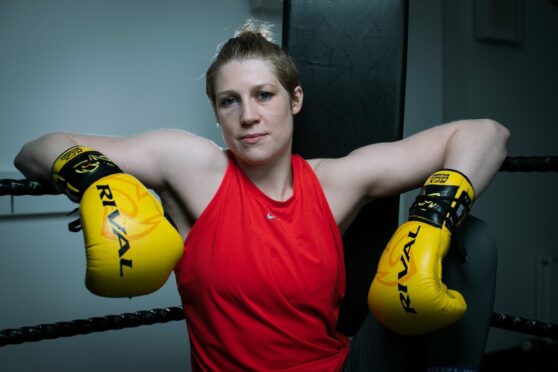 One of the proudest moments of Hannah Rankin's life came last May, at the Ovo Hydro in Glasgow.
The pride came not only from successfully defending her world titles in the main event – making her the first female boxer to headline Scotland's largest arena – but also for the role she has played in changing opinions about female boxing.
Six years on from her first professional fight and as she prepares to step back into the ring this week, Rankin, from Luss on the banks of Loch Lomond, said: "When I look back to when I started and compare it to now, it is a different landscape. I started out hearing all the remarks like, 'Why do you want to box? Girls shouldn't be fighting, it's not fun to watch', and now we're household names.
"The Hydro was one of the best nights of my life. It was such a huge moment to say I was headlining the Hydro, after the likes of Josh Taylor and Ricky Burns, both of whom I look up to, and being the first female to do it.
"I feel I reached out to all different types of demographics – there were grandparents, young kids, mums, daughters, aunts; a very different type of audience for boxing. We're seeing a lot more women coming to support the sport, which has been fantastic.
"I got the win and it couldn't have been better, apart from the ending."
The ending was a knockout in the final round over Alejandra Ayala. The Mexican fighter was taken to Queen Elizabeth University Hospital afterwards, where she was placed in an induced coma and required several operations to save her life.
Rankin, despite knowing the risks of the sport, was not prepared for how the injury would affect her own life.
"Thankfully Alejandra is now safe and well back in Mexico," she said.
"As a fighter, you never want to be in that situation and never believe you will be. As she said afterwards, we both signed up for this, we both know the risks when we get in the ring.
"It was massively overwhelming. It was one of my career-best performances but the accident knocked me for six. The hardest part for me afterwards was social media. A lot of people were writing lies about Alejandra's condition while she was in hospital, and I woke up to a lot of abusive messages for quite a long time. As an athlete, you don't expect that to happen to you. Even when she recovered, I was still receiving abuse.
"It was hard to deal with and my mental health took a knock. I'm a positive, upbeat person and I like to focus on doing well; it was a hard time for me. I thought I'd get back on the horse straight away and defend my titles against Terri Harper, but I didn't know until the night of the fight that I wasn't ready to be back out there. Mentally, I wasn't ready after the situation with Alejandra and I lost my world titles.
"It was a very difficult time but now I'm ready to get back in there and show what I can do. I've learned a lot about myself and it also showed me how important friends, family and my team are, and that it's imperative to talk to people, because mental health affects everybody in every walk of life. It was a steep learning curve but I'll only learn from it."
Rankin, 32, is the first to admit she never dreamed she would become a professional boxer. Her first career was a classical musician, and she continues to play the bassoon when time allows.
Growing up on a farm, she was the eldest of three sisters to parents Clare and Andrew. "I was full of energy as a child and we had free rein on the farm. My mum got us involved in as many sports as we wanted and I loved the discipline of taekwondo. Then I got into music, and that was my first passion and love, so the idea of sport went away. So if you'd told me then I would grow up to be a two-time – and soon to be three-time – world champion, I would have laughed."
After leaving Hermitage Academy in Helensburgh, Rankin did an undergraduate course at the Royal Conservatoire in Glasgow and it was then she got back into combat sports, attending The Griphouse MMA gym in the city.
"I'd forgotten how much I enjoyed the workout, and so when I moved to London to do my Masters at the Royal Academy of Music, I wanted to continue doing combat sports. I found Gymbox and it was there I met my coach, Noel Callan, during my first term. He introduced me to boxing and I loved it.
"But when I went home for Christmas, my mum was diagnosed with cancer and my whole world was pulled from under my feet. It was a horrible time for my family and such a shock. I didn't know what to do but Mum told me she wanted me to continue with my studies. The university was amazing and gave me time when I needed it, but boxing became my safe haven. I tired myself out so much when I boxed that for a split second I was able to stop thinking about what was going on. It was there for me in a difficult time and allowed me to get rid of frustrations and anger, but sadly my mum never saw me box. She passed away six months later. It was really quick and sudden.
"Music was something I did really closely with my mum, so boxing gave me a break from it. I did a couple of white-collar fights to raise money for Macmillan and Cancer Research and fell in love with it. A lot of people find boxing in really difficult times and that's what is great about the sport."
Making her professional debut in 2017, she won her first world title – the IBO super-welterweight – two years later in Paisley, and then won the WBA and IBO super-welterweight titles at the Tottenham Hotspur Stadium in London in November 2021. She has won 12 of her 18 fights so far.
Ahead of International Women's Day on Wednesday, Rankin says she takes being a role model seriously, and says she had no bigger female influence than her mum. "I'm so proud to take on the mantle of role model and hopefully inspire young females to be active and stay fit," she said. "It's such an important title to have, because people look up to you.
"When I was a kid, I found it hard to find female role models who I looked up to, apart from my mum. She was a huge part of my life and I thought she was Superwoman. When I look back now, I realise how incredible she was managing me and my two sisters, taking us to school and after school activities, taking us to music lessons, being a taxi driver, working on and running the farm with my dad – to this day she's a huge inspiration to me and I know she's around me all the time. She walks out to the ring with me every fight night."
While Rankin occasionally plays with a woodwind group called The Coriolis Quintet, performing concerts for Alzheimer's and dementia patients, boxing is her main focus. "I'm very lucky to now be a full-time athlete – it's taken 18 professional fights but here I am," she said. "Being an athlete is a short-lived career so, until I can't do it any more, I intend to do it as much as possible. The training camp has been fantastic and I'm testing off the charts – my body and mind are in the best shape they've been in."
Rankin has been training at Abertay University in Dundee, where she is taking part in world-leading research into performance and recovery in combat sports for females. The research is designed not only to make athletes fitter but to collect data that can be used towards safety measures in the sport.
"I've been working with John Babraj, whose expertise is in recovery and performance in athletes, and Andrew Usher, who is my sports scientist and he is doing his PhD at Abertay," she said. "There's been a complete lack of research done on professional females in most sports, especially boxing, so by bringing my training camp – and all of my sparring partners – here, it allows the university to have a lot of elite female athletes in one place to conduct research.
"We wear sensors and collect data from the sparring. I'm a bit of a geek, so it's interesting to see the numbers and see the improvement. It fuels me as an athlete and gives me a mental edge to know I can push myself so much.
"It's been an eye-opener to see the development in my performance and how much my recovery has improved. Boxers have one minute between rounds and it's important to take in the information given by the corner team, so by shortening my recovery time it means I'm able to take on more detail and perform better. Ultimately, we want to have a safer sport, so having all of this knowledge is super-important.
"I have my comeback fight on Friday against Logan Holler, a highly-ranked American fighter with a good record. I'm not taking the easy option. It's on the BBC iPlayer, which is important to me because I want boxing to be accessible to everyone.
"What's also important to me is to be part of such forward-thinking research into professional athletes. Long term, I want to see another female world champion come out of Scotland, but there's also a distinct lack of research being done, so to be involved in something important feels like part of my legacy. Giving back to the sport is something that means a lot."
Hannah's in your corner
Six weeks ago, Hannah Rankin found herself at 10 Downing Street, discussing with the minister of education about bringing an innovative boxing programme into the school curriculum.
"I'm an ambassador for Boxwise, a social enterprise funded by Nick Maughan, an amazing philanthropist," she explained. "It's a 10-week programme bringing young people into boxing. It's about what else you can get from it as well as the sporting side – team work, discipline, focus; lots of different aspects that will help you in life.
"As well as learning to box, it offers pathways into secondary education and work options. We have 42 clubs in the UK, as well as in Cape Town and Uganda, and we're setting up in Rio and Tanzania soon.
"It's having such a positive effect on local communities, such as less knife and gang crime. For young people who don't have hope or belief in themselves, Boxwise provides it. We also work with veterans, Ukrainian refugees and Centrepoint.
"It's been trialled in schools, including a couple in Scotland, and teachers are reporting huge benefits, such as increased attendance.
"We also provide a hot meal. We're seeing such a positive effect and the reason we went to Downing Street was to talk to the minister of education about bringing it into the curriculum. Fingers crossed it will happen."
---
Hannah Rankin vs Logan Holler, 9pm, Friday, live on BBC iPlayer, BBC Sport app and Fightzone TV app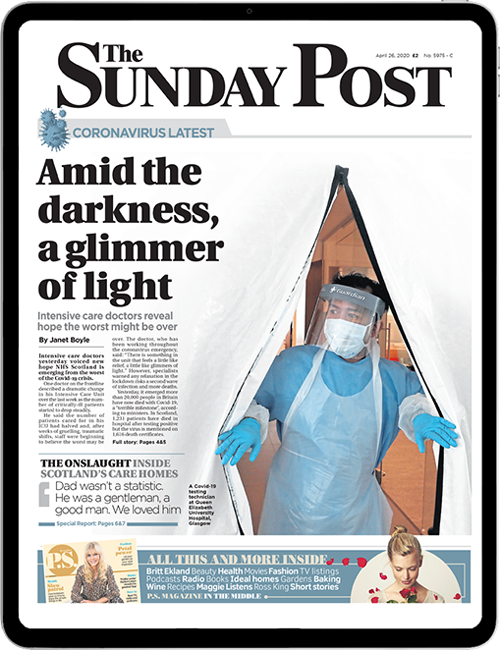 Enjoy the convenience of having The Sunday Post delivered as a digital ePaper straight to your smartphone, tablet or computer.
Subscribe for only £5.49 a month and enjoy all the benefits of the printed paper as a digital replica.
Subscribe