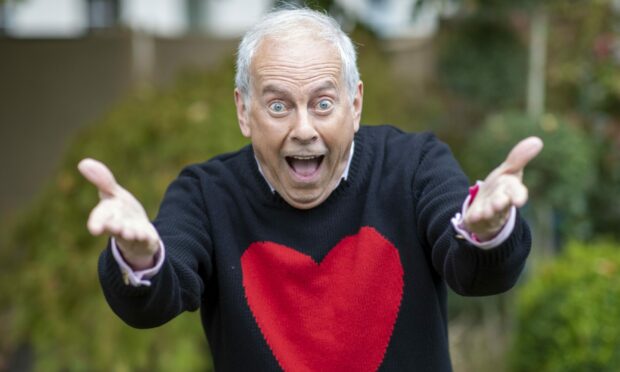 Gyles Brandreth has been many things – Conservative MP, television presenter, designer of jumpers, author, royal expert and actor, to name a few.
Even so, it still comes as a surprise to hear he was once the support act and pupil of controversial comic Bernard Manning, whose racist and sexist act saw him sidelined long before cancel-culture became a thing.
The unlikely pairing of the brash northerner and posh southerner was the ultimate chalk-and-cheese partnership, but Brandreth received an education and it led to a memorable first night on stage.
"When I was in my early- 20s, I wanted to be a comedian and I became the support act for Bernard at his club in Manchester," explained the permanently upbeat polymath. "I learned a lot.
"I shared the dressing room with the stripper, who looked old enough to be my mum but was probably only about 35. She used to put glitter on her bottom to make her cheeks sparkle. She gave me a Pritt Stick, which I had to apply to her backside and then she put on the sparkles. She was a very nice lady.
"The first time I went on stage to do my act, it went so badly that Bernard sent on the topless go-go dancers, who stood either side of me and did their thing while I was trying to tell my jokes. It wasn't all terrible, though, because the audience took sympathy on me. Someone asked what I was drinking and, by the time I came off the stage, there must have been 40 gin and tonics lined up for me.
"Bernard would drive around the other clubs performing and then came to his own club, stepping out of his Rolls-Royce and walking straight from the street onto the stage with his microphone in hand.
"He used a lot of terrible language and told jokes that really would be unacceptable today and, of course, my material was completely different. I wore a suit and, when he saw I had a briefcase, he told me to walk on stage with it. I was his complete contrast – a ridiculous young southerner.
"He was sensational and gave me some useful tips, like when it's going badly you'll be frightened and will speed up, but don't, slow down. And when the audience gets louder, you get quieter, and eventually you'll control them. I followed his advice and, once I got going, it was okay.
"It means I am seasoned, and I've had more experience than you might think. My style now is more of an old-fashioned raconteur."
It was after Brandreth lost his House of Commons seat in 1997 that he decided to take to the stage and came to the Edinburgh Fringe for the first time with a musical revue show. He transitioned into stand-up and is back at the festival next month for the first time in four years.
"When the people spoke and got rid of me from Parliament, my wife said I should use the time as an opportunity to do whatever I wanted to do in life," he explained. "I came up with the musical show and someone told me I should take it to the Fringe, because no one would know who I was up there because they don't know what a Conservative MP is in Scotland. Sure enough, they didn't know who I was and they were very friendly.
"I won the prize for the people's award for most popular show and it was a complete sell-out. I even saw Ian McKellan in the queue waiting for returns.
"I'm a complete convert because the festival welcomes everyone – you can be an ex-Conservative MP, a 19-year-old university student or an old man like my friend, Nicholas Parsons, who was still doing the Fringe at 95."
Brandreth's show this year is called Can't Stop Talking.
"The title was my wife's idea," he said. "I have a problem with not stopping talking. When I was a boy, my three older sisters petitioned my parents to send me to boarding school because I wouldn't stop talking – and they did! I didn't stop talking there either.
"A few years back, I set the world record for the longest after-dinner speech, which lasted 12.5 hours. Guinness was very strict and said I had to begin after dinner, so I started at 9.30pm. I wasn't allowed a comfort break, so it was proper endurance. Now they allow rest breaks but there was none of that nonsense in my day. I found no problem in talking; the real challenge was surviving the night without a pee."
Having done so much in his life and having so much to talk about, Brandreth is allowing his audiences to choose what he will discuss each night.
"I will give them an a la carte menu of a whole range of topics, with more than 150 things, including politics, royals and theatre. They can choose a starter, main course and pudding and, with any luck, no two shows will be the same. I also do a lucky dip option, where they can shout out a letter of the alphabet. In the warm-ups, people have shouted out X or U, thinking they will stump me, but I own Sooty's xylophone, given to me by Harry Corbett. I have yet to be stumped."
Gyles says he attracts audiences of all ages, thanks to the variety of his work.
"People in their early-teens seem to love Just A Minute on the radio, and I also have a new audience of young mums in their 20s and 30s who watch This Morning or Gogglebox. These are shows I wasn't doing the last time I was in Edinburgh, which is why I think I'm in a bigger venue this time."
While he admits that the number of varied projects he is working on can confuse the public, he would not have it any other way. He said: "One of the things I learned as an MP was if you rely on one thing in life, when it ends what do you have to fall back on? So I like a portfolio life but I know it's difficult for people. Here I am turning up at the Fringe and hoping to be amusing but at the same time I've written a serious biography of the late Queen.
"It's difficult for people to work out what I am. Is he a serious MP, a serious writer, an author of murder-mysteries, a podcast host with Susie Dent about language?
"I'm lucky to have had such a varied life. People ask me why I'm still doing it at 75 and my jokey answer is I have three children and I have realised the one thing that keeps me in touch with them is money, but the real reason is I love it and I love the variety.
"My wife often says 'I hope you've said no to something today' and people find it hard to believe I say no, but I only do the things I'm passionate about. I do say no quite a lot.
"I have a bucket list and coming to Edinburgh wasn't on it until someone suggested it, and now it is. Like my friend Nicholas, I want to be coming to the Fringe at 95. I don't want to do better than Nicholas, just to equal him."
Another of Gyles' esteemed showbiz friends is Dame Judi Dench, whom he will interview about her career in a sold-out show at the Playhouse while he is in Edinburgh.
"She is extraordinary and another role model," he said. "She is 89 later this year and makes no concessions about that at all. She's huge fun. The show will be a celebration of her career. I'm hoping if she's here long enough, she will come to see my show. She said 4pm, when my show starts, is when she takes a snooze, so I've told her she can come along and take a snooze during it."
And it is not just in the crowd of Brandreth's shows where you might spot a familiar face, but backstage, too. "My gopher in Edinburgh about 15 years ago was Jack Whitehall," he said.
"He would fetch my coffee.
So feel free to bring me a cup of coffee and who knows? Your career might take off."
---
Gyles Brandreth Can't Stop Talking, Assembly George Square – Gordon Aikman Theatre, Edinburgh, Aug 2-27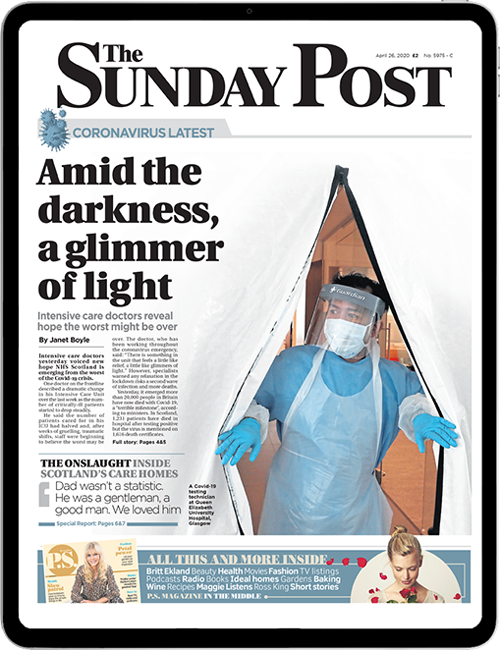 Enjoy the convenience of having The Sunday Post delivered as a digital ePaper straight to your smartphone, tablet or computer.
Subscribe for only £5.49 a month and enjoy all the benefits of the printed paper as a digital replica.
Subscribe