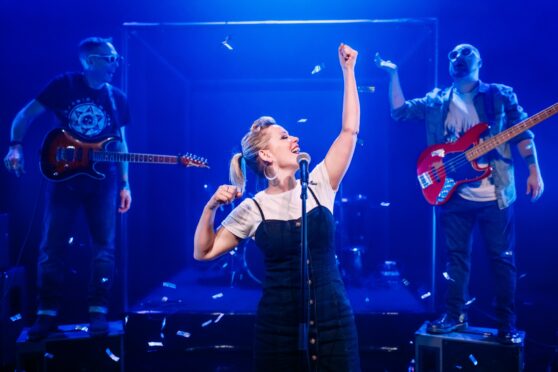 When Cora Bissett wrote a play about her life as a teenage rock star in the '90s, she expected her audience to be fellow 40-somethings who lived through Britpop.
What she didn't reckon on was her story resonating with today's teenagers, who recognised the heightened pressures and anxieties of being a young adult and the fear of messing up which Cora spoke about so openly.
"I didn't expect the younger generation to enjoy it so much. We went to Sao Paulo in Brazil with it and there was a group of teenage kids there who loved it and connected with that sense of feeling that you'd messed it all up and failed and your moment was gone," Cora said.
"I think that's because of the pressure on young people now and being compared not just to others in their immediate peer group but worldwide. The goalposts of comparison have moved out of all perspective.
"I've had teenagers come up to me really moved by it. Here's me, a woman who is probably their mum's age, standing on stage saying I really messed up at 17 and my parents must have wondered what I was doing with my life, and I didn't know but I just had to work it out. I had to live in the wilderness for a while.
"People my age, but also of two generations removed, can connect with that feeling. It's honest, comforting, bare and it strips away the pressure we're all living under – no matter our age – and of what we think we should be and the challenges of not reaching the heights of what your path should be, but finding other paths you didn't expect."
The show was What Girls Are Made Of, and it was an immediate hit when it premiered at the Fringe in 2018 before being taken around the world. Five years later, demand has brought it back to Edinburgh, and it just so happens that 2023 marks the 30th anniversary of Cora's rock star dreams coming true, before the inevitable nightmare began.
"I was at the Fringe last year as a punter and about six different people stopped me in the street and asked when I was bringing it back," explained Cora, who has gone on to become one of Scotland's best theatremakers, her acclaimed work including Glasgow Girls, Adam and Orphans.
"There's still a hunger for this show and other shows that give comfort, optimism and faith that we're doing okay, and that we're trying to keep everything together and work out a path that feels true to us," she explained. "We all need encouragement right now because everyone is unsure of what the world holds and our place in it.
"We're scared of getting it wrong, scared of being cancelled, scared of being out of touch and scared of being out of time. This show says we're all terrified and let's just agree that we need to get back on the horse and keep trying to ride it."
Cora thought she had the answers when she was 17 years old in Glenrothes when responding to a "band looking for singer" advert in the local newspaper.
She got the gig, her school friend
Cathryn Archer joined as drummer, and along with their two new bandmates, Darlingheart quickly recorded a demo, got on the radio, secured a manager and signed a fivealbum deal. Before they had time to draw breath, they were in London and sharing a tour bus with Blur and supporting Radiohead.
But as time went on, teenage Cora realised she didn't know the questions, far less the answers.
"It was so out of control and we were scooped up into this big, frightening world at 17," she said. "We didn't have a clue how the industry worked or of the powerful people pulling the strings and deciding everything. I didn't have the wherewithal, and when it went horribly wrong and the manager ran away with the money and left us in debt, I thought, hold on, I'm not owning this story.
"One of the most annoying things was I lived that cliché of being the band who was done over by the rock n' roll manager and then left on the heap of has-beens who never made it in the industry in the '90s. I didn't want that to be my story.
"Me and Cathryn have talked about this and I don't think we realised what deep waters we were in. I was just a school kid. I can look back now and be a bit kinder on myself. I saw lots of bands who became very bitter when they were dropped, but I decided to use it as fuel to rewrite my narrative.
"That time was only the start of my journey. I kept at it over the next 25 years and that is the real story. It was important to tell it my way and to look back as an adult on my teenage years."
It was the meticulous diaries Cora kept at the time which allowed her to recall her rock 'n roll adventure in such detail when it came time to write the story years later.
"I was clearing out the loft after my dad died and found them in boxes. There was me at 40, thanking my 17-year-old self for writing it all down. It was a treasure trove," she said.
What Girls Are Made Of also attracted some big-name audience members, including Self Esteem and Alexa Chung.
Cora said: "There was one performance where some of my schoolfriends had come along and I was talking to them afterwards when this person came over who I recognised. She was buzzing about the show and said she loved everything about it and could relate. It was then I realised it was Saoirse Ronan.
"Emilia Clarke came to see it in London and was similarly buzzing, and Louise Wener from Sleeper, who lived that life in a bigger way than I ever did and toured with the same bands, totally connected with it."
A lot has happened in Cora's life since 2018. She considered updating the story for the show's revival but decided to leave it as is and will instead write a follow-up.
"What Girls Are Made Of charts the time between teenagerhood and becoming a mum at 40, and now I'm seven years into being a mum and I've also lost my own mum in the intervening period," she said. "I'm writing a second show, which is about the different cycles of life and finding you can't go running to your mum anymore, and the realisation that you're the proper adult in the room."
Despite the tough times teenage Cora went through, adult Cora is positive about the experience and the way it shaped her life, and believes there might be a lesson there for us all.
"I feel blessed to have grown up in that period and seen all these astonishing talents like PJ Harvey, Liz Phair, Tori Amos and Bjork come through. It was an extraordinary time to live in.
"For me, time is such a healer and there's no bitterness. While it lasted, it was an incredible experience, and it changed the course of my life. Without it, I would probably have gone to uni and done something more ordinary, but it sent me off into a world where I thought anything was possible.
"I've had a blessed life of going between acting, directing, writing and recording, and of not being pigeonholed. Maybe there is something about crashing and burning early on that makes a person more fearless. What's the worst that can happen when the worst has already happened?"
---
What Girls Are Made Of, Assembly Rooms Music Hall, Edinburgh, August 4-27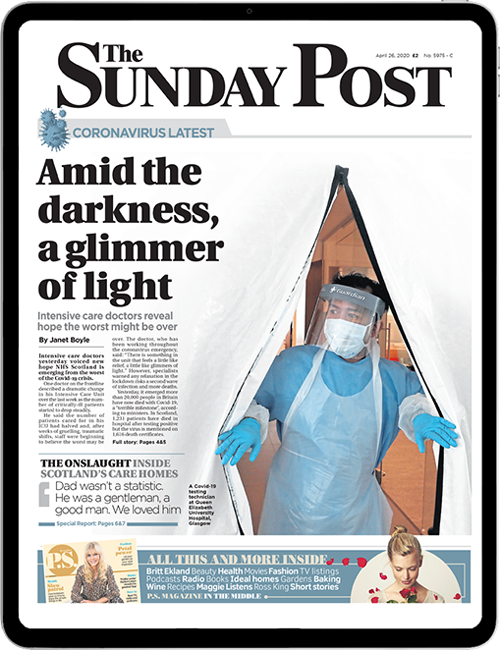 Enjoy the convenience of having The Sunday Post delivered as a digital ePaper straight to your smartphone, tablet or computer.
Subscribe for only £5.49 a month and enjoy all the benefits of the printed paper as a digital replica.
Subscribe