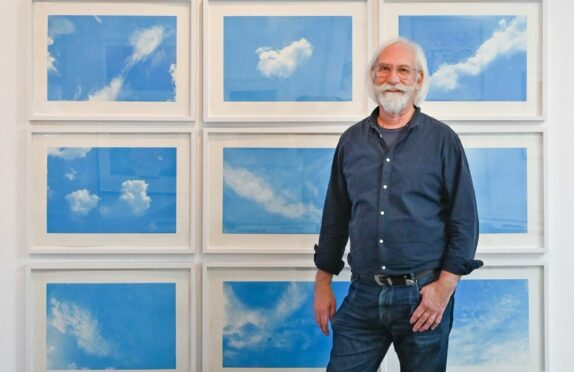 If you opened up John Mackechnie, you would probably find ink flowing through his veins.
The director of the famous Glasgow Print Studio for 40 years, he maintains it was working as a copy boy, running errands at the old Sunday Express in the 1960s, which set him up for a life in print.
"Almost all my family worked in the newspaper industry in the days of hot metal," he explained to me as we tour a new exhibition at Kelvingrove Art Gallery devoted to 50 years of the world-renowned hub for printmakers.
"I worked every Saturday from the age of 15 until I graduated from Glasgow School Art. I kept working at the paper until 1971. I even went on to be head boy, organising all the shifts. It was a great grounding for management later in life.
"I studied drawing and painting at art school but working in newspapers gave me a deep affinity with print."
The artist and master printmaker, 73, has been at the helm of Glasgow Print Studio (GPS) for the last 40 years. Overseeing The Love Of Print exhibition is one of his last major tasks as director before he stands down next year "to be a poor artist".
Mackechnie admits the job has been all-consuming. He told me his artist wife Sue used to joke that when their children were small, she had a photo of him at the end of their beds so they would recognise him.
There have been many challenges, not least when he took over as general manager at GPS in January 1983. He said: "To survive, we shrank the staff and I acted as director, workshop manager, etching technician, and even exhibitions organiser."
Thanks in no small measure to his efforts, the print studio survived to tell the tale and this exhibition, which opened on Friday, showcases 225 original prints by 130 artists from Scotland and beyond, offering a snapshot of changing styles and technology.
GPS first opened its doors in 1972 in a dry rot-infested ground-floor flat. Today, it is based in state-of-the-art studios and gallery space. Such is its standing on a world stage, that when King Charles wanted to set up a community print studio at Dumfries House in Ayrshire, he called on Mackechnie and his team. The roll call of artists who have worked at GPS is like a who's who of the last 50 years in Scottish art. Its founding members were all artists. Take a bow: Bill Blacker, John Faulds, Sheena McGregor, Jacki Parry, Jimmy Cosgrove, Beth Fisher, Eileen Murray and Philip Reeves.
Reeves, who taught printmaking at GSA, helped to establish Edinburgh Printmakers in 1967 then GPS in 1972, having identified a lack of support and premises for graduating artists.
By 1974, there were 50 regular workshop users. It was GPS's first director, Calum Mackenzie, who spearheaded a move in 1976 to Ingram Street. Not only did it provide a larger workshop and gallery space, it became a social and artistic hub.
John Byrne made some of his best-known artworks from the early '90s with the studio but his association goes back further. His first play, Writer's Cramp, starring Alex Norton, Bill Paterson and John Bett, was staged at GPS in 1977. The original poster, designed by Byrne and made at the studio, is on display at the exhibition.
Mackenzie encouraged this cross-fertilisation of art and literature and went on to set up Print Studio Press to publish books by emerging writers including Liz Lochhead, Alasdair Gray and Tom Leonard.
Elizabeth Blackadder learned to etch alongside Mackechnie after he invited her to make prints at the studio in the 1980s. "We collaborated to make her earliest etchings," he said. "I taught her the rudiments of soft ground, hard ground, aquatint, sugar lift and spit bite. She was such an able, natural and enthusiastic printmaker."
So-called New Glasgow Boys Adrian Wiszniewski, Ken Currie, Steven Campbell, and Peter Howson also worked with GPS to produce some of the most identifiable artworks of their careers.
The Love Of Print spans the generations. One section, Here and Now, shows off 50 newly commissioned works. The public will be able to buy these prints which include work by the likes of Kate Downie, June Carey and Adrian Wiszniewski.
Not all the artists are known to the public but one of my favourite prints is an updated version of a bestselling etching made by Fiona Watson called Just Little Words.
Running throughout The Love Of Print is the story of a resilient creative space where artists experimented with styles and technical wizardry. Here's to the next 50 years.
The Love Of Print runs until March 12. Tickets are £7.50 or £5 (concessions). Free entry for under-16s
---
Stars of the studio
The Love Of Print exhibition's Here and Now section features 50 new works by leading artists on sale in limited edition prints.
Here, Glasgow Print Studio director John Mackechnie reviews six of the most significant.
Adrian Wiszniewski Princess With Fish
2018, Laser-cut woodblock, 20 available
"Adrian Wiszniewski has had a long and fruitful relationship with the print studio. In this laser-cut woodblock from 2018, it was great to see Adrian exploring new technology, using a laser cutter to cut the blocks for a series of prints. Like a giant jigsaw, the separate pieces are inked up then put back together. This series of woodcuts was inspired by childhood memories of growing up in the 1960s and, in particular, a television series from East Germany called Tales From Europe. One of the stories, The Singing Ringing Tree, featured a princess and a giant fish. Although originally viewed in black and white, Adrian, a superb colourist, reimagined the scene in multi-colours."
Peter Howson, The Noble Dosser
1987, Woodcut
"This black and white woodcut has such presence and the scale is life-size. Working on this with Peter really took us out of our comfort zone because of the sheer scale of it. It's classic Howson. His first print at GPS was a lithograph, Man With Cigarette. He took one of my etching classes and I got to know him. Noble Dosser was his first woodcut and I believe he would have been influenced by the German Expressionists such as Beckmann and Kollwitz."
John Byrne, The American Boy
1999, lithograph
"John Byrne is such a fantastic artist. A great draftsman – and he makes it look so effortless and easy when nothing could be further from the truth. John phoned me just before Christmas in 1990 to ask if he could come and make some prints. I suggested we meet in the new year to discuss. I will be there in 20 minutes, he said. He worked with us nearly every day for six months."
Jim Lambie, Sun Visor
2014, digital print with spray paint
"Jim Lambie is well-known for his vivid sculptural geometric patterns, Zoobop, and he has designed a new image in this style as a lead image for our 50th anniversary, titled We Love You. Sun Visor is a digital image with spray paint additions made as a result of a residency we arranged for Jim in Antigua."
Elizabeth Blackadder, Oriental Poppies
2010, screenprint in an edition of 80
"This is just one of so many – 140 – wonderful prints the late Dame Elizabeth Blackadder made at GPS over 30 years. It was an absolute honour to work with her. My very favourite, a hand-coloured etching called Poppies, didn't make the exhibition!"
Alison Watt, Shoal
2013, screenprint, 40 editions available
"I had appreciated the beauty of Alison's paintings ever since she graduated from GSA in the 1980s and had regularly suggested that we make an edition of prints. In 2013, we worked together to create Shoal as part of our 40th anniversary celebrations. Working in acrylic, we mixed subtle variations of Payne's Gray. With the help of Master Printer Scott Campbell we have made another screenprint, Fortrose, for this exhibition."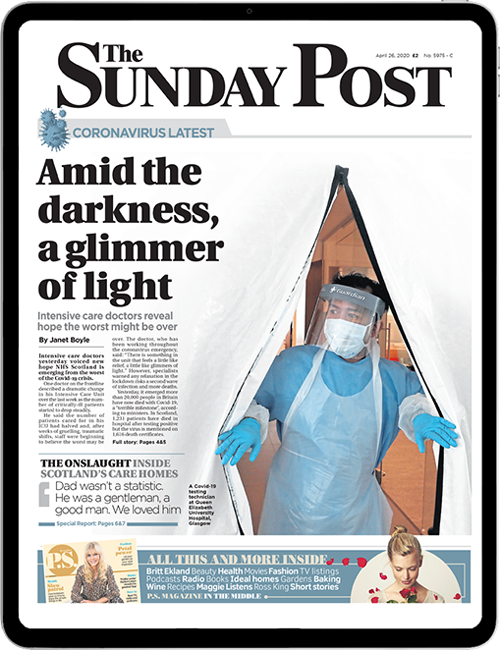 Enjoy the convenience of having The Sunday Post delivered as a digital ePaper straight to your smartphone, tablet or computer.
Subscribe for only £5.49 a month and enjoy all the benefits of the printed paper as a digital replica.
Subscribe