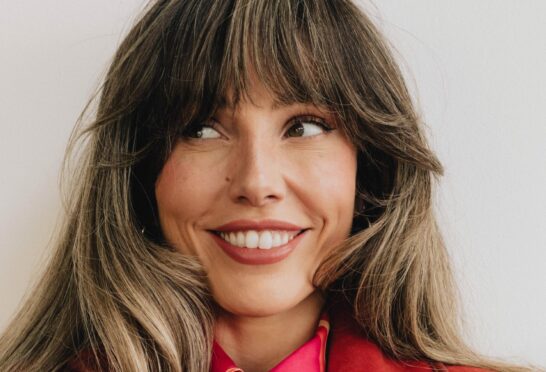 It was a moment of magic, a brief meeting between two performers several generations apart but also an encapsulation of just how far Georgia Cecile had come.
The award-winning jazz singer from Lanarkshire had just performed a New Year's Eve concert at Monte Carlo Sporting Club in Monaco when she bumped into one of her lifelong idols, Shirley Bassey.
"I'd been invited to play at the Hogmanay party and I performed my set before the bells. Afterwards I went down to the room of 1,000 people having dinner and just as I walked in, I saw Shirley walk out with her assistant," explained Cecile.
"I think she's the best female singer who has ever lived and I had been watching her on YouTube the night before as I like to study other singers and watch their techniques to come up with my own ideas.
"I shouted across to her, 'Dame Shirley' and she looked over and I said, 'Oh my God I adore you. Can I get a picture?' She said, 'Yes darling, and I've been admiring your gown all evening.' I was crying and I probably scared her a bit but it was insane, a total dream come true.
"I had no idea she was there and if I'd known before I played, I would have been 10 million times more nervous. What a woman – she's 86 and was just glowing from the inside."
Performing a New Year's Eve party in the playground of the rich and famous is a far cry from her days growing up in Uddingston but it was also that childhood which gave her a love of jazz and set her on a musical journey that saw her playing in front of such hallowed company.
"My grandad, Gerry Smith, was in the Glasgow music scene and played seven nights a week," she said. "He was a mechanic by day and a jazz pianist by night. He had nine children so had a lot of mouths to feed. We all lived in the same town and so I was always surrounded by family. At gatherings and at weekends he would be playing this great music.
"On a Friday after school I'd go to my granny's and she would bring the accordion out. She was a strong musician as well. There was music everywhere. My dad's older sister, Ann Smith, was an incredible jazz singer. She had an amazing voice, and I think she was my first singing teacher. I loved her big, rich tone – the warmth and power of it. I was blown away by it and I think I've emulated her in a lot of ways.
"Aunt Ann wasn't a professional but she sang a lot with my grandad in the clubs in the '60s.
"She could have been famous but her circumstances didn't allow it and I feel in many ways, with my circumstances and upbringing having allowed me to do this full-time, that I owe it to her. Neither of them got to see me doing this as a career but the rest of the family all come along to the shows."
Between the musicians in her family and a record collection that included legends such as Nina Simone, Duke Ellington, Billie Holliday, Aretha Franklin, Stevie Wonder, Paul Simon and The Beatles, music seeped into her bones from an early age. She was encouraged to sing at school and in the church choir.
She attended dance classes throughout her childhood and was part of the Apollo Players, acting in plays like Annie and getting used to being on the stage but it was her school teachers who encouraged her to seek a career in music.
"The teachers at Uddingston Grammar were very supportive and nurturing of my music," she recalled. "If it wasn't for that, I don't think I would have had enough encouragement, because within the family music was seen as more of a recreational tool rather than a profession but having the school's support allowed me to play with the idea of it being something more."
She studied law but dropped out after a year and instead enrolled in the popular music degree at Napier University in Edinburgh where she learned all about singing techniques, music production and the academic side of jazz music.
She met her songwriting partner, Euan Stevenson, and they began to play the jazz clubs, learning from the older musicians on the scene and honing their craft.
In 2021, she released her debut album, Only The Lover Sings, and a couple of weeks later received one of the biggest opportunities of her life.
"I got a call from my agent saying I might be getting the support slot for Gregory Porter's sold-out four-night run at the Royal Albert Hall," she said, her voice still tinged with a sense of disbelief.
"Obviously I started to scream and for the next week I checked my phone constantly and couldn't sleep while we waited to find out. I love Gregory Porter and I'd written it down on a list about six years ago that I wanted to support him.
"We got confirmation a week before the gigs so we had to cancel everything, fly down and just rehearse like crazy to get the set prepared. All of the work we'd done as a band that summer, doing loads of gigs and festivals, meant we were ready.
"It was just amazing to sing in that room where every one of my heroes has performed. There were pictures of all these people I've looked up to – Frank Sinatra, Shirley Bassey, Tony Bennett.
"I thought I'd be terrified but I just felt ready for it and like it was all I'd ever wanted. I was worried I might freeze but it felt very natural and I was very at home in front of 6,000 people. I felt alive, like I was really supposed to be there.
"Gregory is the nicest guy, so warm and friendly and full of energy. It was towards the end of Covid and his management had said to me no touching or hugging, but he grabbed me and gave me this big hug and told me his friends in the crowd had been texting him to say his support act was dope. I've met him a few times since and he is brilliant, just so sweet."
At the Jazz FM Awards last year, Cecile won vocalist of the year and UK jazz act of the year, which she called "completely overwhelming".
The accolades and attention have come fast since the release of her album but it was a lot of hard work and a tough grind to get to that point, making everything happening now so much sweeter. "I've had some great feedback on the album and nice accolades and although that's not why we do it, after working so hard and for so long on something, it's good to get some reassurance to keep going. I'd been working on my songwriting for 10 years and gigging a lot, learning the craft and earning my stripes on the Scottish jazz scene.
"Scotland has a brilliant jazz festival circuit – Glasgow, Edinburgh, Dundee, Aberdeen, Islay – and playing those gave me a chance to hone my skills and craft.
"It's my job and I treat it like work – preparation, practice, rehearsals and so on but then you do get excited in those moments where you are playing in beautiful places or meeting inspirations.
"People only see the highlights and the glamour on social media, though, not the 10 years of rejection and having to keep picking myself back up. I was emailing promoters and festivals for years before I got one single yes.
"The slog, dedication and sacrifices are overlooked – I remember my friends all going off on holidays and travelling and I would say no, I had to work on my singing and music, so now I feel able to enjoy these moments because I did all the groundwork."
Cecile sees a big resurgence and revival in jazz music, especially among younger people who are able to discover music on streaming platforms rather than relying on Top 40 radio.
She says in Scotland and throughout the UK, more and more young people are becoming interested in jazz. One of the reasons for that is the hard work of Tommy Smith, the acclaimed saxophonist, founder of the Scottish National Jazz Orchestra and associated youth orchestra, and a professor of jazz at the Royal Conservatoire.
Cecile and Stevenson will team with the SNJO for a series of collaborative concerts next month, entitled This Is A Communion.
"I'd done a guest spot with them at Christmas in 2021 and Tommy got in touch last spring to ask if I'd like to do a collaboration on a full concert," she explained. "It was a big recognition for me as a Scottish jazz artist and as a singer.
"To be able to sing my original songs with an orchestra is a dream and it's going to be epic. Any time I've sung with a big ensemble it gives a whole new energy and inspiration to give even more.
"We'll be performing some songs from my debut album but Euan and I have also written some new songs, which have a lot of gospel and soul influences as well as jazz.
"It's uplifting and celebratory music because it feels like we're celebrating being able to play together in such a large capacity again after the pandemic, which is brilliant."
Intimate follow-up kicks off busy year
As well as playing big orchestra shows next month in some of Scotland's biggest concert halls, Georgia Cecile will also offer up a change of pace with a new, stripped-back album that she recorded in a private residency just over the border.
She is releasing a duets album with her partner, Fraser Urquhart, who is also a jazz pianist.
"It's something we've been talking about for ages, so we went out and recorded it in a beautiful place called Netherby Hall, which is privately owned in Carlisle," she said. "The lovely owners let us use the room and a grand piano to record.
"It's much more raw and intimate than the first album, just me and the piano, so there's no fancy instrumentation or orchestration; it's pared back and I think it's a nice follow-up. We have a show on Valentine's Day at Ronnie Scott's in London, which is a preview launch for the record."
She is also planning a new solo album, working again with her usual musical collaborator Euan Stevenson, with a number of songs already written.
"It's looking like a busy year," she said, smiling. "We have some more gigs in the diary, loads of festivals over the summer, and some stuff going on in Europe as well, so I'm just really excited to get stuck in."
---
Georgia Cecile and the Scottish National Jazz Orchestra, Eden Court, Inverness, Queen's Hall, Edinburgh, Glasgow Royal Concert Hall, Perth Concert Hall, February 23-26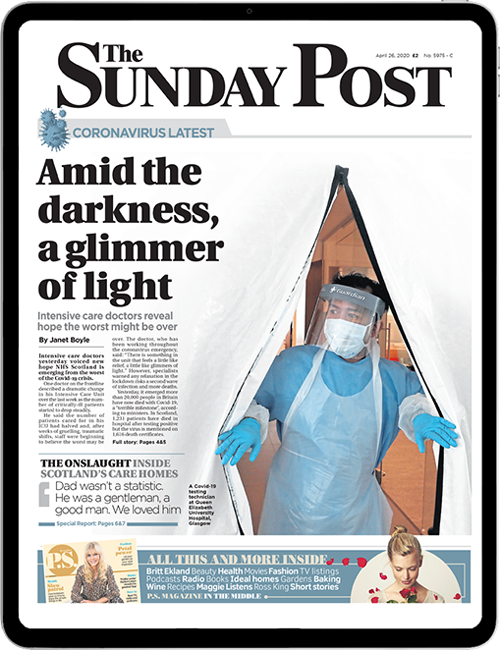 Enjoy the convenience of having The Sunday Post delivered as a digital ePaper straight to your smartphone, tablet or computer.
Subscribe for only £5.49 a month and enjoy all the benefits of the printed paper as a digital replica.
Subscribe