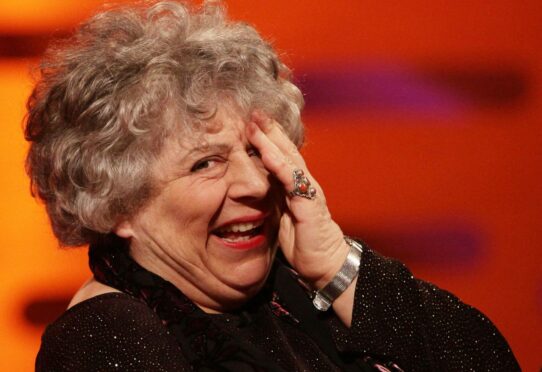 It's 10am on a sunny morning and Britain's naughtiest national treasure is outside in her nightie, soaking up the rays. She may be 80, but Miriam Margolyes is as busy as ever.
The actress – who has appeared in a whole host of TV shows from Blackadder to Call The Midwife, and who is known for movie roles including Harry Potter's Professor Sprout and the Bafta Award-winning Mrs Mingott in Martin Scorsese's The Age of Innocence – is on location in Wales.
My Happy Ending, with Four Weddings And A Funeral star Andie MacDowell, is being shot in Aberystwyth and Margolyes – a Glasgow GP's daughter – is having a hard-earned day off. Earlier this summer she was in Scotland filming a travel series with Alan Cumming. Meanwhile her hotly anticipated autobiography is flying off bookshop shelves.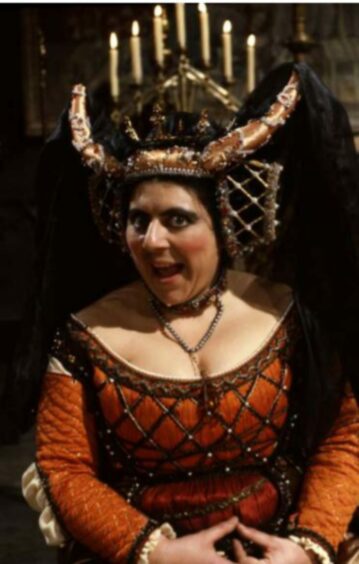 An irreverent, straight-talking, riotous romp through an extraordinary life filled with love, laughter and a few tears, it kicks off with her Jewish immigrant heritage in Glasgow's Gorbals, a glorious childhood, and a subsequent string of often hilarious adventures and misadventures – right down to a ticking-off from the Queen.
"I am surprised I have lived this long, surprised that my book has been published, and surprised that everybody loves it!" she trills.
"Now I'm making a lovely film about cancer. It has a wonderful script; that's why they were able to get somebody of the stature of Andie McDowell. She is a big American and they don't travel to Wales for nothing."
As if bang on cue, the "big American" pops in for a chat. "I'm just doing an interview with The Sunday Post," Margolyes informs her, "I'll see you later."
Resuming our interview, she explains that today is a "free day", adding: "That's why I am sitting out here in my nightie."
That doesn't prevent further approaches, the make-up artist back from a coastal walk and wanting to catch up, and fans stopping to gawp. "What are you looking at?" she offers, in customary direct but affable fashion.
Life remains a wonder
Margolyes loves "to connect" and life remains a wonder for the woman who, while growing up, regularly returned to the family's homes in the Gorbals and Govanhill, and later Pollokshields. Although she has both British and Australian nationality, she identifies as a Scot.
"I was thrilled Alan asked me to join him on the trip around Scotland," she says. "It was a very emotional experience, revisiting the very places where my father was born and lived and all the sites around that were familiar to him."
Channel 4 is said to have conceived of the pairing after witnessing a spark between the duo when they were guests on the Graham Norton Show with Harry Potter star Daniel Radcliffe last year. Apparently, Radcliffe warned his fellow actor about Margolyes' cursing and flatulence when he mentioned the idea of a road trip around Scotland in a van.
But she is typically unapologetic. "The flatulence has not been an issue. I warn people, I just say I am going to fart now, then there's a pause and then it comes, a tale of 'sound and fury signifying nothing' as Shakespeare said. I tend not to smell. Alan farted too, but not much," she chortles.
"We had a good long time in the Gorbals but it has changed. We went to Allison Street and met a very nice gentleman who asked if we wanted to go in the house. I said yes because that was where my grandfather lived. We went in and I saw it was very poor, it hasn't been reconstructed; 10 families in the tenement, with one staircase and one toilet – real poverty."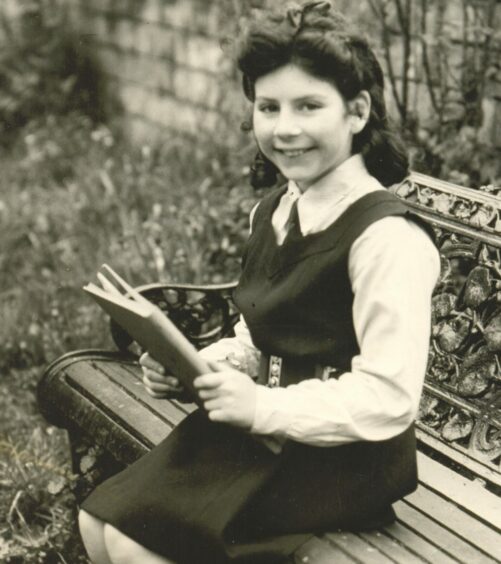 She adds: "I must say I showed Alan the little house in Fordyce near Portsoy (in Aberdeenshire) that Bill Paterson and I bought. We were in a television series (in 1980) called The Lost Tribe written by Jack Ronder. The cottage was the location and Bill and I bought it and did it up. It was going to be demolished. I like to think we saved it. It is still there.
"I also did an episode of Call The Midwife in the Isle of Lewis two years ago. It was the most beautiful place.
"Scottish people are bliss, they just are! They won't take any s***. I want Scotland to be separate (from the rest of the UK) because I want them to rejoin Europe. I am so angry about Brexit. It is really a crushing blow to me."
"The naughtiest girl"
Born in Oxford, where at school she was dubbed the naughtiest girl, she went on to study at Newnham College, Cambridge where she performed with the Footlights theatrical group, alongside comics who would go on to form Monty Python and the Goodies. She is scathing of them in the book.
John Cleese, with his cohorts Bill Oddie and Tim Brooke-Taylor and some others sent her "to Coventry", she claims. She also says she was bullied and ridiculed.
"I'd not met studied cruelty like that before. I was 19 and it was painful. I used to go back to my room and weep, but I got over it…sort of," she writes.
Yet the experience failed to dull her confidence or candour as evidenced in the book she dedicates to her partner of 53 years, Heather, and to her mother Ruth and father Joseph.
Seamlessly morphing into a flawless but "pan loaf" "Weegie", she says: "He was born in 1899 and Scotland for me is a place of sentiment and memories. My grandfather was born in Belarus. He left in about 1870 and came to Leith. They started out in Edinburgh and then went through to Glasgow.
"He was a peddler. He had little gems as presents and the miners' wives all along the lowlands loved him. He made money and was able to buy a small wholesale jewellery shop in (Glasgow's) St Enoch Square called James McMenamin."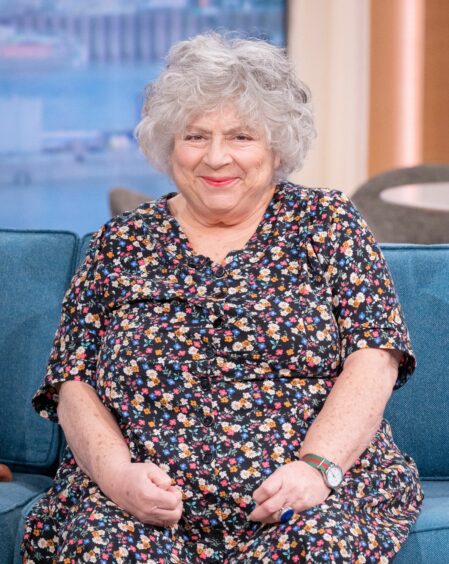 It was a turning point. From their crowded and impoverished first home in a tenement they moved to Aytoun Road in the suburb of Pollokshields, before doing well enough to move to a "wonderful house" further up the street.
Her father was a clever boy, gaining a scholarship to Hutcheson's Grammar School. After graduating from Glasgow University in 1926, he worked as a ship's surgeon before becoming a GP in London where he met Ruth.
"My mother was the greatest influence on my life," says Margolyes. "She is with me still. My father (an observant Jew) was very 'Presbyterian'. He was quiet and studious."
Slipping back to her self-confessed "posh" English tongue, only child Margolyes reveals: "I think of my parents every day. I hear the echo of them all the time and I see them in my mind's eye. I can hear my father because he lived until he was 96 and stayed with me in my house in London for the last 10 years of his life.
"Mummy was 69 when she died in 1974. Before that, she had a devastating stroke and for seven-and-a-half years, she couldn't really speak or move. I have forgotten the sound of her voice and that makes me so sad. That's why the genealogy is important to me. My own family now is just me, and the few cousins who are left. I went into genealogy to find my family."
Reflecting
Writing the autobiography gave her the space to look back on her life. "I am more famous now than I have ever been which is funny when you are 80. I could never have envisaged this. I don't think you do when you're young, you just live the moment. Now I do think into the future and I know there is not much of it."
Margolyes has turned down countless offers to host chat shows, and no longer has the stamina for theatre. Even the sparkle of Strictly Come Dancing isn't enough to lure her. "I have been asked and under no circumstances would I take part in that delightful programme; let's just leave it at that," she says when gently pressed for a reason.
Her heart is set on making more documentaries and in January she is heading to Australia to make three. "And there's always radio," she adds. "I started in radio and I will probably finish in radio. I am a middle class, pseudo intellectual; a champagne socialist and I love Radio 4, it's my spiritual home."
But first she will enjoy an emotional reunion with love of her life Heather in Italy after the pandemic forced a year-long separation. Nothing is more important than the time they spend together.
She says: "When you think about death, about the nothingness ahead and you don't know what it is going to be like, it is scary. But you can't think about it too much or you wouldn't enjoy the joy. You have to live for now. I have to count myself fortunate. Do I like being 80? No not much, I'd rather be 25, thanks very much."
---
Queen told me 'be quiet!'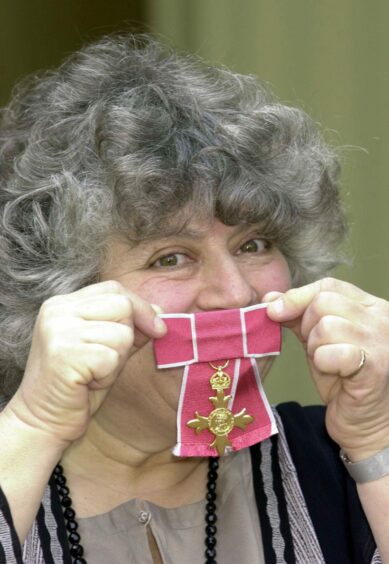 Miriam Margolyes OBE on the moment the Queen told her to shut up at a British Book Week reception in Buckingham Palace:
"The crowd was huge and noisy but, despite her being tiny, about my height, we immediately spotted the Queen, looking exactly as she should, with a helmet of iron-grey hair and her handbag clamped like a grenade to her elbow. We quickly shuffled into a semicircle, using a Trooping the Colour technique, and pasted rictus smiles on.
"In a few moments…Unbelievably, Her Majesty the Queen was standing in front of me. 'And what do you do?' she asked. Instead of saying like any normal person 'Your Majesty, I am an actress who records audio books,' I took a deep breath, and declared, 'Your Majesty, I am the best reader of stories in the whole world!'
"Her Majesty looked at me wearily, rolled her eyes heavenwards, turned away to my Scottish friend. She said to him, 'And what do you do?' He replied, 'Your Majesty, I'm an academic trying to help dyslexic children to read. We've discovered that if the letters on the page are printed in different colours it helps the children to absorb the information more easily.'
"'How fascinating!' I said. 'My goodness, I didn't know that.' At which, Her Majesty turned back to me and said sharply, 'Be quiet!'
"The 't' of 'quiet' was especially crisp. Everyone looked down. Undeterred, I spoke again: 'I'm so sorry, Your Majesty, I got carried away with excitement.'"
---
This Much is True by Miriam Margolyes is published by John Murray Press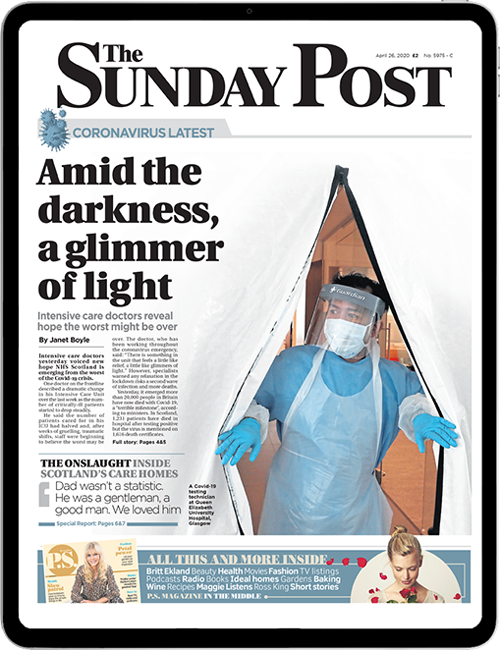 Enjoy the convenience of having The Sunday Post delivered as a digital ePaper straight to your smartphone, tablet or computer.
Subscribe for only £5.49 a month and enjoy all the benefits of the printed paper as a digital replica.
Subscribe