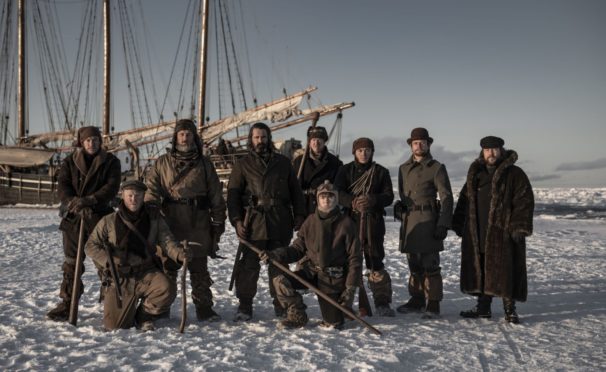 Inching across the deep, dark Arctic ocean in a tiny rowing boat, Gary Lamont suddenly threw himself sideways after a huge splash made him fear a polar bear was about to attack.
When he looked up, he found himself buried in the bulked-up figure of Colin Farrell, his co-star in big-budget TV drama The North Water.
It was only when the acclaimed Irish actor reassured the Scot the noise was only an oar dropping into the water, and not an apex predator out for a takeaway, that he could calm down and laugh.
Or at least, as calm as you can be when you're filming just 500 miles from the North Pole, at temperatures of minus 27, and with armed sentries guarding their corner of the tundra from the hungry white bears. It all seems a long way from cutting hair in Sheildinch.
The former River City star was thrilled to join the crew of the eagerly awaited whaler boat thriller series, which also stars Stephen Graham and Jack O'Connell.
And despite the genuine threat to life lurking round every corner, the actor said working on it was one of the most amazing experiences of his life.
"I got asked to tape for the part just over two years ago, and it was just before TRNSMT. I was told it was for a man in his 40s, Scottish, who'd spent all his life at sea, and I said there's no way I'm getting that," he recalled.
"But I got my pal to do the taping with me in her flat in Dennistoun in Glasgow and then we went off to TRNSMT. It was probably a couple of weeks later they asked, 'can you row?'
"It's still a total pinch-me moment that all of a sudden it's here now and it's incredible and breathtaking.
"You get there with the stillness and the vastness and you're at the top of the world. Unless you're a Shackleton or an Attenborough, that's the first time anyone in your lineage has gone that far – and it's life-changing."
Lamont and his castmates spent three weeks filming The North Water in the Arctic Circle, working on the frozen ice, sailing in rowing boats and crewing a replica of an ancient whaling vessel for the series based on the bestselling novel by Ian McGuire.
Cast and crew slept in a converted Norwegian ferry which followed Nasa satellite directions to suitable ice floe locations each day.
Dodging polar bears and frostbite is a million miles from his beloved turn as hairdresser Robbie in River City, which he left in 2017 after eight years on the soap.
Since then, he's enjoyed parts in two seasons of Outlander, and has various movies on the way.
But the life aquatic with Farrell and Co is his biggest gig to date and he's just glad it wasn't his last.
"At one point it was minus 27 and honestly, I've never felt anything like it. The biting cold, I thought my face was going to fall off," he said.
"You have people with rifles stationed at either end of the set to spot a polar bear, and the fact that I am even discussing polar bears in relation to my life is mad. I grew up in Castlemilk and I live in West London, we don't have a lot of polar bears cutting about the place.
"That was a real palpable fear. How do you spot them? They're white and everything there is white.
"Every day I was going up to at least one of the marksmen was like, ' have you ever done this before?' Or 'have you ever met a polar bear before?' Every time I was on the rowing boat, I was terrified and was convinced I was getting swiped.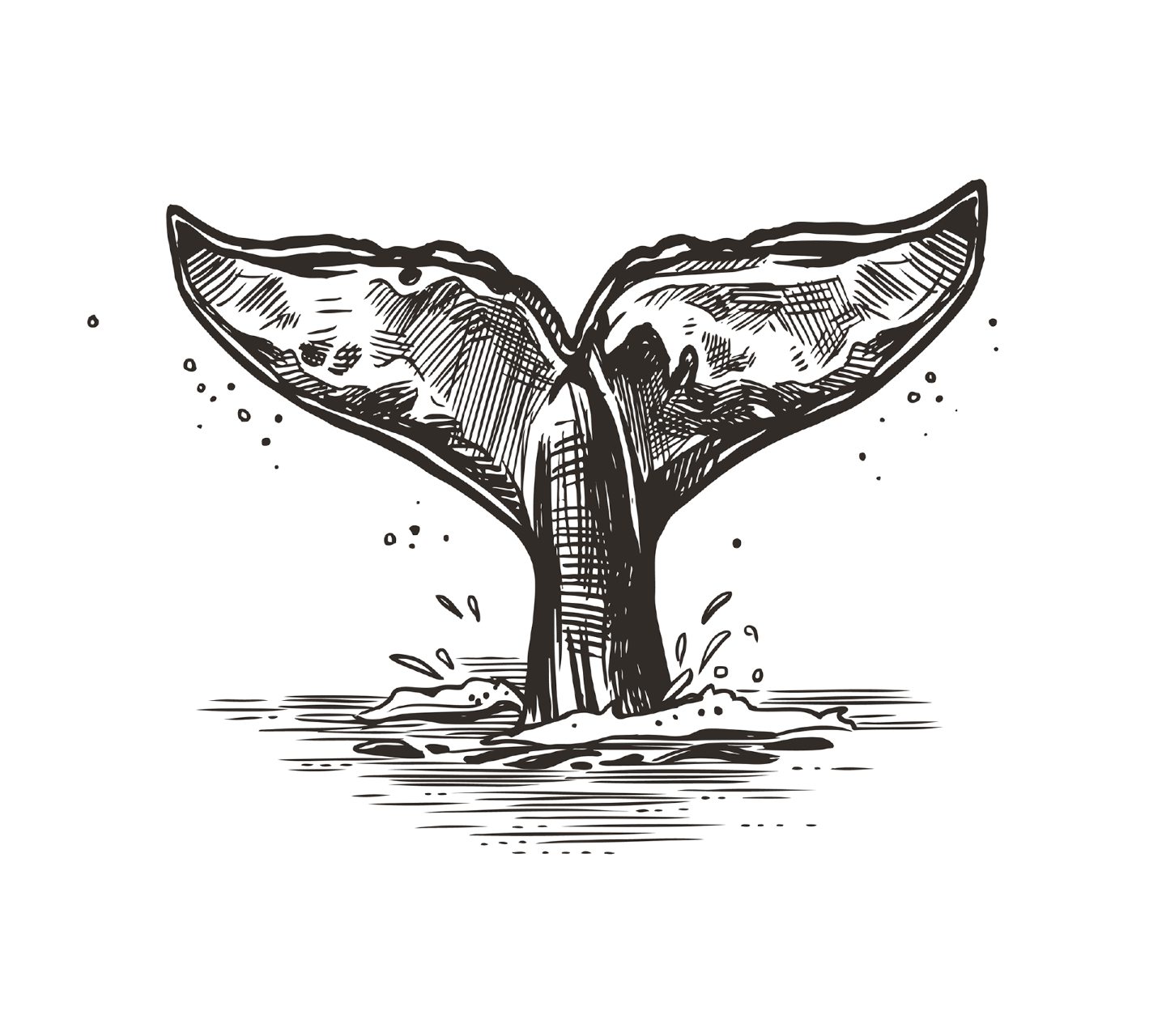 "At one point Colin dropped his oar in the water and I lost it, I thought this was it and I was up and under his oxters and he's like, 'it's my oar, it's my oar.'
"I was worried there was a polar bear coming to get me, the humanity snapped in and I just thought, 'duck'. We had a good giggle about that."
Lamont, 36, loved working with the Irish star famed for parts in Miami Vice and In Bruges, as well as upcoming blockbuster The Batman.
The Arctic drama's cast is packed with big names, Line Of Duty's Graham and Skins actor O'Connell joined by the likes of Peter Mullan and Tom Courtenay.
But Farrell's physical transformation into hulking and menacing harpooner Drax has won most attention after he put on three stones for the part.
Gary recalled: "We first met at Oslo airport and he looked completely different. He's a lovely man. We would often get made up at the same time and it was great to get to know him – that wasn't an easy role for him to do. He's a total sweetheart.
"Stephen Graham was also a wonderful human being, he's really funny.
"Because we were all in such close quarters, we all had to basically sink or swim, and what I loved about Stephen was that he's got this massive talent but he would always share. He would offer titbits like 'maybe do this' or 'think about this', and he's always thinking, his mind is always ticking over and he never does anything the same way twice."
The drama is set in the dying embers of the bloody whaling industry, and the Volunteer ship crew is part of the fleet hunting and butchering the giant mammals. Slaughter scenes involving the CGI beasts are brutal and gory, and portray the full horrors of the trade.
Lamont said: "Apparently it was such a successful industry because those beautiful, intelligent beings did come up to the surface to be inquisitive and see what's going on, and then you had these men doing the worst things. It's horrendous."
The shoot, which also included filming interiors at studios in Budapest, took place almost two years ago.
Lamont is thrilled to finally see it launched after a lengthy Covid-19 delay, to become another highlight of his busy post-Shieldinch career.
As well as Outlander, he has appeared in the movie Boiling Point earlier this year – again with Stephen Graham – and also recently worked on the Val McDermid police series Karen Pirie.
He is next off to Lewis to make surfing movie Silent Roar with Inbetweeners producer Chris Young.
It's all a long way from his glittering farewell to the soap which made his name – after his character Robbie was whisked away in a limousine with pop band Steps.
He said of his departure: "I just knew there was amazing TV out there, and I knew that I had this skillset and if I didn't do it before I got old, I'd regret it for the rest of my life. I had eight brilliant years at River City and I'll be forever grateful. It had run its course for me.
"When I got Robbie at the age of 25, I thought I'd be known as that big gay hairdresser off the telly – and that's no bad thing. But I did know there was more in my wheelhouse than camp hairdresser, and it feels really exciting to do this.
"Post Covid, I've got all these things happening and with North Water coming out now, I've never had such exciting opportunities.
"There's no guarantees, but from where I come from and where I started out on, it does seem to be the only way is up."
The North Water, BBC2, Friday, 9.30pm. Full series available on iPlayer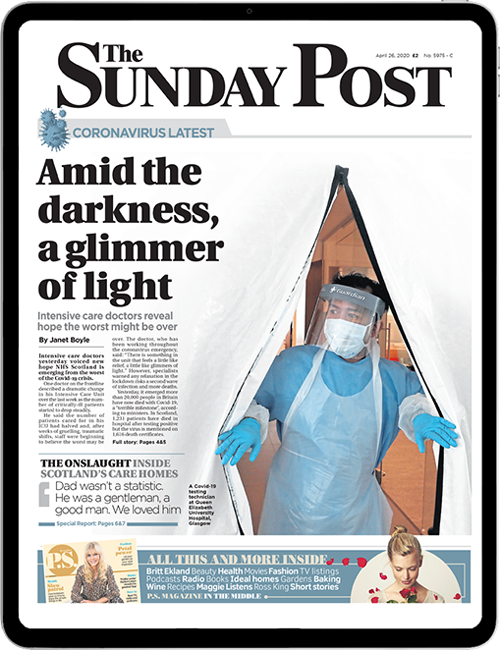 Enjoy the convenience of having The Sunday Post delivered as a digital ePaper straight to your smartphone, tablet or computer.
Subscribe for only £5.49 a month and enjoy all the benefits of the printed paper as a digital replica.
Subscribe