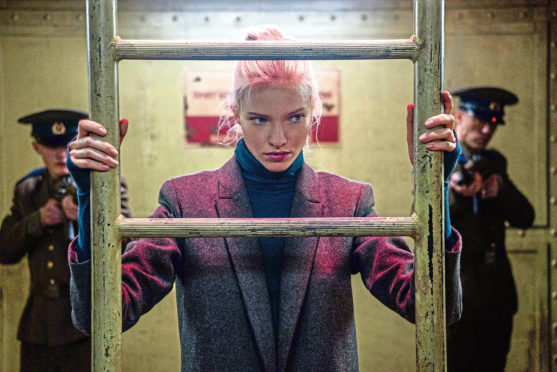 She's the reluctant supermodel who's set to become an accidental film star, too.
Sasha Luss, born in a little-known part of Russia once used by Stalin to hold prisoners en route to the Gulag, showed no interest in modelling as a young girl.
At 13, however, she was snapped up by a Moscow agency and before long was off to the United States and looked set for a top career on the catwalk.
What she really loved, however, was dance and studying, and even her grandmother hated the idea of the intelligent girl devoting her life to modelling.
When things didn't quite work out as planned, Sasha returned to Russia and her studies, but Karl Lagerfeld spotted her, made her the focal point of his latest fashion campaign, and she ended up becoming a supermodel after all.
Next to spot her, however, was the world of cinema, and in 2017, Luss made her extraordinary debut playing Princess Liho-Minaa in Valerian and the City of a Thousand Planets, a French 3D space opera movie that also starred Cara Delevingne, Clive Owen and Rihanna.
A high-grossing success, it helped her get a second role, in the movie out this week, Anna.
Luss stars alongside Dame Helen Mirren, Luke Evans and Cillian Murphy in the English-language French action thriller.
Sasha plays the title character, Anna Poliatova, who has a secret that, once unleashed, turns her into one of the world's most lethal and dangerous government assassins.
Luss, it seems, is no ordinary supermodel either, and while most of her peers on social media post endless selfies and pics of their palatial homes and supercars, she posts Russian poetry and discusses philosophy.
All of which will have helped her get on like a house on fire with Dame Helen, who turns 74 this month and shows absolutely no sign of slowing down.
Mirren has one film already out this year and a third due later in the year, and she will have passed on plenty of handy tips if Sasha prefers to now focus on film and finally give modelling the slip.
Sasha is pleased, though, that the world no longer just expects models who look exactly like the supermodels she knew when she was growing up.
"Thank God it is changing and it is always different types of beauty and personalities," she says.
She certainly hasn't let her success and fame go to her head.
"In the eyes of my school, as a kid, I am a success," she says, "but I am definitely not, there is so much I want to achieve."
Mirren will have told her anything she needed to know, but only if asked.
"When you're young, you wonder what all these old people are droning on about, trying to impart their wisdom," she says.
"It's not relevant to you because being young is such a specific thing."
Dame Helen's own philosophy about her work sums up why she won't ever be putting the slippers on and fading into retirement and passing the time doing little.
"There's no good way to waste your time," she points out. "Wasting time is just wasting time.
"I have never in my life found myself in a situation where I've stopped work and said, 'Thank God it's Friday.'"
---
Anna is in cinemas from Friday July 5.