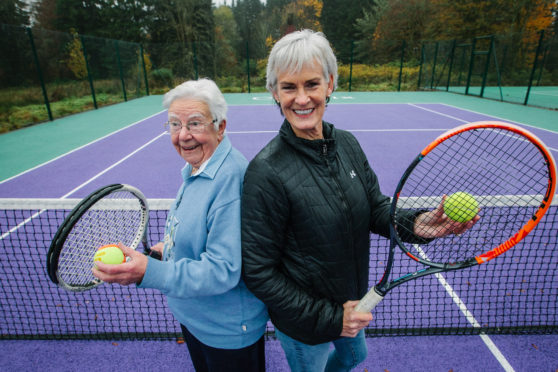 Stepping on court to face down one of the Murrays would be enough to leave even a ­seasoned pro feeling a little nervous – but, for 92-year-old Elspeth Dick, it was the perfect birthday present.
Elspeth, who still plays doubles tennis three times a week, was lucky enough to celebrate her big day on Friday by swapping serves with Judy and her mother Shirley Erskine, 85, who were even left chasing a point or two.
After a spot of tea and scones – which tennis coach Judy advised was "good for your backhand" – Elspeth laced up her trainers and headed on to the court at Cromlix Hotel in Perthshire, which is owned by two-time Wimbledon champ Andy.
"I started playing in my 50s when a friend, who was mad about tennis, insisted on teaching me," explained Elspeth, who lives in Glasgow.
"Her initial method was to have us both stand at the back line of the court, hitting the ball all the way to the other side – eventually I would have blisters on my hands! It wasn't the most gentle introduction to the sport but I began to love it."
Now, on Mondays, Wednesdays and Fridays, from 10am to noon, Elspeth shows off her impressive skills at her local club, Weir Recreation Tennis, which she initially joined to meet new friends and get a little exercise – two things she believes have contributed to her long and happy life.
Modest about her abilities, Elspeth insists she "doesn't play that much" and just pops down to the outdoor courts when the weather is nice, playing a set with other club members, many of whom also took up the sport in later life.
She said: "The atmosphere of a sports club keeps people going, and keeps them going out. A lot of older people, who maybe don't have any connection with a sport, such as bowling, golf or tennis, just stay in the house – it can be hard to make friends, and it can be very easy to become lonely.
"I play with two ladies who are exactly 20 years younger than me, as well as a few younger people in their 50s. It's great for giving you a routine."
Hitting balls back and forth, Judy praised Elspeth's serve and admitted their meeting has inspired her to help more older people get back into playing sport, using fun programmes designed to be played in smaller, less daunting spaces.
"There's massive interest in tennis, and a huge potential for the sport to grow," said Sunday Post columnist Judy. "But if people want to learn from scratch they won't usually rock up to a club and just start playing. Like Elspeth, they need someone to help them get started.
"I have my own ­foundation, which is all about taking tennis into areas you might not normally find it, and I've started to realise the courses I do with young kids could also work perfectly for older people who maybe can't move as much as they used to.
"It's all about adapting to what you can do, not what you can't do. So, meeting Elspeth might just inspire me to start a new course."
Having now met the woman behind her favourite tennis player, Elspeth is keener than ever to keep improving her trick shots and ­volleys – and she won't let her age get in the way any time soon.
She said: "Minutes seem long, but the years go quickly – I don't know how I got to 92, to be honest! And I certainly don't feel my age."