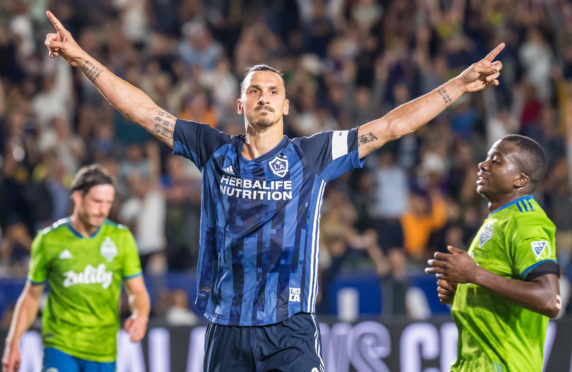 Zlatan Ibrahimovic still talks a good game.
But even at 37 years old, he's more than just a motormouth.
Zlatan has still got it on the park, which is why the prospect of him returning to Manchester United wasn't laughed off the back pages during the week.
And if you're asking me whether he can do a job for United from January, once his contract with LA Galaxy expires, my answer is: "Yes".
Forget about Ibra's age.
The game is different today to how it used to be.
The way top professionals look after themselves in 2019 is night and day from when I was playing.
Guys like Zlatan will steer clear of the booze, they'll eat well, and their recovery from niggling injuries will be directed by sports scientists.
My team-mates and I were nowhere near as rigid about what we put in our bodies.
And if you were injured, the magic sponge was the height of technology.
No wonder so many of us – including myself – had to retire early.
For Zlatan and his ilk, things are different.
They have the best of everything at their disposal.
We've seen top players play beyond Ibrahimovic's age too.
Ryan Giggs stuck around at Manchester United until he was 40.
At Rangers, Jermain Defoe is still doing the business six weeks shy of his 37th birthday.
Giggs was – and Defoe is – a model professional.
Zlatan Ibrahimovic was made in the same mould. That's why, when the big man said the other night: "I could easily play in the Premier League," I believed him.
And when he followed it up – with a glint in his eye – by saying: "If United need me, I'm here", I didn't think he was entirely joking.
After all, he wouldn't be the first big-name player to return to England from the United States.
Wayne Rooney is Derby County-bound once his MLS deal expires.
For me, the only surprise about Rooney's return is that he's going to the Championship.
I'm sure Wayne could still do a job for a Premier League side – one like his old club Everton, for instance.
Yes, he's lost pace, but football isn't all about speed. It's about intelligence too.
At this stage of his career, there are few players as clever about the game as Wayne.
Zlatan's another one whose game-intelligence is off the charts.
And so to the other plausible reason for Ibrahimovic returning to English football – the current state of Manchester United.
There's no doubt that Ole Gunnar Solskjaer is under pressure.
He has spent a fortune this summer and questions are already being asked of him.
United fans are entitled to look at rumours linking Ibrahimovic with a return to Old Trafford and think: "We shouldn't be looking backwards."
I get that argument. I really do.
But I still think that Zlatan is the type of player who could come in and give the whole place a huge boost.
He's still friendly with Paul Pogba, who is a hugely-influential figure in the dressing room.
If his arrival gives the Frenchman a kick up the backside, that wouldn't be a bad thing.
He might be getting on in years, but Zlatan is a special player. He carries a buzz around with him everywhere he goes.
As it stands he's available in January and he's willing to come back to United.
At this point, I think they could do a whole lot worse.