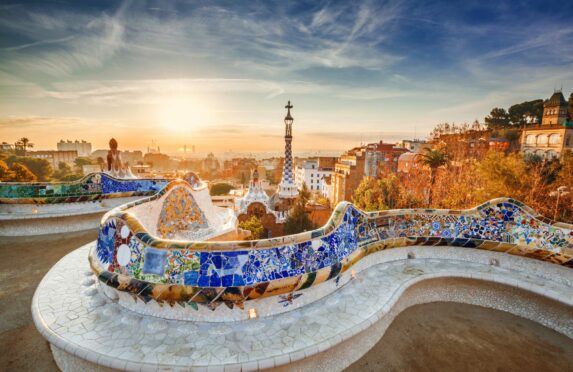 In colloquial Spanish, the word "sintonia" roughly translates as "tuning". A closer approximation would be to create harmony.
Rather wonderfully it is also the name given to the time after dinner, so important to the people of Barcelona, where the diners connect with each other in an orchestra of friendship.
There's no sintonia when you rush to put the dishwasher on, nor is there one when you retire to your armchair for a doom scroll. Sintonia arises over a dinner table; the lip-smacking, contented colloquy that arises with your friends and family as you burnish your plate with a lump of bread to get at that final speckle of delicious Romesco sauce.
This concept is where the restaurant Sintonia borrows its name. Located in Barcelona's Gallery Hotel, a short walk from modernist architectural icon Antoni Gaudí's Casa Batlló, Sintonia has the accolade of being frequented by locals; a fine endorsement given the importance of food in Catalan culture.
It's here they serve up a melody of plates of the finest local, Spanish and Mediterranean dishes: smoked artichokes with eel, truffled chicken cappuccinos, Iberian ham croquettes.
Respecting the "sacred" conversation, waiters will stealthily fill your glass with a dry Italian.
Speaking of dry Italians, the witty and immaculate maitre d' Julià Duque is on hand to deliver droll background notes to your dishes. If you want to witness a table of babbling diners brought to attention with a simple raised eyebrow then Julia is your man.
He can recommend which of the boutiques to visit on the handsome yet sometimes confusing boulevards which make up Barcelona. He directs us, after lunch, to Santa Eulalia, a 180-year-old department store and temple of shopping.
Named after the city's patron saint, Santa Eulalia is aching with luxury. The trends here are incandescently hot, and your credit card will be too if you get carried away.
The history of the city dates from when the Romans were trying to outmuscle Carthaginian elephant-wrangler Hannibal from the region, explains double-denim wearing historian Sergi as we amble along La Rambla.
He took us to the recently unearthed Roman necropolis, the assortment of baroque, Gothic, classical, neo-Gothic and neo-classical buildings in and around La Rambla; this luminous city has been built and built upon, time and again.
Most recently the organic, exuberant mark of Gaudi's singular design is almost everywhere, from the art nouveau paving slabs on some of the avenues beneath your feet, to the in-progress Sagrada Familia towering above your head. If the walking makes you feel a bit finished off then, happily, Barcelona groans with small cafes and tapas bars.
El Xampanyet was opened by the current owner's grandfather. He's known as Little Stevie – Estevet – and the house sparkling wine is called Casa Estevet; he's as sweet as the delicious drink, and so is his bustling, elbow-to-elbow cafe.
Treat yourself with a sharing plate of succulent pork with fried padron peppers generously sprinkled with quartz-sized hunks of sea salt, and wash it down with a coupe glass or three of fizz.
Afterwards we retreat back to Sintonia, where chef Pablo Tomás wants our opinion, according to Julia. Following a theatrically prepared steak tartare (in a giant brass bull head, no less) chef brings us his two favourite desserts: a smoked croissant or hazelnut ganache.
We're asked to choose our own favourite and each dishes' merits form the basis of a lively debate, part of our sintonia for the night. I could tell you which I prefer but you may want to decide for yourself.
At Sintonia, the orchestra is tuning up for you.
P.S.
Carretera de les Aigües (The Road of the Waters) crisscrosses Collsera National Park, which overlooks Barcelona. Take a short taxi ride from the centre and you can see the beautiful skyline. It is also home to Mirablau, a wonderful bar with a terrace overlooking the city.
Factfile: 
Standard rooms at Gallery Hotel (galleryhotel.com) from £150. Visit restaurantesintonia.com and elxampanyet.com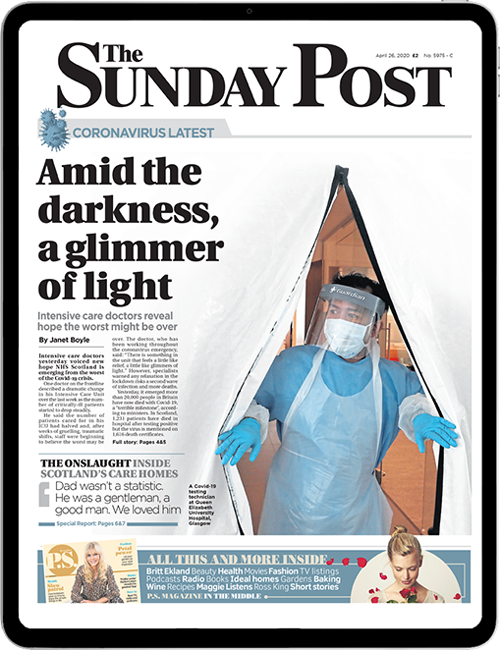 Enjoy the convenience of having The Sunday Post delivered as a digital ePaper straight to your smartphone, tablet or computer.
Subscribe for only £5.49 a month and enjoy all the benefits of the printed paper as a digital replica.
Subscribe