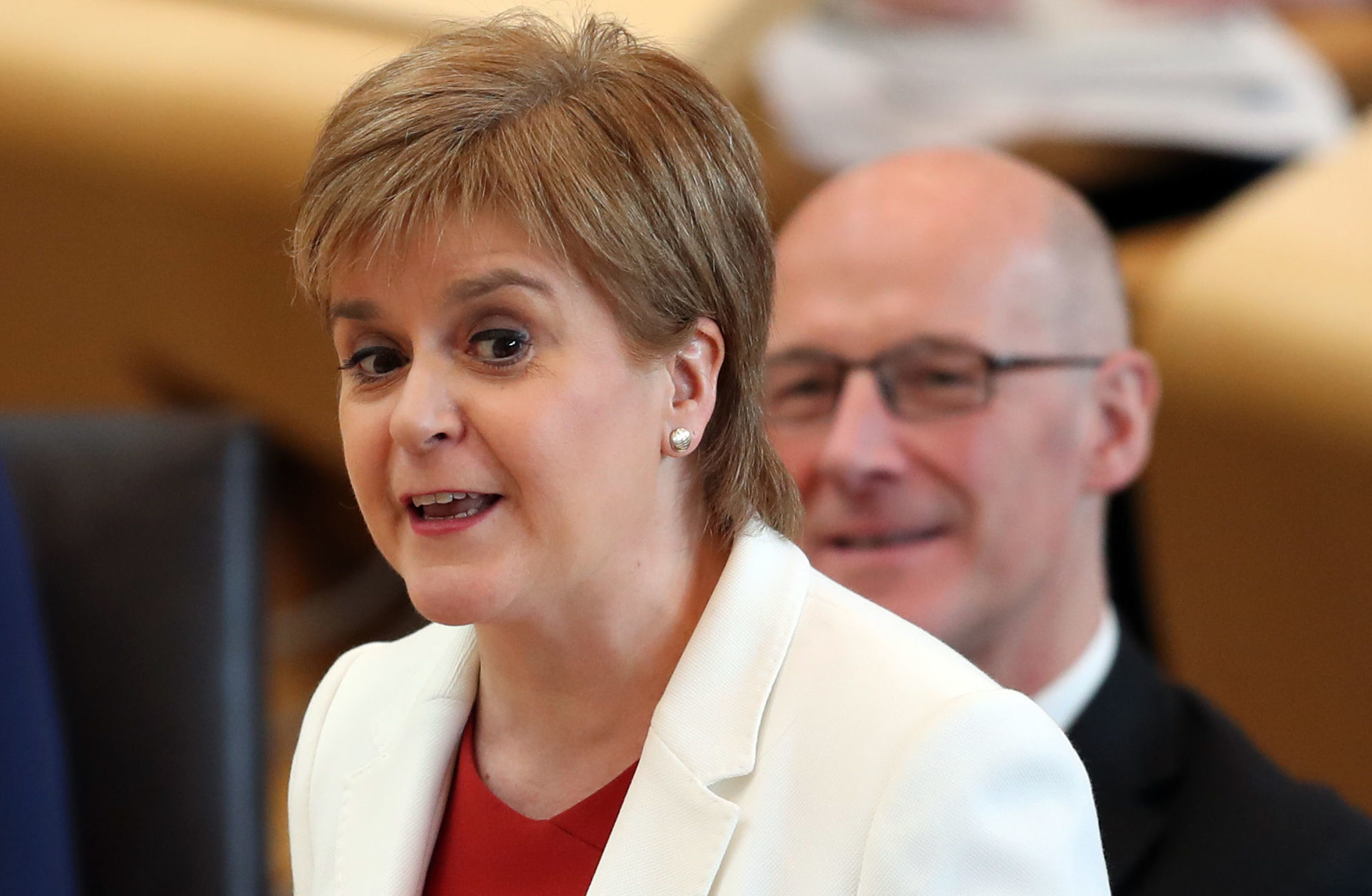 A NEW report which claimed living standards in Scotland could "equal the best small countries in the world" within a generation of independence has been criticised by Unionist politicians.
The SNP set up the Sustainable Growth Commission in 2016, with party leader and First Minister Nicola Sturgeon saying its report showed how the country could "replace the despair of Brexit with optimism about Scotland's future".
Key recommendations include cutting the country's deficit from an "anticipated starting point" of 5.9% at the time of leaving the UK to less than 3%.
Scotland could also keep the pound for a period after independence, the commission said, although the country could move to a new currency when six economic tests are met.
Today's excellent #growthcommission report will spark lots of debate, within and beyond @theSNP – and that's great. So much better to be debating how we maximise our potential as a country than just focussing on how we limit the damage of Brexit.

— Nicola Sturgeon (@NicolaSturgeon) May 25, 2018
"We recognise that this means that the Scottish Government would not secure monetary policy sovereignty in the initial period following an independence," the report stated.
Scottish Conservative leader Ruth Davidson said that would mean Scotland using "the currency of what would then be a foreign country without asking, without their own central bank and without any backstops".
She told the BBC: "I'm not entirely sure that is enough for the people of Scotland to want to gamble their mortgage on, their pensions on, their wages on and their future on."
Ms Davidson made the comments after the publication of the long-awaited 354-page report, which was commissioned to look at how to grow Scotland's economy.
The report insisted: "We can lift the growth performance of the country to take living standards to equal the best small countries in the world over a generation."
To achieve that, it set out an approach of growing GDP in Scotland by focusing on the "the three 'Ps' of economic performance" – productivity, population and participation.
The Scotland: A New Case for Optimism report said: "Our central argument is that Scotland should be seeking to emulate the performance of the best small countries in the world, rather than sticking to its current position as the best of the rest of the UK regions and nations outside of the south east of England."
The commission looked at the economies of 12 small independent states – Austria, Belgium, Denmark, Finland, Hong Kong, Ireland, the Netherlands, New Zealand, Norway, Singapore, Sweden and Switzerland – as part of its work.
After leaving the UK, an independent Scotland could pay an "annual solidarity payment" towards its share of UK debt.
A comprehensive review of UK spending programmes would target savings of up to £1 billion a year.
Reducing the gender pay gap in Scotland and doubling exports would also help boost the economy – with the report suggesting these steps could respectively raise an additional £2.5 billion a year and £5 billion for the public purse.
Staying within the UK "which concentrates too much economic activity in London and the South-East region is holding Scotland and the other regions and nations of the UK below their potential," the commission said.
Meanwhile, a "Come to Scotland" package, including financial incentives, could help boost the country's population.
Ms Sturgeon said: "What this report shows is that Scotland is a wealthy nation with huge resources, encompassing our traditional strengths in innovation, our hi-tech sectors, our energy reserves, our food, drink and tourism strengths – and perhaps above all our strength in human capital, with a highly-educated population.
"Despite those enormous strengths, similar-sized nations have performed better over decades – all of them independent but most of them with fewer resources than us.
"The task ahead is to match those other nations, creating more jobs and raising living standards, providing a better future for everyone who lives here."'
Scottish Labour leader Richard Leonard said: "This was branded the growth commission but it's really a cuts commission.
"Proposals to cut Scotland's deficit by almost two-thirds over a decade would result in a level of austerity that not even George Osborne attempted.
"On currency, the SNP has outlined a plan which would mean Scotland has less independence, not more.
"A separate Scotland outside of the UK seeking to use the pound is a recipe for instability and is the economics of dereliction. We would give up our say over interest rate policy, exchange rate policy and inflation."
The commission was chaired by former SNP MSP Andrew Wilson, who said: "It is important that independence must never be seen as a magic wand or quick and easy step to success.
"Indeed, there is no pot of gold, black or otherwise, at the foot of the independence rainbow.
"But there is a toolbox and using it will mean taking responsibility for choices that seek to create a stronger economy, sustainable public finances and a fairer society."