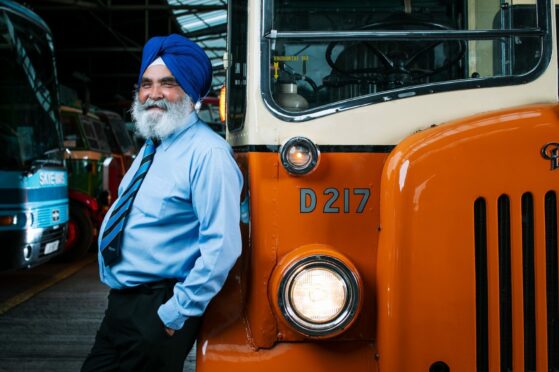 When Dilawer Singh became Scotland's first Asian police officer in 1970, he proudly showed off two hats to the waiting media.
He was waving goodbye to a career as a Glasgow Corporation bus driver…but fulfilling a boyhood dream by enrolling as a Sikh officer of the law.
Now, more than 50 years on, Singh, who has campaigned for equality ever since, has taken a trip down memory lane at Glasgow's last remaining Corporation bus garage, ahead of a special event today.
"I loved my job at the Corpy," he said, getting behind the wheel of a rare Daimler double-decker.
"This has taken me right back. The hours were long but I was proud to wear the uniform."
Singh started out as a conductor but quickly progressed to driver. He volunteered as a special constable in his spare time.
And it was an incident with a bullish Glasgow Corporation Inspector that cemented his decision to join the police.
He said: "I was suspended for refusing to open the doors of my bus to an inspector at traffic lights.
"He ordered me from my cabin and drove the bus to its destination, leaving me standing on the pavement. There was a bus stop up ahead. He could have got on there. But he was having none of it."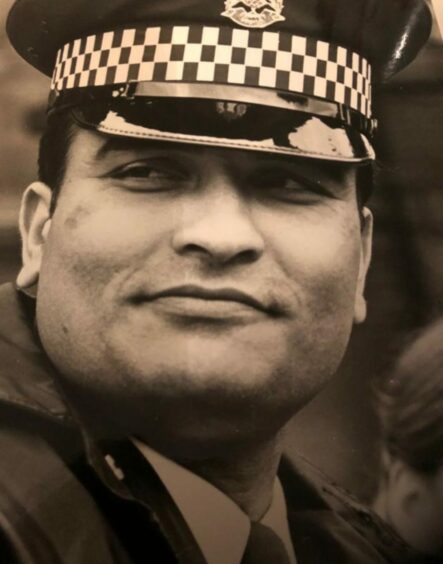 In a show of support, the entire 400 staff at the Ibrox depot where he worked threatened to go on strike.
"This was 1967 and the scandal was all over the papers," he said. "I didn't ask anyone to go on strike.
"But I was part of the football team for the garage.
"I ran a fitness club, we had a gymnasium there. It gave me great pride that the staff supported me."
The union intervened, his suspension was lifted, and he was back behind the wheel two days later. "All I wanted to do was get on with my job," he explained. "But incidents like this made me all the more determined to fight for equality."
Singh spent more than 30 years with Strathclyde Police, latterly as an Inspector, and worked for six years in serious organised crime serving in HM Inspectorate of Constabulary in Scotland.
He was proud to be part of the HMIC team that carried out a full-scale inspection of the Scottish police and race issues following the case of the murder of Surjit Singh Chhokar in 1998. But it all could have been so different. When he first applied to join the police, he was refused.
"There was nobody of a black or ethnic minority in the police at that time," explained Singh, who has five children and five grandchildren, and lives in Glasgow's southside.
"When I applied, the officer in charge took one look at me, measured me and chased me, saying I was an inch too short. You couldn't argue in those days. I knew I was tall enough, so I went to my doctor and he checked and said, no, go back.
"So I went the next week, got a different officer, and he said I'd met the requirement. I was the man who grew an inch in a week."
His beat was Glasgow Cross and, after nine years, Singh achieved the rank of sergeant and later inspector.
"In a bizarre twist, I was back in the same police office where my application had been refused," he said. "And I was now the boss of the guy who'd sent me packing all those years beforehand. The irony wasn't lost on me."
A fitness fanatic, he was a champion wrestler and ran marathons for years raising thousands for charity.
He founded the Scottish Ethnic Minority Sports Association (SEMSA) in 1989 and is still chair today. He worked tirelessly on Glasgow's successful bid to host the Commonwealth Games in 2014.
"When I was a boy in India my interest was sport," said Singh, who was born in Bhanoki, East Punjab, and had followed his father to Scotland for work in 1963. "Sport has a valuable role in salving tensions and erasing the distinctions between groups. It's a great leveller. It brings people together.
"But, despite the efforts made by me and others like me, there's still a lot of work to be done.
"Just look at the current situation with Cricket Scotland."
He was instrumental in setting up SEMPERScotland, the body that supports ethnic minority police employees, in 2005. And he received an MBE in 2015 for his lifetime achievement and contribution to the community.
"The following year, I was invited to lunch at Buckingham Palace," he recalled. "The MBE was fabulous, but lunch with the Queen was the biggest honour for me.
"There were eight of us round one table with her. She talked about her Corgis, her grandchildren. It was remarkable to spend two and a half hours in her company."
Now "retired", Singh is a director of Sport Scotland Trust Company, the national agency for sport in Scotland. He is vice-chair of the Sports Council for Glasgow, sits on the board of cultural organisation Glasgow Life, and assists as an interpreter in Sheriff and District courts as he's fluent in Hindi, Punjabi and Urdu.
"I will never stop campaigning. You carry on," he said. "Looking back, it's a huge achievement, but I still have a lot to do. I want to keep making a difference.
"In the police, the system is still unfair and prevents progression. If you are black or from an ethnic minority background you are three times more likely to be investigated when your counterpart would not be.
"Things have changed but there is still a long way to go."
He will officially open Family Day at Glasgow Vintage Vehicle Trust, at the old Bridgeton Bus Garage in the city's east end today.
GVVT chairman Steven Booth said: "We are delighted to welcome Dilawer as our special guest.
"The event is about reaching out across our community and being open to all. We are also keen to deepen links with the Asian community as they were a key part of operating buses in the city and its transport heritage."
Find out more at www.gvvt.org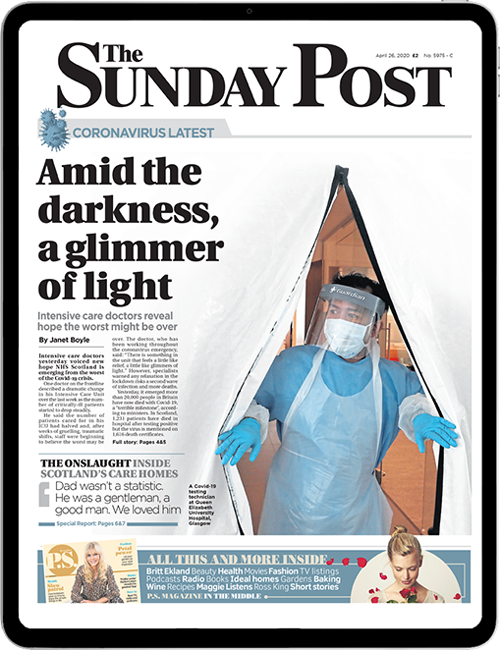 Enjoy the convenience of having The Sunday Post delivered as a digital ePaper straight to your smartphone, tablet or computer.
Subscribe for only £5.49 a month and enjoy all the benefits of the printed paper as a digital replica.
Subscribe