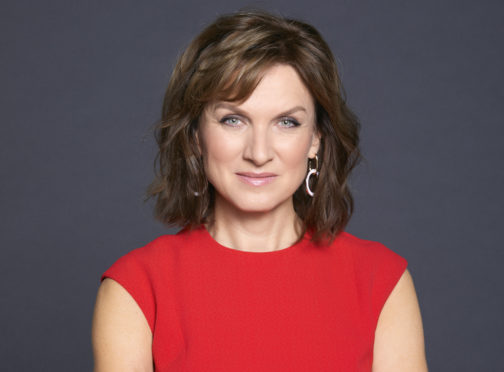 She has four telly jobs – BBC News, Antiques Roadshow, Fake Or Fortune and Question Time – any one of which other presenters would regard as a dream.
So, it's hardly surprising that Fiona Bruce giggles when asked about having future broadcasting ambitions.
"No, not right now – I've only just got this job! So I'm certainly not thinking about what I want to do next. I only want to do the job that I've got as well as I can."
The new role in question, sitting in the hot seat on Question Time, is one of the most high-profile and scrutinised in British media
She started in January and is the first female host, reportedly beating off stiff competition from Kirsty Wark and Emily Maitlis.
While she always seems so coolly poised in front of the cameras, Fiona, 55, confesses she was far from as calm as she appeared as she made her debut.
"I do a lot of live broadcasting and generally don't get nervous, but I was about as nervous as I've ever been," said Fiona, who will be heading to Scotland next month to   an episode of Antiques Roadshow at the V&A Dundee.
Fiona is only the fourth host of Question Time in its 40-year history and she was aware of the responsibility of taking over from David Dimbleby, who had steered it through the past quarter century.
"Stepping into David's shoes, and Michael Aspel's shoes on Antiques Roadshow, were daunting propositions," she admits.
"But stepping into Jill Dando's shoes on Crimewatch was an entirely different level.
"The stakes were exponentially higher. Maybe not everyone sees it like that, but that's how it felt for me.
"Nothing is ever going to be harder than that."
When negotiations were taking place before the Question Time appointment was made, it was obvious that something had to give.
What has been cut back is Fiona's BBC News commitments. She still fronts bulletins and says her love of the job hasn't waned, but appearances had to be curtailed somewhat.
It was a necessary accommodation as, remarkably, Fiona says 2019 isn't her most hectic year.
"I have had years when I've tried to cram more things in," she confides. "I had one year, five or six years ago, where I just became ill.
"Physically, I just couldn't do it all. I wasn't seriously ill but it was a bit of a wake-up call.
"I remember thinking that I just felt too tired so I became more judicious about what I chose to do and not do.
"Part of it is work, but there are a number of charities I'm closely associated with. I get asked by several other charities a week and there is a never-ending list of things you could do.
"I feel that someone in my position should do as much of that as they can. I think I've slightly over-stretched myself on that front along with my BBC work, so I'm trying to be more sensible on both fronts about managing my time."
What Fiona, who has two children, Sam, 21, and Mia, 17, with husband Nigel, just couldn't let go of was the Antiques Roadshow.
It's a broadcasting institution which has been running for four decades and is regularly watched by up to six million viewers in its familiar Sunday evening slot.
Fiona has been at the helm for 12 years and she says the change of pace and the sheer unexpectedness draw her in, time after time.
"I absolutely love doing it. It couldn't be in greater contrast to the rest of my work and that's a huge part of its appeal for me.
"I end up going to places I would choose to go and visit by myself, so the fact I get to do that as part of my job is a great privilege.
"But the thing I enjoy most about the day is the people. Up to 4,000 people will come and everyone has a story and wants to talk about the object they've brought.
"It's endlessly fascinating and every week is surprising. There aren't many jobs you can say that about when you're into your 12th year.
"Every time I show up, it's the joy of the unexpected."
The Antiques Roadshow is far more than a day job – well, one of the day jobs – for Fiona, who presented The Antiques Show for years before the Roadshow came calling.
She modestly says it's the specialists who have the unrivalled insight while she has a more superficial knowledge – "I'm like a dragonfly skimming across a pond, touching the water at various points".
But she has undoubtedly developed a real expertise and, more than that, a passion for the objects of the past.
"I know more than when I started, that's for sure, and I'm a hugely enthusiastic antiques buyer, auction bidder and junk shop devotee.
"It sounds a bit dramatic, but it has changed my life. I'm not interested in shopping for modern things.
"It started as an interest on the programme and now it's a passion."
The filming at the V&A Dundee and nearby Slessor Gardens will mean a welcome return to the city for Fiona who well remembers a previous visit.
"It was my first or second year and it was an absolutely brilliant day filming on the Discovery."
Visits north of the border are no hardship for Fiona. Her dad John Bruce is Scottish as are many of her family, who come from Hopeman in Moray.
"I feel a strong connection to Scotland," insists Fiona. "When I go back to Hopeman – which I haven't done since Who Do You Think You Are? – my extended family is still there.
"The names Bruce, Sutherland and McPherson are still pretty common. My brothers both have Scottish names and obviously I've got a Scottish name, so it's been a big part of my family's heritage."
Fiona has been a part of our TV landscape for a generation now. In fact, 2019 marks 30 years at the BBC, having joined as a researcher on Panoroma in 1989.
Her dizzy rise to becoming one of the most powerful women in television is, unsurprisingly, something she couldn't have imagined.
"When I started on Panorama I was just thrilled to be there. I'd look at the reporters and they were like gods. I never thought about where I wanted to be, I just did what was in front of me. When I did become a reporter I was bit baffled as where to go from there."
With such a full-on schedule and high-pressure jobs, relaxation is more important than ever for Fiona.
And, time with Nigel, Sam and Mia aside, that's increasingly coming on horseback.
"I'm a relatively recent convert," adds Fiona. "I do it pretty much every weekend now.
"For me the ultimate form of relaxation is anything that you can only focus on at that moment and can't think about anything else.
"Horseriding is definitely that. I can only think about staying on – and when you come off as often as me that's the priority."
---
The Antiques Roadshow will be at the V&A Dundee on June 23 with no tickets or pre-registration needed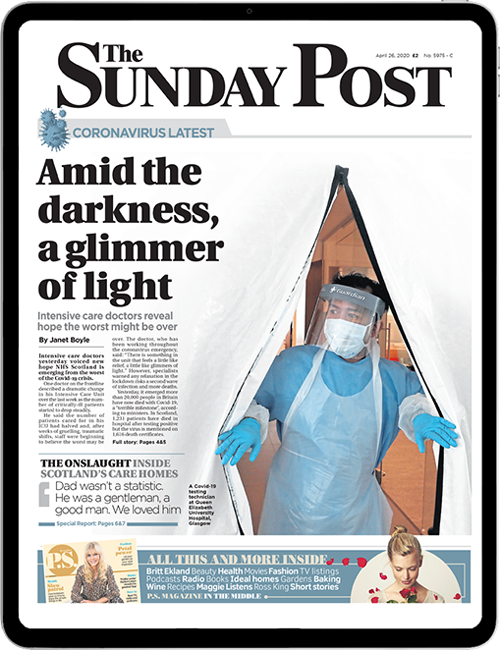 Enjoy the convenience of having The Sunday Post delivered as a digital ePaper straight to your smartphone, tablet or computer.
Subscribe for only £5.49 a month and enjoy all the benefits of the printed paper as a digital replica.
Subscribe