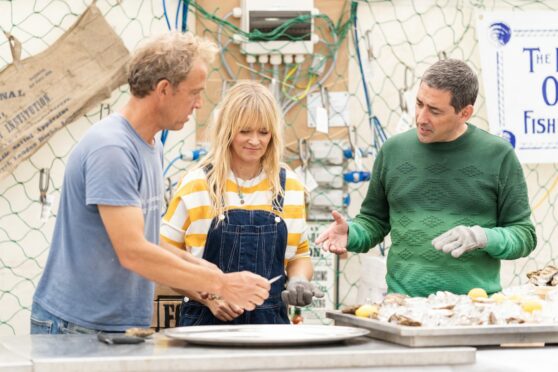 Growing up in her parents' hotel in Anstruther, Edith Bowman was exposed to the blood, sweat and tears of running a restaurant and it sparked in her a lifelong love affair of good food.
"In that environment, the kitchen table was always the centre point of the conversation and food revolved around that shared experience," she said. "It's that social aspect of food I like – feeding my kids or having my friends round.
"People underestimate the work that goes into running a hotel or restaurant, so having my family do it for years was an amazing insight into that world. I remember Patterson's fruit and veg lorry arriving every Monday and my aunt bartering down the price of tomatoes, and the butcher coming down and cutting the meat in our huge fridges. The food was all locally sourced. Then there was the joy of serving it to people."
The broadcaster has put the insight and interest gained from spending her youth at The Craw's Nest Hotel to good use for new television show Food Fest Scotland, in which she travels around the country with her old Radio 1 colleague Colin Murray to meet innovative food makers.
"It was great to put a spotlight on local produce and business. It feels like that is at the core of the show and, personally, it was also the appeal of travelling around and getting to eat nice food."
Bowman, who has two sons, Rudy and Spike, with Editors' singer Tom Smith, visited food festivals such as The Peebles Show and Stranraer Oyster Festival for the series. She also recorded versions of the series in Northern Ireland and England, which will go out on daytime TV at a later date.
"Food festivals are a big tourist pull," she said. "Like the Stranraer Oyster Festival, which is an annual event unique to the area. It's lovely how the community embraces that and it becomes a celebration of the community. There's also the rise of farmers' markets. It's very easy to take that little thing you've created or grown or produced and then set up a stall at a farmers' market."
One of the highlights of making the series for Bowman was returning to her home of Anstruther to film an episode, which included a trip to the famous fish bar. "It was great filming there. We went to Bowhouse, a formerly derelict series of farm buildings that were renovated a few years ago and are now a family of little businesses – a microbrewery, a butcher, a café, and Scotland The Grain, a community-led grain business that makes and sells flour locally.
"I've done a fair bit of filming in Anstruther. As much as I can, I'm up there celebrating and highlighting the area. I did a piece for Countryfile and some adverts for LNER trains, where we showed my mum with her little gang of wild swimmers – a lovely community that gathers at the tidal pool every morning at sunrise.
"My mum gets so annoyed when I go home because I might be known to go to the chippy on the way to hers, and even my kids ask if they can stop there before going home. The two local lads running it now are doing a great job."
Bowman has passed on her love of cooking to eldest son, Rudy, who is 14. "He and I are going to do an Indian cooking class soon. He's really into cooking. He watches lots of YouTube cooking channels and he also did one of Prue Leith's Japanese cooking courses for a day. We got him it for his birthday and he absolutely loved it. Cooking Japanese food is one of my favourites, and it's on our to-do list as a family to go to Japan and do a bit of exploring before the boys get too old."
Getting to co-host with Colin Murray again was another highlight of working on the show for Bowman. Next month marks 20 years since the pair began presenting their Radio 1 show.
"It's crazy that it's been 20 years," she said. "It's gone in the blink of an eye. We've not worked together in ages. Colin's a workaholic and he's doing amazing; I'm so happy for him with Countdown.
"He came to visit about six months before we got this show and he spent the day catching up. It felt like we'd only seen each other the day before.
"It was brilliant to work with him again. I had to take the kids on one of the shoots due to Tom and I both working at the same time. So we were all in Stranraer and then we took the boat over to Belfast the following day for more filming. It was nice for them all to hang out.
"Also, Colin drives everywhere because he finds it relaxing. So we did a big drive in Scotland and I wish we'd filmed it because it was so much fun chatting away and picking tunes and having a singalong with him."
Food Fest Scotland, BBC One Scotland, tonight, 8.30pm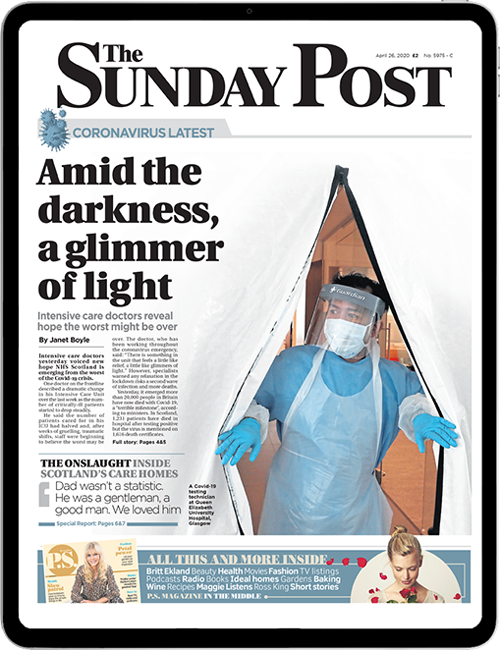 Enjoy the convenience of having The Sunday Post delivered as a digital ePaper straight to your smartphone, tablet or computer.
Subscribe for only £5.49 a month and enjoy all the benefits of the printed paper as a digital replica.
Subscribe