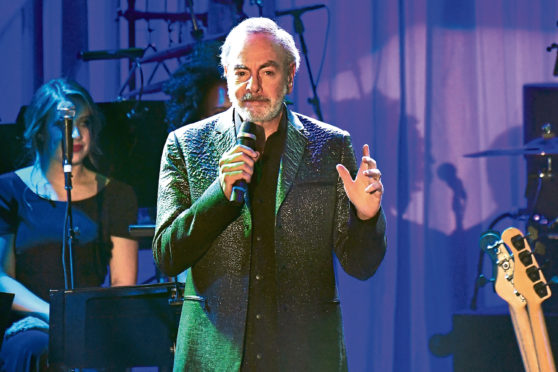 When local firemen in Colorado enjoyed a concert exactly a year ago, they realised just how special it was.
Neil Diamond, who had retired from touring as he began his battle with Parkinson's, showed up to put on a surprise solo concert to thank them for their heroism during a huge fire in the area.
Millions of fans around the world will never get to see Diamond's stunning live performances again.
We can only be grateful that the man himself reports being well and happy, and we can also be thankful that we have a man called Brooklyn Creed, who is touring the UK with a show that celebrates the Neil Diamond magic, with a singing voice eerily similar to the great man himself.
"I'm doing pretty well, I'm active, I take my meds," says the 78-year-old Neil. "I still have my voice, but I just can't do the travelling that I did."
He has done plenty of travelling since he was born Neil Leslie Diamond on January 24 1941.
It was after seeing the power of song, at a summer camp as a young teen, that he got his first guitar and fell in love with songwriting.
Pete Seeger, folk legend, had some of the kids' sing songs they had written, and the young Neil was bowled over by the effect it had on everyone there.
This songwriting thing might just be what his life would be all about.
Over 100 million record sales later, with almost 40 songs in the Top 10 in America and 10 No 1 hits, he is one of the most successful songwriters the world has ever seen.
Cracklin' Rosie, Song Sung Blue, You Don't Bring Me Flowers, Sweet Caroline, Red Red Wine and so many more – it's not bad, is it?
He's always been a really hard man to pigeonhole.
Diamond starred in the movie The Jazz Singer, but he certainly isn't a jazz singer.
He appeared in the Last Waltz movie alongside The Band, Bob Dylan and Neil Young, but you wouldn't say Neil Diamond is an out-and-out folkie.
Muddy Waters, Ron Wood and Eric Clapton were also in it, but you couldn't say Neil is a bluesman or definitely a rocker, either.
His voice is very distinctive, but you can't say he's a crooner or middle-of-the-road exactly.
He's just Neil Diamond, a great songwriter who once put on fantastic concerts and gave us a whole host of great singles and albums.
For Brooklyn Creed, who speaks in a heavy Cockney accent but sings so like Diamond that people assume they are listening to Neil himself, he is an enigma.
"I'm not sure he even set out to be an artist as such," says Brooklyn. "You can never really pigeonhole him.
"I think he just wanted to be a songwriter. If you listen to early songs like Solitary Man, you can tell he was writing them to pitch to someone else.
"My favourite Neil Diamond song is called Morningside, not one of his most well-known songs but one we do in the show.
"It was released round about 1971, I only discovered it when we started rehearsing it, and it is really beautiful.
"My mum and dad were fans, so I was brought up listening to Neil's music. I do my own gigs as well, but I will always put five or six Neil Diamond songs in.
"It is quite amazing, the amount of songs he has written and the quality of his work."
Brooklyn's mention of Solitary Man is interesting. Diamond had written it for someone else to sing, and in those early days if he sold one song a week it was just about enough money to survive to the next week.
It was only years later that he realised the song was actually about himself, sitting alone in a room above the Birdland Club, trying to churn out as many good new songs as he could.
Lulu, Cliff Richard, even Deep Purple recorded songs he wrote, which surely demonstrates this guy can write any kind of song for any kind of singer!
"I'm dealing with it as best I can," he says of his Parkinson's, "and just keep the music coming.The fact that I'm still singing well is a bonus."
It's a shame that new generations won't get to see the man himself do so in a concert setting.
As the next best thing, Brooklyn has had a unique experience of what it's like, being up on that stage doing these songs.
"We get lovely stories out in the foyer afterwards, when we speak to people," he reveals. "It's absolutely lovely to see what these songs mean to people.
"We are trying to recreate a Neil Diamond live show. There is a lot of energy on stage when we play. It seems to go down really well.
"But I have always stayed away from people who are just tribute acts, no disrespect to them. This is a celebration of Neil Diamond and his genius.
"I can sound like Neil Diamond, but I would never put a wig on and a pretend American accent."
A songwriter himself, Brooklyn's Diamond work has allowed him to look right inside these hit songs and try to suss out what makes Neil so good.
"His songs are very, very simple," he points out. "Verse, verse, chorus, repeat first verse, chorus, finish!
"That's what makes them great songs, but there's not that much to them. It is quite unbelievable. There's not a lot going on with big instrumental passages, either.
"He doesn't have many really fast songs. Yes, there's I'm A Believer, of course, which he did for The Monkees, but there are a lot of ballads."
As you might expect, Brooklyn and his show get a lot of Neil Diamond fans, people who know the music inside out and have fond memories of when they first heard this song or that.
Does that pile pressure on him, to live up to the quality of the original recordings and to put on a show for people who have possibly been to many real Neil Diamond gigs down the years?
"They seem to appreciate that we also do some lesser-known songs," he reveals. "I think they might be insulted if I was trying to be Neil Diamond, so they get it, that I don't try that.
"We have a few really big fans – one guy, David, has seen Neil Diamond 47 times. He's such a lovely guy, and now he's been to about 10 of our shows.
"Every time he turns up, he gives me a gift, an album or a CD. I suppose if you are pleasing those kinds of people, you are doing something right."
Neil's early concerts included supporting slots with Herman's Hermits and The Who, and his writing evolved to the point that he tried to break free from a contract and had to go through some legal battles along the way.
At the end of the 1960s and early 1970s, he wrote some of the material we know so well today.
Like any artist, Neil Diamond says his art can be the reason he lives, and the same thing that drives him up the wall.
"I have a love-hate relationship with songwriting," he says. "It's so satisfying, but it forces you to dig inside yourself."
To find out where you can see Hello Again, The Story of Neil Diamond, visit https://helloagain.show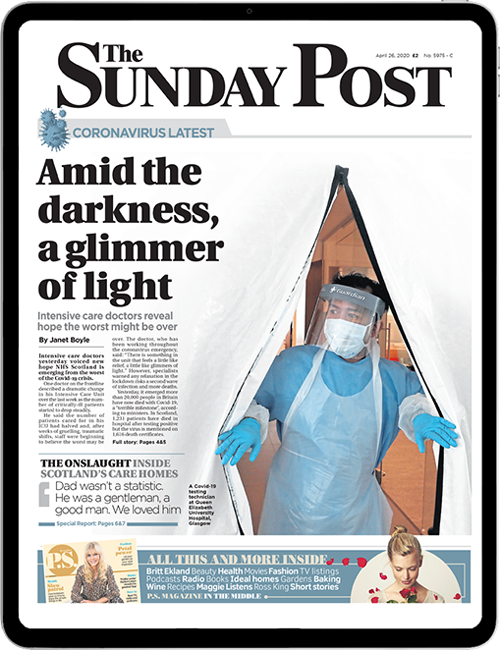 Enjoy the convenience of having The Sunday Post delivered as a digital ePaper straight to your smartphone, tablet or computer.
Subscribe for only £5.49 a month and enjoy all the benefits of the printed paper as a digital replica.
Subscribe