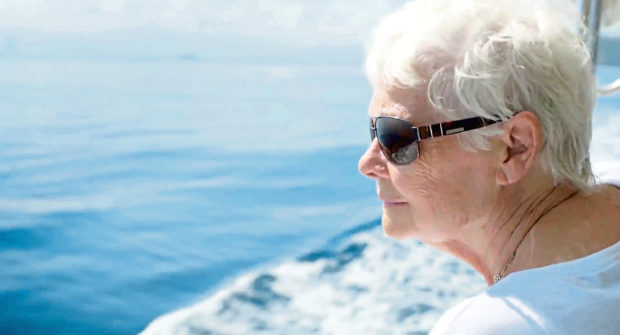 Dame Judi Dench can no longer read the newspaper or drive due to a gradual loss of vision.
The Oscar winner has age-related macular degeneration (AMD), the most-common cause of sight loss in the UK.
Age-related macular degeneration is a relatively painless degenerative condition than can eventually leave you blind.
Given that it's age-related, it's more common in people over 50 and currently affects around 600,000 people in the UK.
Dame Judi was diagnosed with the condition in 2012, after revealing her mother had also had it.
AMD affects the macula, the middle part of the retina that allows the eye to see fine details. There are two forms of AMD, wet and dry.
Although dry is by far the most common form, unfortunately drugs are only available for wet AMD.
Dame Judi says she has dry AMD in one eye and wet AMD in the other, and reveals she has had eight injections in one eye to slow the rate of deterioration, but nothing has worked.
"I can't read the paper now, I can't do the crossword, I can't read a book," says the 84-year-old acting legend.
Explaining how she gets by at work, Dame Judi said she has people who read and coach her lines with her.
"You know, you cope. I've got people who read to me and coach me with my lines.
"On a film set you learn where everything is. It's OK if you can get away with it. It's all acting, after all.
"Fooling people. It's what I do."
She also uses a script written in single-sentence giant type.
"On my scripts, my font is point-size 22, so you can imagine if we're doing a sonnet of 14 lines, all the others will have one page and I'll have 14! It's ridiculous, it's a farce, but I'm not going to give in."
Typically, Dame Judi is more worried about people thinking she is ignoring them as she can't see.
She says: "What worries me is some people don't know, and they think, 'Ooh, get her – she cut me dead!' when I didn't see them."
Dame Judi is dismayed that the condition has also impacted one of her favourite pastimes, going to the cinema, revealing that she even has to get people to describe films to her.
"Because my eyesight is so bad now, I do go but a friend of mine usually has to say, 'He's kissing her now' or 'He's walking away'.
"So a lot of things I miss – it's not so much fun."
In 2015 she also admitted that she was unable to travel to India on her own to film The Best Exotic Marigold Hotel due to poor eyesight, and revealed that she relied heavily on old friends including fellow Dame Maggie Smith to help her get around.
"These days I can't really travel on my own because I need someone to say, 'Look out, there's a step here' or else I fall all over the place like a mad, drunk lady!"
There's one thing about the AMD which bothers Dame Judi the most – she had to give up driving.
"A couple of years ago I stopped driving, which was one of the most traumatic moments of my life," she says.
"It was absolutely appalling. But I just know I'll kill somebody if I get behind the wheel of a car now."
Dame Judi said she doesn't want to know what the prognosis is and doesn't ask.
"There's nothing you can do. I can see enough. You adapt to it. So I ignore it altogether."
One development that's helped the Dame is the development of the world's first RSS news reader, created for people with macular disease by an academic at Royal Holloway, University of London.
The Ev News web app has been created to help people with macular disease to read the news and keep updated with current affairs, perfect for Dame Judi.
It offers a growing selection of news sources in a simple, accessible user interface based on the MDevReader, a free eBook reader for people with macular degeneration jointly developed by Robin Walker, Professor of Cognitive Neuroscience, and the Macular Society.
The app was designed to support the use of reading with the "eccentric viewing" technique, in which you hold your gaze slightly away from the text that scrolls from right-to-left like a news ticker.
It offers the ability to adjust the focus point position, modify text size, font and colour as well as fine-tune reading speed to the reader's pace.
"The device is enormously beneficial, as it allows you to read as fast or as slow as you want and has a focal point for you to concentrate on," says Dame Judi.
"It really is a huge help and I hope a lot of other people with AMD use these platforms and find it as beneficial as I do.
"I just want to go on being mobile, really, and being able to do things. I'm not going to be beaten by my eyes, for instance.
"I have treatment every six weeks but you just have to settle for it."
For more information visit www.macularsociety.org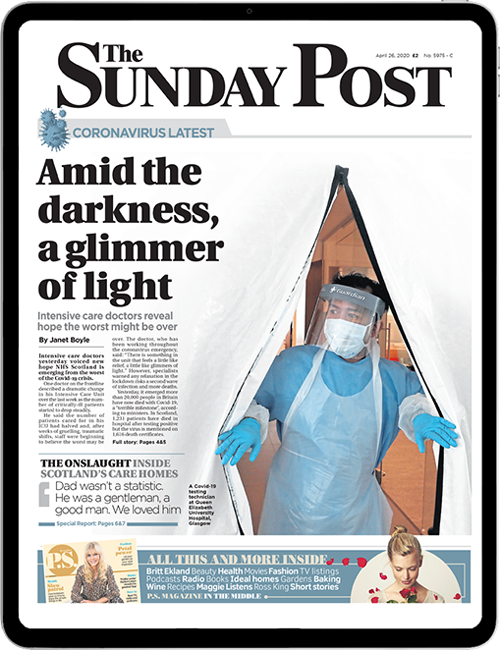 Enjoy the convenience of having The Sunday Post delivered as a digital ePaper straight to your smartphone, tablet or computer.
Subscribe for only £5.49 a month and enjoy all the benefits of the printed paper as a digital replica.
Subscribe