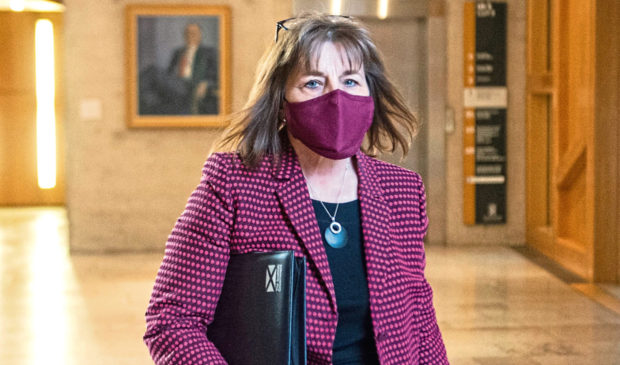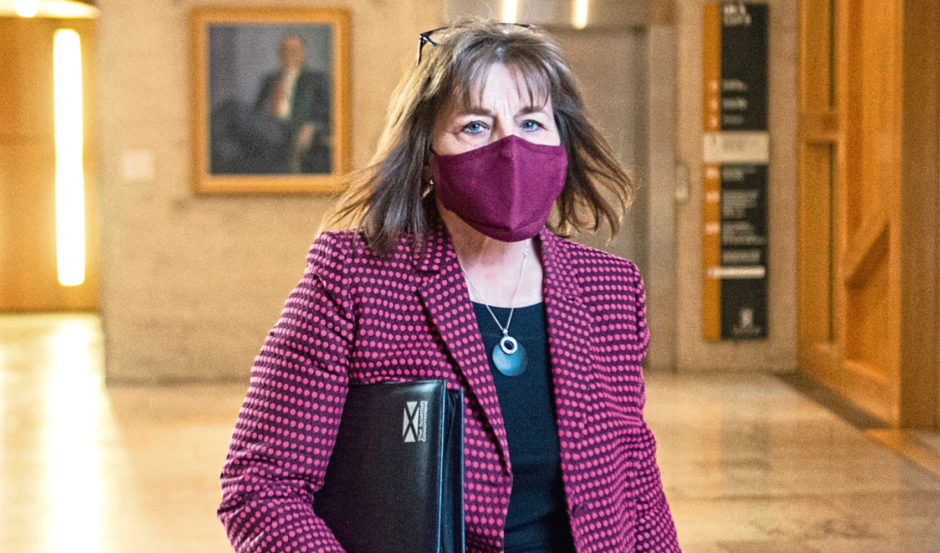 The Scottish Government breached the human rights of elderly and disabled residents and staff during the Covid care homes disaster, according to watchdogs.
A far-reaching investigation by the Equality and Human Rights Commission has found evidence the rights of residents and care home workers were ignored as ministers – including Health Secretary Jeane Freeman – NHS Scotland and councils moved to clear hospital beds.
Meanwhile, another organisation that safeguards the rights of care home residents, the Mental Welfare Commission, has warned that many hospital patients with dementia were unlawfully put in secure facilities against their will.
The report from the Equality and Human Rights Commission (EHRC) claims the voices of older people in residential facilities and those of the low paid workers who cared for them were ignored.
The virus has claimed the lives of more than 2,000 care home residents and at least 14 workers. The authors concluded: "Looking back on 2020, we can see how coronavirus has had a profound impact on the people who live and work in care homes and this has raised important questions about how, as a society, we value older and disabled people's lives.
"There is evidence that during the coronavirus pandemic, public authorities have not consistently upheld and met equality and human rights standards. The term 'public authorities' should be taken to include the Scottish Government."
Hospitals in five Scottish health boards sent patients into care homes after they had tested positive for Covid-19
Alastair Pringle, executive director of the Equality and Human Rights Commission in Scotland, said it was clear the rights of older people to be treated equally and with dignity and respect had not been properly taken into account.
Writing in The Sunday Post today, he adds: "We expect to see improvement as a matter of urgency." The report criticised Scottish Government policies which led to the movement of thousands of untested hospital patients to care homes, as well as more than 100 who tested positive.
The addition of Do Not Resuscitate (DNR) notes to residents' care plans against their wishes or without consultation was also criticised by the commission. Residents were also denied access to vital health services during the first wave of the virus, according to the report.
The failure to supply adequate PPE to care home staff or routinely test them for the virus was also a major issue, according to the EHRC. It said: "We were told of situations where there were reduced or no visits by GPs and community nurses, mental health services and podiatrists. Residents were not being transferred to acute settings and people nearing the end of their lives were not receiving palliative care.
"We heard evidence that there has not been adequate engagement with people living and working in care homes, or with certain equality groups, in particular older and disabled people and people from some minority ethnic groups. This means their voices and experiences could not be heard, understood or reflected in policy decisions."
The commission's report makes a series of recommendations to the Scottish Government and can use legal powers to compel ministers to act. The EHRC is responsible for ensuring compliance with human rights and non-discrimination law in Scotland.
A separate report published this week by the University of West of Scotland accused the Scottish and UK governments of consistently "shifting the blame" for deaths on to care homes.
Researchers interviewed workers who said care home residents died "terrible deaths" in the first wave of the pandemic, when PPE was "non existent" and medical advice was "contradictory" or unavailable.
Brian Sloan, chief executive of charity Age Scotland, said: "We need to look at whether the country did enough to protect, care for and uphold care home residents' human rights."
Rhea Wolfson, of the GMB trade union, which represents care home workers, said: "The failure to uphold the equalities and human rights standards of workers and service users in the residential care sector is shameful, but no one should be surprised.
"The crisis in care pre-Covid was well understood yet we were told by the first minister that Scotland was prepared for this pandemic and that health and social care would go hand-in-hand. That was a lie."
Dr Donald Macaskill, chief executive of Scottish Care, a membership organisation for Scotland's private sector care homes, said: "More work needs to be done on the issue of discharging people from hospital into care homes who were untested and who had tested positive for coronavirus, and on whether or not due care and attention was given to an individual who did not have capacity.
"Secondly, we need to explore further whether the right clinical decisions were made to withdraw treatment and access to normal health services for people in care homes.
"Thirdly, it is also absolutely right that the scandal of way DNR notices were applied in care homes and in the community is explored because something went wrong there."
The EHRC said to comply with equality law the Scottish Government must hold a public inquiry into the deaths of more than 2,000 care home residents and demonstrate how the equality impact was assessed before policy decision were made.
Ministers should also ask the Care Inspectorate to review how DNR notices were used during the pandemic and ensure care homes carry out individual risk assessments to ensure every resident can have visitors.
The Scottish Government said: "Ministers have already confirmed that there will be a public inquiry into all aspects of the impact and handling of Covid-19, including care homes."
---
The elderly were like lambs to the slaughter
Rodney Laing said his father, Rodger, 80, was forcibly moved from a hospital to a care home where he died of coronavirus three weeks later.
Rodger tested negative for coronavirus before he transferred to Drummond Grange in Lasswade near Edinburgh on May 5. He tested positive for the virus two days before his death.
The day after Mr Laing's death the Care Inspectorate revealed inspectors found issues with infection control and personal protective equipment at the care home.
Rodney said: "When he was moved to the care home it was a waiting game to see how quickly he would get Covid."
Rodney is planning to sue Scottish Government ministers whom he believes were responsible for driving the bed-clearance policy which led to his father's discharge.
He added: "They were moving vulnerable elderly people with dementia, some who had no family to fight for them. They were like lambs to the slaughter."
---
Fears dementia patients unlawfully moved to secure care homes
Dementia patients may have been unlawfully moved from hospitals to secure care homes during the first wave of the coronavirus pandemic in Scotland, a watchdog has warned.
Hundreds of elderly hospital patients were moved out of wards into care homes when the pandemic hit Scotland earlier this year. The families of some dementia patients have complained their relatives were moved out of hospital into care homes against their will.
The Mental Welfare Commission (MWC) and the Equality and Human Rights Commission (EHRC) have warned health boards and councils to "urgently review" cases.
A joint letter from Julie Paterson, CEO of the MWC, and Lynn Welsh, head of EHRC in Scotland, said: "There are concerns that, during the early stages of coronavirus, elderly and disabled people who lack capacity may have been discharged from hospitals to care homes without following the legal process that protects them from being unlawfully deprived of their liberty.
"We are concerned that there may be people who were placed in care homes and continue to be there without legal safeguards and protections in place."
The Scottish Government said: "We are clear that any decisions taken with respect to adults lacking capacity should put their rights, will and preference first and foremost. We will be working with the MWC to produce guidance."
---
Disabled and older people deserve the same dignity and respect as everyone
By Alastair Pringle, Executive director for the Equality and Human Rights Commission in Scotland
The way we treat one another is the best indication of how compassionate and progressive society is. This is especially true in moments of crisis. As we reflect on decisions made in 2020 and look ahead to the New Year, it is critical we take action to demonstrate how much we value the lives of people in care homes.
Earlier this year we worked with the Mental Welfare Commission to stop people who are medically ready to leave hospital, but unable to make personal decisions, from being moved to locked care placements without legal authority. We still hear stories about the restrictions under which care home residents are living.
We have heard of people being confined to their rooms, "do not attempt resuscitation" orders being applied without discussion with residents or their families, Covid-19 positive and untested patients transferred from hospitals to care homes and blanket bans on visits from loved ones.
Protecting lives while preserving the quality of lives is so important and we believe more can be done to ensure decisions are based on the needs of people as individuals.
Care homes are where people live. They are not, and should not be treated as, clinical settings. We must also remember care home workers have themselves been traumatised as they have seen the people they care for suffer.
We made recommendations to help the NHS, the Scottish Government, local authorities, and care providers to make difficult decisions and protect those we care about. We ask them to place equality at the heart of decision-making. Disabled and older people must be treated with dignity and respect, and their quality of life must not be overlooked.
Equality is not a "nice-to-have" addition to decision making. It is a legal requirement and a critical element of all decisions that affect people's lives. The commission will follow up with all those bodies we have made recommendations to and expect to see improvement as a matter of urgency.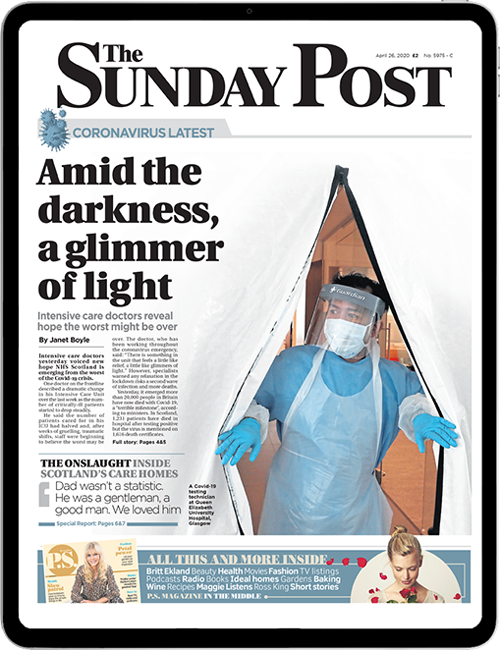 Enjoy the convenience of having The Sunday Post delivered as a digital ePaper straight to your smartphone, tablet or computer.
Subscribe for only £5.49 a month and enjoy all the benefits of the printed paper as a digital replica.
Subscribe