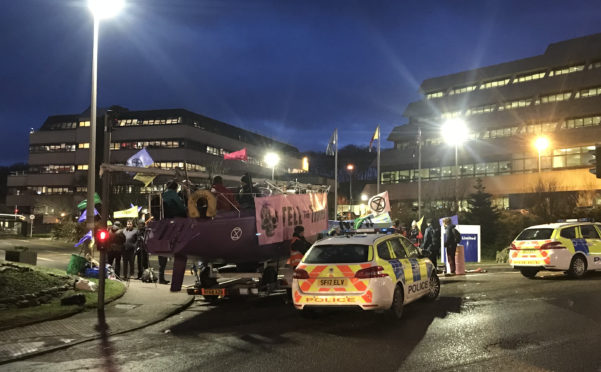 Climate change activists have staged a blockade at the Aberdeen headquarters of oil giant Shell.
Members of the Extinction Rebellion Scotland group began the demonstration at 6:30am on Thursday at the premises on Altens Farm Road, saying they plan to stay there all day.
The group claim they have secured the entrances with lock-on equipment and have blocked the main entrance with their boat, named Amal Gous.
They said they plan to shut the building down to disrupt business and hold Shell to account for its role in the climate crisis.
Police said they were called to the scene at around 6.45am on Thursday.
A statement from the group said: "As Australia burns and Indonesia is flooded, with tens of thousands made homeless, the purple boat bears the words, "The Future You Fear Is Already Here", a reminder that catastrophic climate change is already underway across the planet, driven by Shell and the rest of the fossil fuel industry.
"Last week, as bushfires caused by climate change choked Australia, Shell celebrated the discovery of a huge new gas field off the coast of Western Australia."
One of the protesters, who gave his name as Paul, 43, from Aberdeenshire, said: "If the whole world reaches zero carbon emissions by 2030, we only have a 75% chance of staying below (an increase of) 2C.
"These are terrible odds; and by committing to continued production decades into the future, Shell is literally destroying our future.
"The more successful fossil fuel companies like Shell are, the worse our future is going to be. We have to stop them carrying on as if their product does no harm. "
A Shell spokesman said: "The heightened awareness of climate change that we have seen over recent months is a good thing. As a company, we agree that urgent action is needed.
"What will really accelerate change is effective policy, investment in technology innovation and deployment, and changing customer behaviour.
"As we move to a lower-carbon future, we are committed to playing our part, by addressing our own emissions and helping customers to reduce theirs – because we all have a role to play."
Police said officers were at the scene of a "peaceful protest" outside the Shell premises.
Chief Inspector Davie Howieson, Local Area Commander for Aberdeen South, said: "The road was blocked from around 6.45am on Thursday, January 16, and road users are advised to avoid the area for the time being.
"We are liaising with both Shell and the protest organisers, Extinction Rebellion."
The action is part of Rig Rebellion 2.0, a two-week campaign by Extinction Rebellion Scotland targeting the fossil fuel industry and the institutions which support it.
On Tuesday, activists blocked entrances to the Edinburgh officers of fund manager Baillie Gifford, saying that MSPs pensions were being invested in Shell "in the face of the climate and ecological crisis driven by fossil fuels. "
A Shell petrol station in Glasgow was also targeted earlier this week, as well as a gas rig in Dundee Harbour.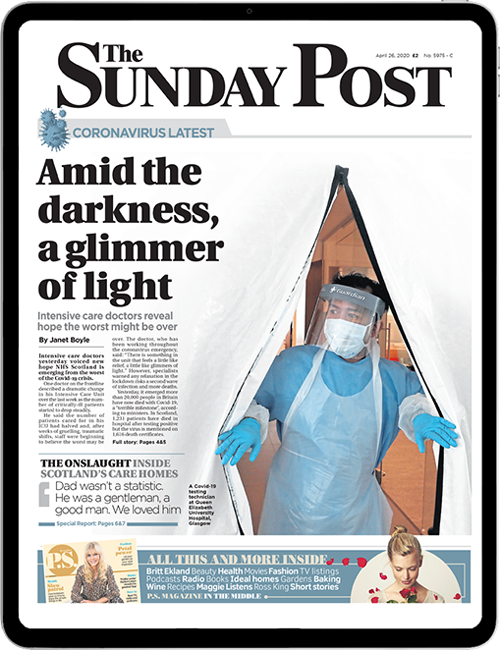 Enjoy the convenience of having The Sunday Post delivered as a digital ePaper straight to your smartphone, tablet or computer.
Subscribe for only £5.49 a month and enjoy all the benefits of the printed paper as a digital replica.
Subscribe