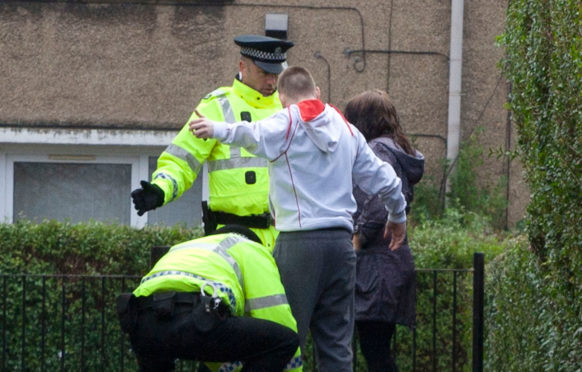 Controversial stop and search powers have made Scottish teenagers more distrustful of police than English teenagers, researchers have found.
An academic study looked at four UK cities and found young Scots were almost three times as likely to have been stopped by police than their English counterparts.
Academics from Edinburgh, Hamburg and London universities concluded the more it was used by officers, the more it led to a negative opinion about policing in their communities.
And the experts even concluded it might cause more crime instead of less.
Stop and search is a controversial police power that allows officers to stop, question and search a person who is suspected of doing something illegal, including carrying drugs or knives.
But critics say the powers are discriminatory and humiliating as they disproportionately target young people and people from ethnic backgrounds.
The study looked at attitudes of 2,186 12 to 15-year-olds towards stop and search in Glasgow, Edinburgh, Sheffield and Birmingham.
The research was based on surveys carried out in 2014/15 when Scottish police officers carried out far and away the highest rate of stop and searches in the UK.
In 2015, Scottish ministers ordered Police Scotland to change the practice after an independent inquiry found its prolific use of the powers was of "questionable lawfulness and legitimacy."
It continues to use the powers although they have been reformed.
Last October, it was revealed Police Scotland had stopped and searched 3,000 children over 15 months – that's 52 every week – with nearly two thirds finding nothing.
The figures included a seven-year-old girl who was wrongly suspected of carrying drugs.
The study, published in the international journal Policing And Society last week, said "Scottish respondents were significantly more negative overall" towards police.
It added: "English respondents were more positive about the behaviour of the police than those in Scotland. Young people in England were significantly more likely to say that the police had acted 'very fairly' towards them than the Scottish respondents."
The study also warned of a backlash if police officers in England increasingly use the tactic to combat growing knife crime in cities like London.
The study also looked at how trust in the police affected future offending. It claimed teenagers who trusted police less reported a bigger chance of offending in the future.
The study said its findings "would suggest the experience of being stopped and searched could strongly increase a young person's likelihood of taking part in offending."
Co-author Emeritus Professor Mike Hough, of the University of London, said: "When people, especially young people, have bad experiences with the police, this may produce defiance rather than compliance.
"We are not saying that the police should avoid using stop and search. However, they need to take account of the costs as well as the gains in arrests and detections."
Bruce Adamson, Children and Young People's Commissioner, said: "Good relationships with trusted adults are key to healthy childhoods and police play an important role in keeping children and young people safe in our communities.
"This useful research reinforces the need to take a human rights-based approach to policing."
Scottish Liberal Democrat justice spokesperson Liam McArthur said: "Stop and search harmed trust in the police, particularly among the young people who were regularly stopped without justification."
Police Scotland Assistant Chief Constable Steve Johnson said: "Intelligence-led stop and search is a valuable and effective policing tactic and contributes to the prevention, investigation and detection of crime while keeping people safe and improving community well-being.
"We understand victims of crime have an expectation officers will use powers available to them, including stop and search where necessary, to bring offenders to justice.
"We also recognise that stopping and searching people is a significant intrusion into their personal liberty and we remain committed to ensuring all stop and search activity is carried out in a lawful and proportionate way and that people are treated with fairness, integrity and respect."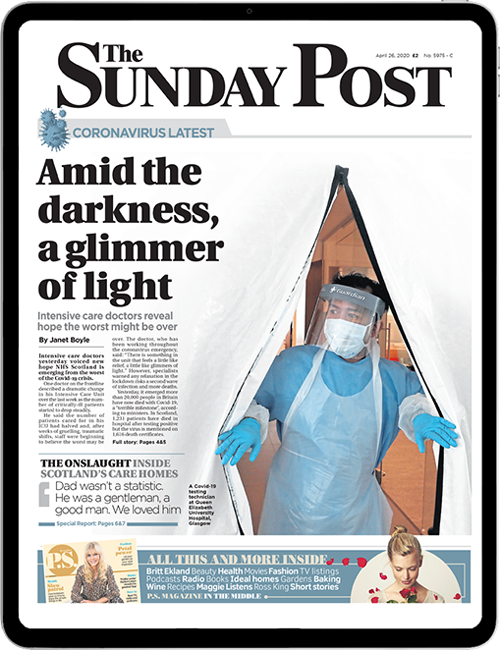 Enjoy the convenience of having The Sunday Post delivered as a digital ePaper straight to your smartphone, tablet or computer.
Subscribe for only £5.49 a month and enjoy all the benefits of the printed paper as a digital replica.
Subscribe