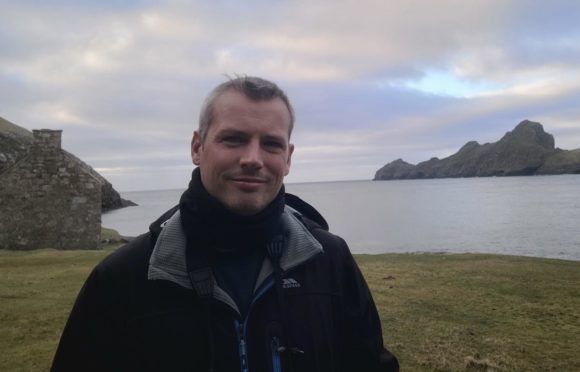 The irony of travelling to one of Scotland's most isolated places just as the world starts to open up from lockdown is not lost on Conor McKinney.
The conservationist landed on St Kilda earlier this week to begin a six month stay in the stormy waters of the Atlantic.
His mission while on the islands is to ensure building work doesn't threaten the biodiversity of one of the world's most unique wildlife locations.
Puffin flight school.

Formation flying: 10

Landings: Well.. could be improved.. @StKildaNTS #StKilda @N_T_S pic.twitter.com/clmLPcN1Zl

— Conor McKinney (@wildlifeni) April 1, 2021
"It's bittersweet," he said. "My career has been about the protection of special sites and they don't come much more special than St Kilda.
"It's a land of superlatives: the most remote and most isolated, with the steepest cliffs and the richest diversity of bird life.
"I'm balancing that with the fact I'll be away from home for six months when, because of Covid, I haven't seen my family in a year as it is. My wee sister is about to give birth in the next couple of weeks too. It's a once in a lifetime opportunity and you're somewhere brilliant, but you're weighing that up with lockdown easing."
It's quite the change in scenery for Conor, who has spent the winter lockdown with his partner in their terraced home in Belfast. His family are fully supportive of the trip – even if it means missing out on some important moments.
"I think they understand that it's the nature of my work," Conor said. "My grandparents are enchanted by the idea of St Kilda; my granda remembers his days working in Shetland fondly and my granny would spend her summers on Inishsirrer, a now uninhabited island off Donegal.
"My sister would rather I was here for the birth of her son, my parents' first grandchild, and my partner is currently working on getting a settlement visa so there's a lot of really difficult things going on back home that I can't help with.
"Plus, there's all the general horseplay that goes on at the family home in Donegal over the summer, the barbecues, beach football, rounders and fishing. All of which I'll miss, and after over a year of not seeing cousins, aunts and uncles that's going to be difficult. We'll have a good auld session when I'm home in October!
"It's quite an isolated place out here but there's a group of people that I'm going to be working with. Covid guidelines are in place out here though, which we're still trying to deal with. There are two social areas and we're trying to work out bubbling scenarios and how we're going to manage interactions with people coming onto the islands."
Heading off to St Kilda for six months is probably the closest you can get to a real-life desert island scenario, and there were a few items that Conor was sure to take on his trip.
Music is likely to play a part in keeping up morale, and one of the first things Conor packed was a portable speaker.
"I know from spending a month there in 2019 how important music can be. Once we get everything settled down we'll be swapping songs and artists – I got into trad band Skippinish because of the Uist boys I was working with. We'll hopefully get a couple of sing-songs going!
"I've got my Kindle too, and a pack of cards. Whenever the rain and storms blow in, it's about keeping things going and those wee moments spent with people that are a bit of normality are really important to keep spirits up."
Fàilte gu Hiort (Welcome to St Kilda) everybody!!

I wanted the first vlog to be about St Kilda's landscape but unfortunately I missed a good weather window this morning (but see replies for some pics I took)

Instead come see my living quarters for the next 6 months 🙂 pic.twitter.com/NAWhWxnNZg

— Conor McKinney (@wildlifeni) March 27, 2021
A dual World Heritage site owned by the National Trust for Scotland, St Kilda is home to nearly one million seabirds, including the UK's largest colony of Atlantic puffins and a substantial part of the global population of storm petrels. Nesting there too are species like fulmars, gannets, shags and Manx shearwaters.
All of them would suffer drastically if an invasive species like rats were to get on the island, and it's Conor's job to prevent that happening.
He studied environmental science at the University of Stirling before later completing a masters in ecological management and conservation biology. He became an expert on island biosecurity in his native Northern Ireland.
Conor said: "My job will be on the island, making sure the biosecurity management plan is followed and, when the boat comes in with construction materials, monitoring the traps on the boat to make sure nothing has been nibbling away. If there is anything there the boat will be sent back to the mainland."
By the summer, up to 30 people will be at work on various projects on the island. They'll be tested for Covid before heading out, but distancing and bubbling will be maintained as a precaution.
Conor will be directing them on how they can take as much care as possible on the island to prevent damage to the ecosystem.
"I was writing on a whiteboard all the species that might be affected by the works and different notes that the workers need to be involved in," he explained. "We've got all these weird and wonderful species.
"In the summer we'll find puffin fledglings getting distracted by the lights. They're a bit like feathery moths, they'll fly towards them and ground themselves.
"That has two risks, it makes them defenceless to the skuas that nest around here, and we'll also have diggers, excavators and stuff around the site so we'll need to make sure to check under vehicles and around the site.
"Their numbers are in drastic decline so it's about making sure we do all we can so that as many survive as possible.
"I'll also be working to make sure that the construction works that happen on the island are done sympathetically to such a unique site."
St Kilda's human history is just as fascinating as the wildlife, with the last full-time inhabitants evacuated in August 1930 after petitioning to be relocated due to the unsustainable living conditions.
Conor describes a sense of detachment from the rest of the world he feels as he looks around the islands. Unlike Belfast, where he lives, he can hear no conversation, no planes, no sirens, no cars.
"You're listening to the rolling of the waves against the shore, the fulmars' guttural cackling as they're flying around checking you out," he said. "The wildlife's almost as interested in you as you are in it. It's like the island itself is keeping a beady eye on you.
"The village bay is this sliver of green pasture land on the southern side of Hirta, it's the only place you can really get into the island, the rest of it is just stark cliffs.
"You've got these three big chunks of rock to greet you. Sometimes they look like sentinels there for your protection, and sometimes when they're covered in clouds they look brooding, temperamental.
"The weather plays a big part in the atmosphere of the island. The hills look enticing and accommodating when it's sunny but that can change. It's a unique feeling in that dramatic, stark, landscape. It's by no stretch of the imagination gentle, undulating farmland.
"Everything about the island screams at you that you're going to have to earn your right to get from one place to the other."
Morning from Chonachair #StKilda!

Boreray, Stac Li and Stac an Àrmainn in the background.

Have a good one whatever you're up to 😊 pic.twitter.com/5vQlDGABji

— Conor McKinney (@wildlifeni) April 1, 2021
As he goes along, Conor will be updating his Twitter followers on @wildlifeni with regular videos, as well as appearing on the BBC's Costing the Earth podcast.
"St Kilda's not the sort of place you can get to easily, there's a three-year waiting list with the National Trust for Scotland and it's costly. Not everybody can get out here so I wanted to answer people's questions," he said.
"It gives me something to do when not doing the day job, and means that I can bring life on St Kilda to people and get people to connect with the islands.
"There's more books written about it than any other island. It has that romantic vibe, the tragedy of the exodus of the community and the effect it had on them.
"I wanted to bring as much of that to life as possible for people, but also for myself. When I'm old and decrepit I'll be looking back and it's a good way of recollecting the memories.
"It's by no means me having a piña colada on the beach, there'll be trials and tribulations as well as all the good stuff and I want to be able remember each of those in as much technicolour as I can when I hang up my boots.
"People are helping me with their queries, they're getting me to think about things I hadn't thought about that are actually something I'd like to engage with, for example looking up at the stars out there."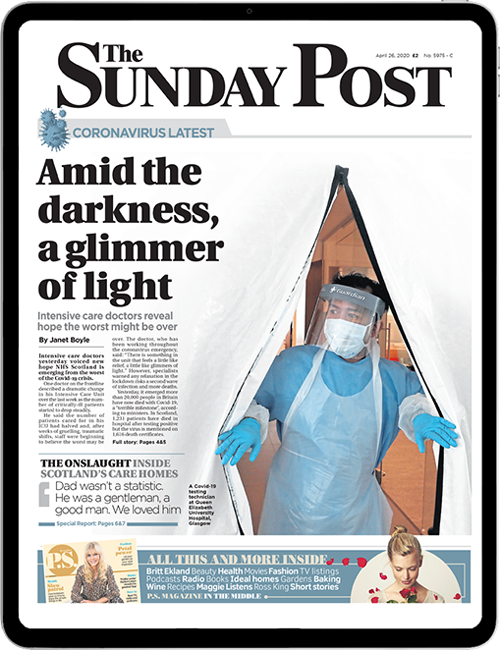 Enjoy the convenience of having The Sunday Post delivered as a digital ePaper straight to your smartphone, tablet or computer.
Subscribe for only £5.49 a month and enjoy all the benefits of the printed paper as a digital replica.
Subscribe