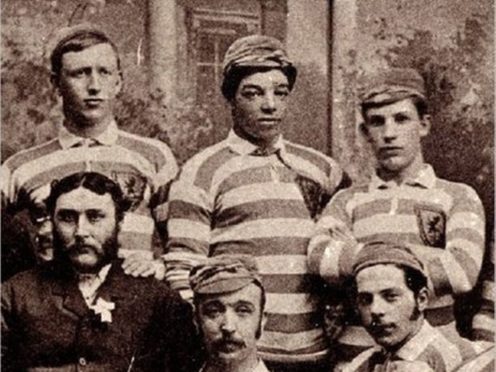 Sport historians have shot down claims the firs black footballer played in England.
The London-based Football Association wrote last week on Twitter that it was paying tribute to some of English football's key black pioneers to mark the start of the Black History Month event.
It cited Arthur Wharton, who lived from 1865 to 1930, and who they described as "widely considered not only England's but the world's first black footballer".
But Scottish experts pointed to British Guiana-born Andrew Watson, who played three times for Scotland, and whose career pre-dated Wharton by several years.
Historian Ged O'Brien said of the FA's claims: "I must have dreamt that I spent almost a decade proving that Andrew Watson was the world's first black international player, captain and club secretary who helped teach England how to play the Scottish game. Scots founded football."
Andy Mitchell, the former ­communications head of the Scottish FA, added: "This is just wrong. It ignores Andrew Watson, who was playing a decade before Arthur Wharton on both sides of the border."
Watson, who was born in Demerara in modern-day Guyana in South America, was the son of a Scottish sugar planter and British Guianese woman, and came to Britain as a child with his father and sister.
He studied at Glasgow University and played for two clubs in the city – Maxwell and Parkgrove – in the 1870s.
In 1880 he moved to Queen's Park and was capped for Scotland three times. He also played with English side Swifts for two years from 1882 and later with Corinthians and Bootle.
Ghana-born goalkeeper Wharton started his career at Darlington in 1885 and later played for teams including Sheffield United.
The FA honoured him with a statue in 2014 and he was formerly considered the first black footballer in the Football League and the first professional black footballer.
However, research over a ­decade ago proved Watson's league career predated Wharton's and he may also have been the first black professional as Bootle offered wages and signing fees to a number of players – although it's never been confirmed that Watson was paid.
Richard McBrearty, curator of the Scottish Football Museum at Hampden Park, said: "Watson has many honours to his name and can, for example, claim to be the first black footballer to play international football and win a national trophy."
The FA said it did not wish to comment.