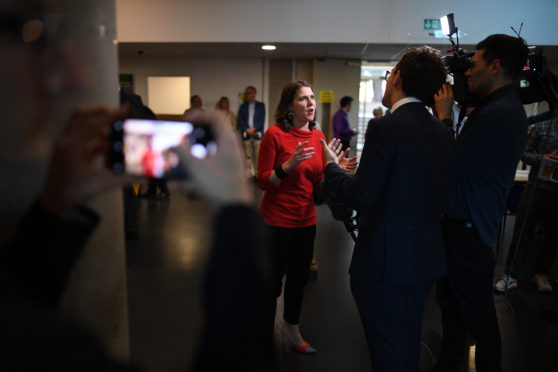 One of my favourite news-paper cartoons was published early in the 2000s, not long after the war in Afghanistan had begun.
It was the week of the annual Lib Dem gathering, at which Charlie Kennedy's mob had passed a very cross motion of censure on the Taliban or Tony Blair (or perhaps both – I can't remember now). The cartoon showed a swarthy, Kalashnikov-toting jihadi sticking his nose out of a cave to ask: "What news from Lib Dem conference?"
The joke was obvious, but no less enjoyable for that: the musings of the self-righteous sandal-wearers gathered in Brighton or Bournemouth or wherever it was that year were of no interest whatsoever to the self-righteous sandal-wearers of Kandahar, regardless of how spicily the reprimand was phrased.
And it worked because the Lib Dems were generally regarded by the UK electorate as a collection of not serious, puffed-up nonentities.
No longer. Or at least not as often, or by quite so many. The Lib Dems are suddenly a very live prospect indeed. Not since 2010, when Nick Clegg unexpectedly found himself blinking in No 10's sunny rose garden beside David Cameron, has the party mattered more.
Having been treated harshly by voters for their role in that governing coalition, reduced to a sorry rump both at Westminster and in Holyrood, the Lib Dems are back, baby.
They have been lucky, but then luck is essential in politics. Brexit dominates – like waking up in the night to find the moon a matter of miles from the earth and closing rapidly, it is currently hard to think about anything else.
As an uncomplicatedly pro-European party, the Lib Dems are picking up votes from anti-Brexiteers willing in the circumstances to forgive and forget the Tory love-in.
Each cynical contortion by what used to be the Labour Party nudges Lib Dem polling numbers further northwards. Every craven sacrifice laid by Boris Johnson at the feet of the ERG or Nigel Farage has moderate Tories making eyes at Jo Swinson.
The party is proving a happy haven for itinerant former Labour and Conservative MPs who can no longer square their consciences with the grotty behaviour of their ex-masters.
The question is: can the Lib Dems crack it? Conference season 2019 is a very different affair from those early-noughties show-pony affairs.
It is a serious moment where what the Lib Dems think really matters, and a shop window for the party's impressive new leader and her team. If Jo Swinson has yet to be properly tested, she has, largely, started well.
She has been brave where needed, principled when required, and offers a stark visual and rhetorical contrast to the scowling grey shabbiness of the two men who stand either side of the despatch box at PMQs. Brave? In the end, Swinson may be the only thing standing between Jeremy Corbyn and the keys to No 10 Downing Street.
For my money, preventing Corbyn, his sinister gang of advisers and his rabid horde of activists from seizing control of the British state is the number one priority in British politics. Yes, despite Brexit. I'd take No Deal over Corbyn as Prime Minister, any day of the week – the anti-Semitism is only one reason, but even on its own it's enough. Jamie Stone, the Scottish Lib Dem MP, committed himself to the same position last week. Swinson's refusal to contemplate the Labour leader even as temporary PM is one piece of good news at a time when such is thin on the ground.
What can the Lib Dems expect? Their pledge to revoke Brexit without a second referendum in the unlikely scenario they form a government following the next General Election will work in two ways.
First, it will attract those hardcore Remainers who have simply had enough of the double-dealing and over-claiming by Boris Johnson and his fellow Brexiters, and their seemingly deliberate drive to take Britain out of the EU without a deal, and also of the untrustworthy Corbyn's relentless fence-sitting.
But second, it is a highly anti- democratic proposal which, even to a Remainer like me, seems like foul play. I'd favour a second referendum, on the basis that four years on from the last one the country is in a very different place, facing a more complex set of arguments, and with the consequences laid more plainly in front of us. If that is not to be, then I'd like the softest Brexit possible. I can't square my conscience with straightforward revocation.
But the Lib Dems will not form the next government. At best they will find themselves sharing power either in a coalition or, more likely, engaging with a confidence-and-supply agreement. What they can do, potentially, is prevent Johnson winning an overall majority by scooping up seats in the south-west of England.
Scotland is a different matter. The SNP is likely to benefit most from anti-Brexit anger and steal back most of the seats Ruth Davidson had managed to nick off them in 2017.
Boris Johnson, whose own speech to Tory conference this week doubled down on "getting Brexit done", has a worried eye on Nigel Farage's Brexit Party as well as the Lib Dems, despite his seemingly healthy lead in the polls.
The SNP has thrown the complication of a second independence referendum into the calculations of unionist Scottish voters who would like to send a pro-Remain message to Westminster. Then there is the fact that Nicola Sturgeon seems willing to help open the door of No 10 to Corbyn.
I have one overwhelming feeling about these turbulent times, and that is that the system in its current form is unlikely to survive them. It may mean the end of the Union, it may mean major reform to the UK constitution as a whole, including a new, fairer voting system. We may end up with a Trot as PM, or as a diminished nation pushed to the edge of global affairs. All of these outcomes are potentially up for grabs. Can Ms Swinson ensure we continue listening to her?