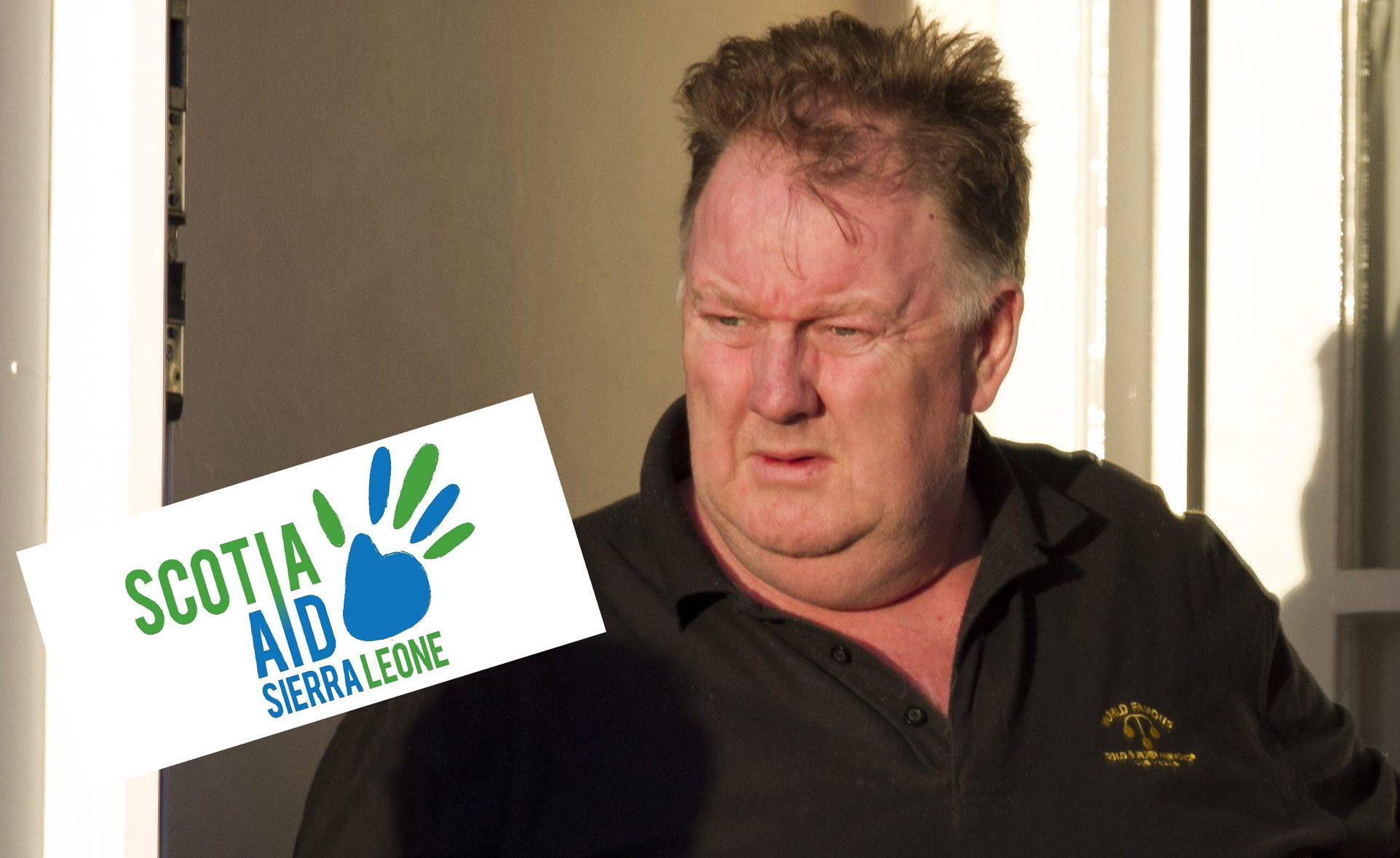 TWO disgraced trustees have been banned for life from running charities following a Sunday Post investigation into their lavish lifestyles.
Kieran Kelly, 34, and Alan Johnston, 59, were bosses of Scotia Aid, which claimed to help children in impoverished Sierra Leone in West Africa.
But we revealed how just 13p out of every £1 raised was going to Africa – with the rest being spent here on dubious fees and events.
Kelly paid himself nearly £117,000 in just one year from the charity's funds by way of "consultancy fees" to two private firms he set up.
Meanwhile, Johnston, a butcher by trade, paid himself more than £92,000 in one year from Scotia Aid through a "consultancy fees" to a firm he ran.
Together with a third trustee, Scotia Aid founder Dan Houston, Kelly and Johnston enjoyed a luxury lifestyle utterly at odds with the charity's stated anti-poverty aims.
Of the £1m-plus raised in 2014, just £137,000 was donated to good causes.
The trio had a corporate box at a Scottish Premiership football ground and held golf days at some of Scotland's most expensive courses.
But Houston, 63, has escaped action by quitting as a trustee before regulators acted.
The legal loophole means he is free to set up new charities should he wish – despite Scots charity watchdog OSCR higlighting shocking "misconduct" at Scotia Aid.
The banning order was imposed on Kelly and Johnston by the Court of Session in Edinburgh following a lengthy inquiry by OSCR following our revelations.
Now that the banning order is in place, we can reveal how Kelly:
Went from washing cars and living in a tower block council flat to living in a £260,000 villa and driving a Range Rover.
Is a convicted knife-thug who exploited a gaping hole in charity legislation to become a trustee despite a lengthy criminal record.
Treated his wife to watch horse racing at Royal Ascot while working at Scotia Aid.
Meanwhile, insiders claimed the trio of trustees became so wealthy they were able to chip in for a race horse called Sewn Up.
Former Scotia Aid treasurer Jackie Douglas, who quit in disgust at the trustees' behaviour, said last night: "None of them should have been let anywhere near a charity.
"They were all about fancy restaurants, spending money and playing golf.
"Decent hard-working people were donating money in good faith because they wanted to help kids in Africa.
"But these generous people have been taken for a ride.
"The Sunday Post deserves to be praised. Without your investigation none of this would have come to light."
Kelly was able to become a trustee and legal guardian of Scotia Aid even though he was jailed for three years for an attack.
Under charity laws, someone with convictions for assault or even murder can become a trustee – as long as they haven't been convicted of dishonesty or fraud.
Today we can reveal Kelly was sent to prison in September 2008 following a trial at Hamilton Sheriff Court.
A jury heard that Kelly, then 25, attacked teenager Ryan McGuinness with a knife in nearby Viewpark in August 2007.
The jury found Kelly – who the court heard had a string of previous convictions – guilty of three out of four charges against him.
His conviction included two charges of assault and one charge of possession of a knife.
After Kelly's release from Barlinnie jail in Glasgow he found himself living in a high-rise council block, Glassford Tower, Motherwell, and washing cars for a living.
But Kelly's stock was soon on the rise after he was brought in to help run Scotia Aid Sierra Leone as a trustee despite having no previous charity experience.
Girlfriend Jade – who would later become his wife – was also hired to work there, as was his younger sister Erin.
By 2015, Kelly and his family had moved into an upmarket detached home in an exclusive housing estate in Motherwell and swapped washing cars for driving a Range Rover.
The charity was the brainchild of Houston, 63, who set it up in 2010 alongside pal and former business associate Johnston while Kelly was still in jail.
Houston – who has had a number of businesses go to the wall and once owed HMRC £200,000 in tax he'd failed to pay – is the cousin of Kelly's deceased dad, Cornelius.
Despite being distant cousins on paper, sources say Houston treated Kelly like an adopted son. "They were cut from the same cloth," said a well-placed source. "The pair loved some of the good things in life – good food, nights out and horse racing."
Last year OSCR froze Scotia Aid's assets amid concerns over its "activities and financial management".
But the pitiful expenditure on charitable work was just the tip of the iceberg.
The trio who ran the charity were revealed to be paying themselves handsomely.
Kelly paid himself £116,900 in 2014 from the charity's funds. The money was paid as "consultancy fees" to two companies which Kelly set up and which have now been dissolved.
Meanwhile Johnston, a former butcher, paid himself £92,000 from the charity in 2014. The money was paid as "consultancy fees" to a firm he set up called OldClyde Services Ltd.
That firm has also been dissolved.
Houston was paid £104,000 – as fees to two of his companies.
Getting funds paid to a company rather than as a salary is a way for people to save money on income tax.
It means that earnings which would attract income tax of 40-45% are instead liable to corporation tax – at just 20%.
The charity bosses even chipped in to buy a racehorse called Sewn Up. The seven-year-old stallion was bought in 2014 and trained by prestigious Carluke-based trainer Keith Dalgleish.
On paper it was bought by a man called John Kelly, but the trio openly boasted of being its owners.
The horse has won more than £20,000 in its race career.
Mr Dalgleish said: "I can't comment on owner details but the horse is no longer being trained by us."
OSCR's head of casework, Martin Tyson, said: "After considering all of the available evidence, we became concerned that there was misconduct in the administration of the charity, and took necessary action to protect its assets.
"The Court of Session granting our motion will help ensure that funds will be used more appropriately in the future.
"Trustees should always act in the interests of the charity with reasonable care and diligence.
"As this announcement shows, where trustees fail to do this, we will use our powers and take appropriate action."
Johnston refused to comment on the allegations.
Kelly could not be reached.

The Sunday Post has led the way in revelations about Scotia Aid Sierra Leone.
We got involved after two worried charity ex-staffers came forward with allegations.
They claimed OSCR had ignored their concerns for years.
But our expose saw authorities belatedly launch action.
OSCR sent sheriff officers round to quiz our whistleblowers armed with copies of our stories.
It has prompted a long-running investigation by the body, with the regulator twice taking the charity to court.