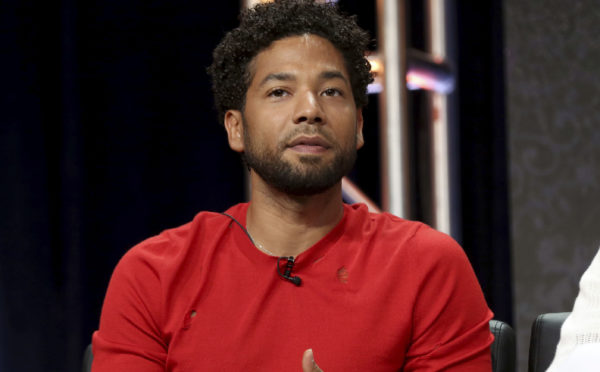 Actor Jussie Smollett has been arrested in Chicago on charges of allegedly filing a false report of a crime.
The Empire star was taken into custody charged with felony disorderly conduct for the report he made to police on January 29.
In it, he claimed he had been assaulted by masked men who shouted racist and homophobic slurs at him, as well as pouring what Smollett believed was bleach over him.
He also alleged that the attackers put a noose around his neck, but investigators now believe the 36-year-old's report is untrue.
Chicago Police Department spokesman Anthony Guglielmi announced via Twitter Smollett "is under arrest and in custody of detectives."
Press Briefing: Jussie Smollet is under arrest and in custody of detectives. At 9am at #ChicagoPolice Headquarters, Supt Eddie Johnson, Commander of Area Central Detectives Edward Wodnicki will brief reporters on the investigation prior to the defendants appearance in court. pic.twitter.com/9PSv8Ojec2

— Anthony Guglielmi (@AJGuglielmi) February 21, 2019
Authorities will hold a press briefing later today to share further details of the case.
Smollett, who is black and gay, told ABC's "Good Morning America" in an interview last week that he was angry about the alleged hate crime and that people were doubting him.
"It feels like if I had said it was a Muslim or a Mexican or someone black, I feel like the doubters would have supported me a lot much more, and that says a lot about the place we are in our country right now," he said.
Smollett's lawyers Todd Pugh and Victor Henderson said in a statement in response to the charges: "Like any other citizen, Mr Smollett enjoys the presumption of innocence, particularly when there has been an investigation like this one where information, both true and false, has been repeatedly leaked.
"Given these circumstances, we intend to conduct a thorough investigation and to mount an aggressive defence."
If found guilty of the Class 4 felony, Smollett faces a prison sentence of between one to three years, but could also receive probation.
Smollett has starred in Fox musical drama Empire, which has aired in the UK on E4 and 5star, since 2015.
He plays Jamal, the gay son of a music mogul, played by Terrence Howard.