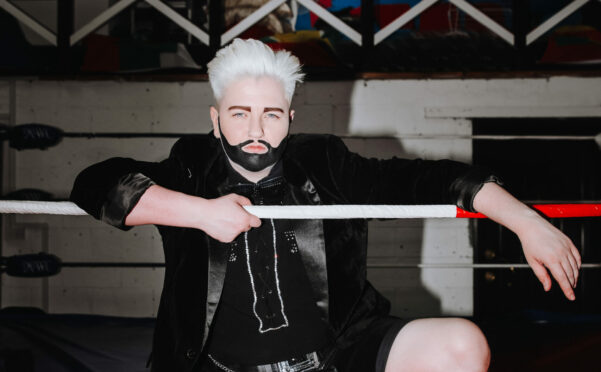 Stand-up, writer and actor Jodie Mitchell is introducing Edinburgh audiences to their macho alter-ego all this month.
Their debut solo hour, Becoming John Travulva to the Fringe is about unpacking masculinity in performing and with themselves and why audiences respect certain performances of masculinity above others.
It's also an exploration of their own queer identity and identity with masculinity as a non-binary comedian.
Jodie co-founded the queer women, trans and non-binary comedy show 'The LOL Word', which currently has a residency at London's Soho Theatre.
---
How are you feeling as the Fringe gets underway?
Performing at the Fringe as a man called John Travulva has always been the dream and I can't wait.
How have your previous Fringe experiences been?
I love the Fringe. Even last year when the city became a maze of trash and rats when the bin strike (that I 100% support) happened, I loved it. I frolicked in amongst the rubbish-turrets.
What is your show about, and what inspired it?
It's about a day last December when I did two gigs – one as Jodie Mitchell, one as John Travulva – and then went home in full drag to find a man hiding under my bed. It's about Drag Kinging and gender euphoria and what to do if you're dressed as Santa in a hostage situation.
How excited are you for Edinburgh audiences to meet John Travulva?
Very. And John Travulva is respectfully excited to meet YOU, reader.
How proud are you of being a part of The LOL Word?
I couldn't be prouder of making an epically gay celebration of queer women, trans and non-binary comedians with my mates Chloe Petts and Shelf.
We had no idea it would explode and become something so big, we just thought it should exist. There are so many brilliant queer comedians out there and it turns out you don't need to have cis men on a line-up, who knew?!
How important a performance space is it?
It's more important than ever to have spaces that platform queerness and people that aren't men – both for audiences and comedians. Comedy is the home of 'it's just a joke' and progress is slow.
All-male line-ups are still the norm and transphobia is actively platformed, praised and rewarded in the comedy world. I wouldn't be doing stand-up if I hadn't been inspired by seeing people I relate to doing it.
What are your favourite memories from the festival?
I once got carried down the Royal Mile by a huge group of guys that were doing a baking-related show. They spotted me, shouted 'Paul Hollywood' and took me where I was going while also trying to shake my hand. To be fair I do look a lot like him.
If you were put in charge of the Fringe, what changes would you make?
I'd make it affordable for working class performers and visitors – accommodation is getting totally unmanageable and there needs to be a fair bursary system so all the talent that should be here can afford to be here.
How would you describe how you feel when your walk on music hits and you take a step out onto the stage?
John Travulva enters by power-posing in lighting flashes to AC/DCs 'Thunderstruck' so, yeah, I feel pretty good.  It's a fairly high-status way to kick-off.
Who else are you looking forward to seeing at the Fringe?
There are SO many amazing debut acts this year – Priya Hall, Mary O'Connell, Leila Navabi and Lorna Rose Treen are my top picks.
What's your favourite one-liner?
I'm a queer person – all that means, for anyone that doesn't understand, is that I identify as better than other people.
Who'd be your dream…
Podcast co-host / guest
Sofie Hagen. We've podcasted together many a time but as they're Directing my show, I could receive notes while also receiving patreon support, which would be really financially convenient.
Karaoke duetter
The foley artist for 'Oppenheimer'.
Wrestling tag team partner
The Ghost of Christmas Present. A formidable force, yet intangible and thus unable to take damage. Also, confusing to enemies.
Comedian to split an hour with
Chloe Petts. I'd spend my half escorting Petts from the building and having a lovely chat as any audience is rightly obsessed.
---
Jodie Mitchell: Becoming John Travulva, Pleasance Courtyard Below, Aug 9-15, 17-27, 9:50pm.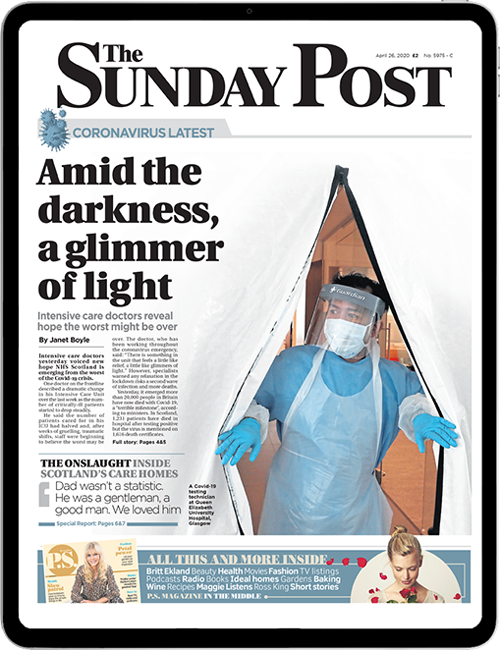 Enjoy the convenience of having The Sunday Post delivered as a digital ePaper straight to your smartphone, tablet or computer.
Subscribe for only £5.49 a month and enjoy all the benefits of the printed paper as a digital replica.
Subscribe