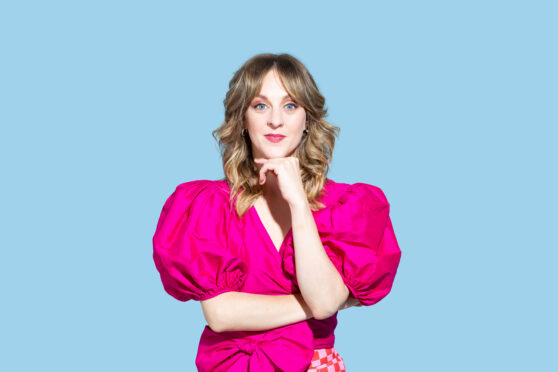 Having won Most Outstanding Show at the 2023 Melbourne International Comedy Festival, Gillian Cosgriff is already receiving great reviews at the Edinburgh Fringe.
The Australian comic brings together an hour of original songs, stand-up, and a big book of things that are actually good.
In 2022, she started asking people what they like. The answers were simple and complex, hilarious and beautiful. Cloves. Fancy hotel foyers. Seeing a cow and yelling, 'Cow!'
This is a show about the little things that make the big hard things manageable…
---
How are you feeling ahead of the Fringe?
I would say it's a feeling akin to going on a date with an old flame. Nervous, excited, anxious, desperately hoping they will still be into you. You know, just cool girl stuff.
Have you enjoyed your previous festival appearances and what's brought you back?
I love this beautiful, damp, magical city and my two previous Fringe seasons were wonderful and challenging. It's a festival that makes you into a better performer for surviving it. Also, I left an umbrella here in 2017. It's black, let me know if you see it.
What is your show about and what inspired it?
I went on a terrible holiday last year where my partner and I invented a game that inspired this show. It's about making a list of ten things you like – all the little things that are weird and good about being human. Hotel foyers. Jam. Seeing a cow run. It's inspired by that game, and by the conversations I've had while making these lists.
When did you decide you wanted to blend music and comedy in your shows?
It's not a decision I ever made consciously – I've played the piano since I was very young and started writing my own songs as a teen. (None of which are fit for public consumption…) When I started making solo shows I pitched them as cabaret initially, but I got addicted to laughs and leant right into musical comedy. I am yet to kick this habit.
Your show won Most Outstanding at the Melbourne festival – how rewarding was it to scoop that accolade?
It is still completely wild to me. I hadn't written a solo show for five years so I was expecting to ease myself back into the comedy scene – it was the most unexpected and lovely festival run I've ever had. Winning was like an out of body experience – I know that I said: "This is like a nightmare. I'm crying and every good comedian is here and I don't have any jokes." But incredibly rewarding! I'm here in Edinburgh and I'll be touring when I get home to Australia and I really like doing my show – it's different every night and the audiences are brilliant.
How do the comedy festivals in Australia compare to Edinburgh?
They're all very different. Adelaide and Perth Fringe feel close to Edinburgh by way of having so many different kinds of performance. Melbourne International Comedy Festival has the same unpredictable weather and a great late-night vibe. Edinburgh is the mother though. Nothing can prepare you for the scale of this festival, or how many different kinds of potato there are to eat.
What are your favourite memories from the festival?
I've seen some incredible shows here – in 2012 I remember seeing Austentatious five times, and a dance show called Translunar Paradise that blew my mind. My little brother came and helped me during my first festival season in 2016 and he was the best flyerer I've ever had. Cheap whisky, cheap gin, rolled ankles on cobblestones, delirious in week three trying to fit my whole body into a suitcase because, "I thought it would feel nice".
If you were put in charge of the Fringe, what changes would you make?
I'd love to find ways to make accommodation more affordable for artists – and find ways to make it more accessible for performers of all backgrounds. Grants for emerging artists that provide real support to remove some of the financial barriers would be a good start. Also, what if we had it in summer? Oh wait…
How would you describe how you feel when your walk on music hits and you take a step out onto the stage?
I feel the most like myself. I'm still anxious and nervous, but the joy of getting to conduct the audience like an orchestra is a high like no other. Even a reluctant crowd that you work to get on board is a real thrill.
Who else are you looking forward to seeing at the Fringe?
So many Australians that I missed seeing at home! Hannah Camilleri, Lou Wall, Geraldine Hickey, Dane Simpson, Jane Watt & Ange Lavoipierre, Laura Davis, Alice Fraser. Also looking forward to seeing any kind of green vegetable, even just once.
What's your favourite one-liner?
What do you call a man with a rubber toe? Roberto. I guess you have to say this out loud. Absolutely kills with eight year-olds.
Who'd be your dream:
Podcast co-host/guest
Co-host: Aisling Bea. She's hilarious and smart and I imagine we could just review charity shops together. (The Nicolson St strip in Edinburgh is a Fringe highlight.)
Guest: Stanley Tucci please. An impeccably well-dressed man who is ready to talk about pasta at length. What's not to love?
Karaoke duetter
Michelle Brasier. When she sings her voice is so powerful it automatically conjures up a wind machine and backup dancers.
Wrestling tag team partner
Reuben Kaye. I suspect we would resort to hair-pulling and biting commentary, and I feel that's really missing from the wrestling world.
Comedian to split an hour with
Rosie Jones. The split will be 55 minutes of Rosie, and then 5 minutes of me talking about how great that was.
---
Gillian Cosgriff: Actually, Good, Pleasance Courtyard Cabaret Bar, Aug 4-8, 10-15, 17-27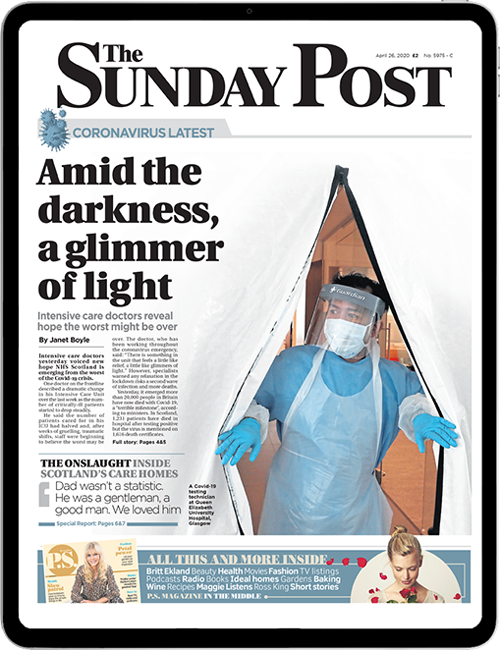 Enjoy the convenience of having The Sunday Post delivered as a digital ePaper straight to your smartphone, tablet or computer.
Subscribe for only £5.49 a month and enjoy all the benefits of the printed paper as a digital replica.
Subscribe