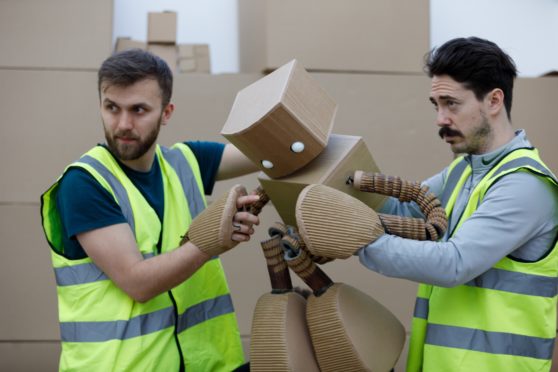 A theatre production heading for this year's Edinburgh Fringe will tell the real-life stories of workers in Amazon distribution depots.
Combining elements of traditional Japanese puppet theatre Bunraku with tales from those who have worked in the heavily-criticised conditions of the company's warehouses, Fulfilment aims to question our love of next-day delivery.
The star of the show is Robox, the show's own version of Alexa, a robot who can supply the audience with whatever they need.
In a similar set up to the likes of War Horse, the puppet's operators are completely visible throughout the show, at no point hidden.
And directors Kezia Cole and Richard Hay say the method of puppetry serves as a powerful metaphor for the online marketplace.
"The moment they're operating Robox they kind of vanish to the audience," Richard explains. "You focus on the character that's alive in front of you.
"It's like when we're using Amazon, we know the workers are there but we don't actually focus on them. We just want to get the next shiny delivery, the nice exciting box."
Kezia adds: "If you look at any of Amazon's adverts they're very keen on making the warehouses look like they're fully automated, run by robots, not that there are many people."
Running alongside Robox are real, verbatim stories from fulfilment centre employees.
The two strands operate to tell the story of what happens across the country when we purchase things online and click next-day delivery.
The show looks at what we expect from modern day service, and the ever blurring lines between efficiency and exploitation.
"We're boycotting Amazon at the moment," Kezia says. "It's amazing how everyone now uses it. Even five years ago I don't think it was at the level it is now. Now everyone we speak to uses it."
Richard adds: "It genuinely is very convenient. Running a theatre company we need this or that for tomorrow, and now it's much harder to get your hands on things because Amazon has become such a part of our lives."
While it's a handy service, the team behind Fulfilment felt it was necessary to stop using Amazon having heard the behind-the-scenes stories.
"Some of them are are quite tough to hear," Kezia says. "It's a daily grind, the number of hours people are working, with mandatory overtime during peak periods meaning people are working sixty hours a week.
"When the work is as physical and as draining and tough it's incredibly difficult."
Richard says he wasn't aware of the mental toll it also has on workers, adding: "One of the things that really surprised me when we started looking into it was that it's hours on your feet walking, lifting things, and that's physically exhausting but also mentally exhausting.
"Workers are under a time pressure to get to the next item to pick. You're constantly against the clock. You can't just switch your brain off; it's mentally draining. When you hear people talk about it you think maybe you don't need that next day delivery after all."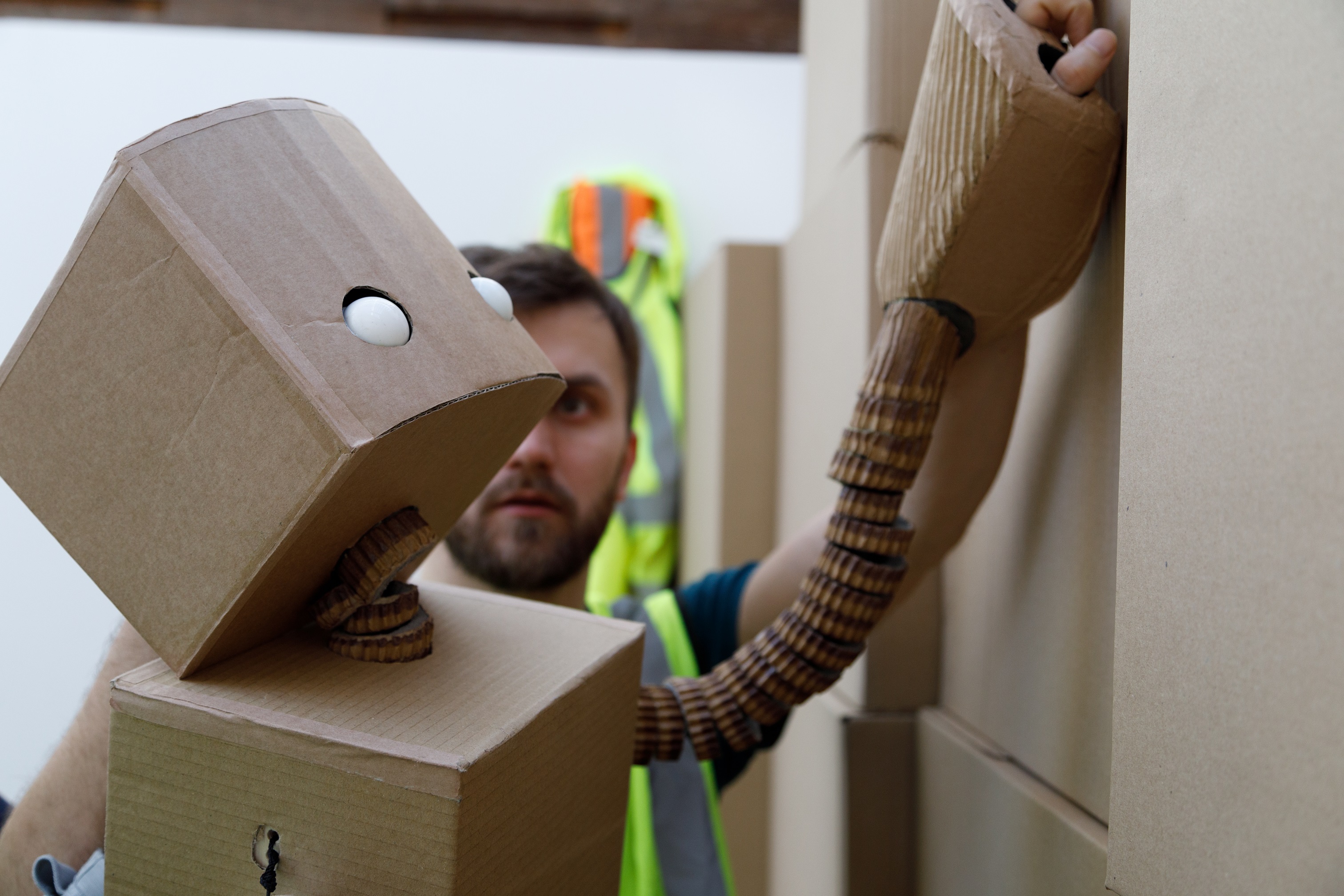 The show's creators were keen to tell these stories in a way that didn't seem to be nagging at the audience or developing a "holier-than-thou" attitude.
"What we wanted to do was make a fun and engaging way of making people want to go along with us and want to know more," Richard says. "We decided to use Robox as a way of engaging the audience.
"He talks to the audience, improvises and responds to them and what they're saying. He's a lovable little character, just like Amazon in our life."
Of course, audience interaction adds in extra challenges for the show as it is created live every night of the run.
Luckily, the puppeteers and cast are well-versed in improvisation and comedy.
"It seems like such a good idea when you come up with it then you start rehearsing or writing it and you're like 'what if the audience comes up with this, then what…'," Richard laughs.
"It is exciting, one of the things that I find exciting about theatre and Edinburgh in particular is that audiences are so up for playing.
"Because Robox is responding, he's wanting to fulfil every audience member, depending on what they say will have a completely different experience of the show because of what people have randomly said they'd like."
Kezia adds: "The Edinburgh audience will definitely keep us on their toes!
"I'm sure they'll come up with  some suggestions that we haven't even vaguely thought of."
---
Fulfilment, Underbelly Cowgate, Thursday August 1 – Sunday August 25 (excl Monday 12), tickets at underbellyedinburgh.co.uk