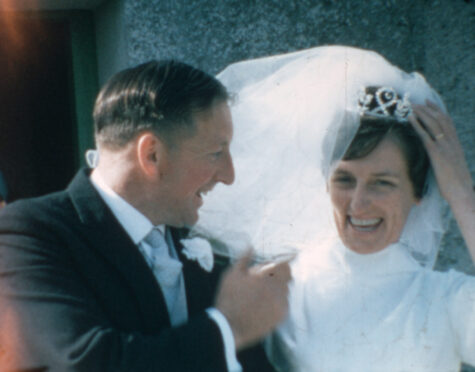 For most people, seeing footage from their wedding happens very shortly after the day, but for Gloria MacKillop, it happened over 50 years later.
The retired nurse, who lives on the Isle of Berneray in the Outer Hebrides features in new documentary Dùthchas (Home), which gives viewers a glimpse into the forgotten world of the island in the 1960s and 70s.
The archive film collection was gifted to MacKillop, now 91, by friends who had visited the island many years before, but it wasn't until the death of her husband, Donald, that she decided to find out what they held.
"I took the reels to a local museum to see what was on them, and they eventually made their way to Andy Mackinnon, a local film director," she explained.
"I had no idea what was going to be there, so to see that footage of me on my wedding day with my dear husband, it was truly magical. It was the first time I had ever seen it, although of course I still remember it vividly too."
MacKillop also remembers like it was yesterday, the first time she ever set foot on the Isle of Berneray, on May 13, 1967.
A young nurse over from Australia, she worked in hospitals across the United Kingdom, until she found herself being posted to the tiny island, where it's believed, she was the first person to inhabit its shores who didn't speak any Gaelic.
"I can still see it to this day, climbing up that rusty ladder from the little boat to get onto the pier," she said.
"One of the first things I was told was that I would have to join church on Sunday.
"Of course, when I went, I didn't understand a word of any of it – it was all in Gaelic – but the sound of that beautiful language, it was just wonderful.
"Eventually, I did learn the language, helped by my husband Donald, who was a local farmer.
"And by all the other people in the community, who were just so welcoming and kind and made me feel so at home. So much so that it became my home, and it's still my home now, all these years later. I could never leave."
MacKillop's story is just one of a number of tales from the Isle of Berneray which feature in Dùthchas (Home), co-directed by Andy Mackinnon and Kirsty MacDonald, premiering at Edinburgh International Film Festival in August.
Both hailing from North Uist, which is now connected to Berneray by a causeway, the pair, using the rare 8mm colour footage given to Mackillop, have created a film which lays bare the deep sense of community and spirit of both Berneray and the Hebrides as a whole.
"Originally, we had intended to create a film about leaving, but as time went on, and we spoke to more and more people who had been present in the film, we realised we were actually creating a film about belonging,"  said MacDonald.
"There is no direct English translation of the Gaelic word Dùthchas. But the best way to describe it is 'indigeneity' or the feeling of not just belonging, but knowing that you are so deeply rooted in a place, you never truly leave it or find it leaving you.
"And that's exactly what we kept coming back to when we asked people about life on Berneray."
The film interweaves the archive footage of the island with a mix of interviews with those who were born on Berneray, to those who left and came back and with descendants of those who left for good.
A soundtrack by local musician Donald Shaw played over the archive footage draws on the rich tradition of Gaelic songs and melodies.
"Even those we spoke to who were descended from people who had left, they still came back every year of their life, because for some reason, even if they're one generation removed or two generations removed, they still felt that it was home," said MacDonald.
"It's like it doesn't matter whether or not they were born and raised there. There's something in them that means that this is home to them. So it's quite an emotional watch, I think."
Lying at the furthest reaches of the Outer Hebrides archipelago and one of the last stops of the British Isles into the Atlantic, Berneray is now home to just 130 people.
Like many of Scotland's islands, it has suffered population loss across the decades, and this is one of the themes explored in the film.
"We look deeply into how cultural and liguistic loss of the Gaelic language has affected Berneray, and specifically how women were the ones who more often than not had to leave, for work and education," said MacDonald.
"Some of the problems that the island faced at the time of the archive footage are still prevalent today as well, but there are many changes too.
"That's why we really wanted to speak to many of the older people with connections to Berneray, to try to bring to life the sense of the islands and how people had lived there in the past, as well as today.
"Some of them grew up in a time that most people nowadays can't even imagine. For example, even as late as the 1960s the island had no running water, and it wasn't until the 1970s that electricity came, so you're talking just 50 years ago."
She added: "But I do also think that people like to romanticise the islands and they have preconceived ideas about what life is like there, especially the remote ones.
"So I think it is important that the film has really been created by people from the islands about people from the islands, because it gives a really truthful portrayal of life there.
"And life there really is wonderful. The sense of community, the people, and of course, its beauty, that helps a lot too."
---
It feels like a special club you're lucky to be a member of
Alasdair Humphery, now 59, features in the archive footage as a five-year-old boy milking a cow. 
My mother is originally from Berneray but she married my dad who was from Sussex so I was born in England.
We would return several times a year to the island as we had the family connection and I still try to go back as many times a year as I can. Even though I wasn't born there, it still feels like a really big part of who I am, so in many ways, it feels like home.
My uncle was Donald MacKillop – who married Gloria – and I'm still related to many people on the island today.
I live in Edinburgh now, but all my friends will tell you, they know where my heart is, and it's Berneray.
Even though it takes ten hours to travel there door to door, I still go every time I get a chance. And it's a place I've been taking my own children for many years.
I've witnessed many changes to the island in my lifetime, especially with the building of the causeway, which connects Berneray to North Uist. One thing in particular that stands out is the way people observe the Sabbath. It was vert strictly observed when I was a child, and although it still is to an extent today, that has changed. I suppose as it has everywhere, but it's more obvious in such a small community.
It's hard to describe why it's so special, but it's a mixture of the community, the culture, the landscape, and it's something that's been a part of me all my life. I've spent summers there and grown up with it all. In many ways, it almost feels like you're a part of this special club that you're truly lucky to be a member of.
---
Dùthchas (Home), Edinburgh International Film Festival, 20 August 
The residents of Berneray are currently fundraising for a new roof for their village hall, the hub of their community. To donate click here.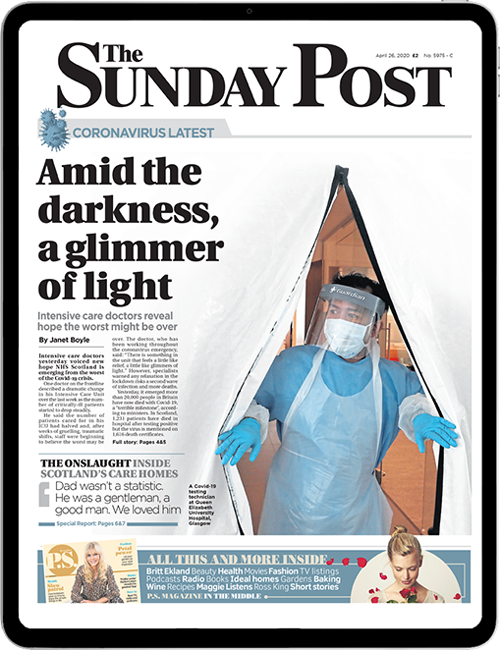 Enjoy the convenience of having The Sunday Post delivered as a digital ePaper straight to your smartphone, tablet or computer.
Subscribe for only £5.49 a month and enjoy all the benefits of the printed paper as a digital replica.
Subscribe