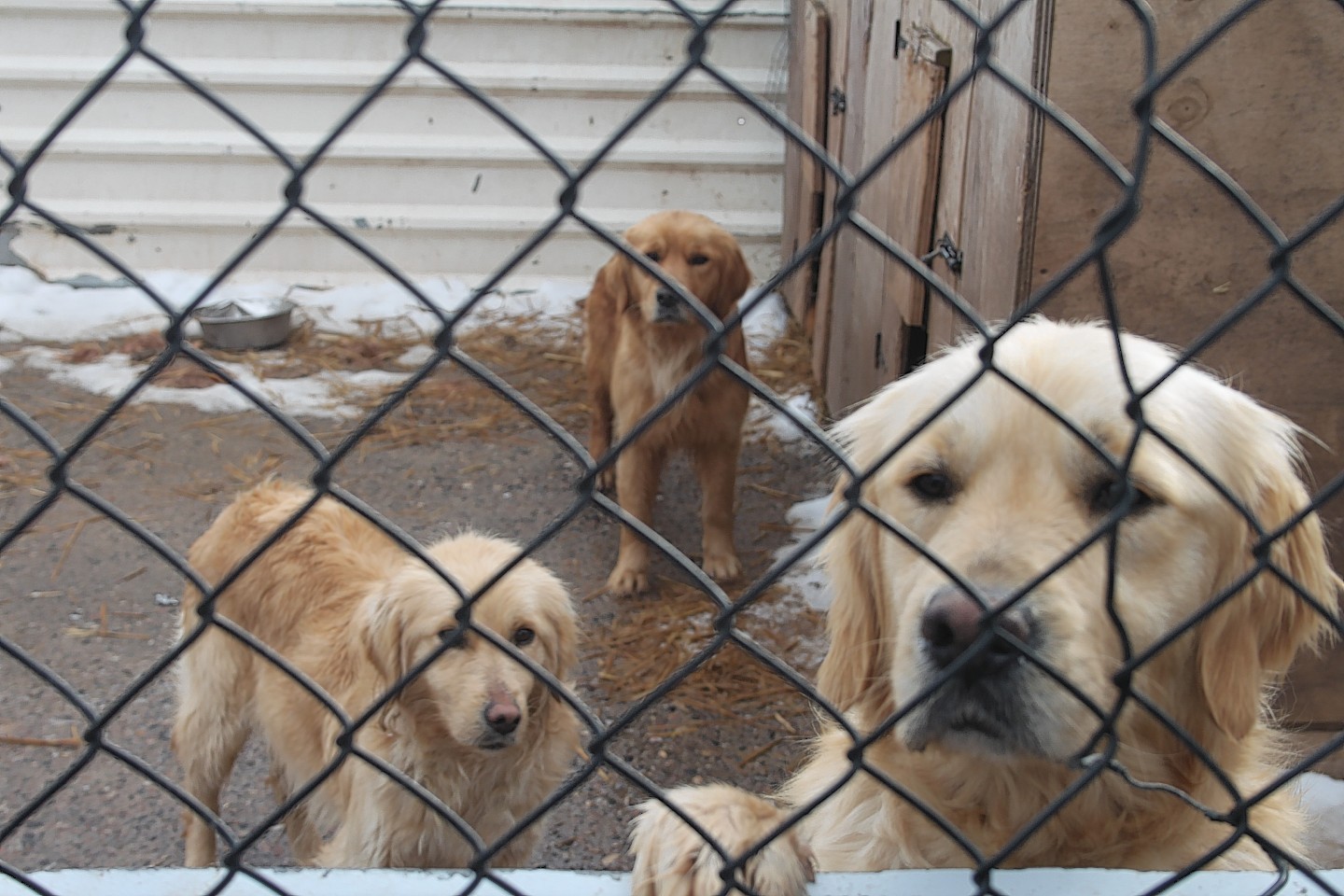 COUNCIL officials microchipped scores of dogs at a farm which had previously been raided by animal welfare officers.
Aberdeenshire council officials carried out the service for free, despite the premises having been repeatedly involved in puppy farming.
Without a microchip and the appropriate paperwork, puppies can be difficult to sell.
The East Mains of Ardlogie farm near Fyvie in Aberdeenshire – which animal welfare officers say is the biggest illegal puppy farm in the country – has never held a licence for breeding dogs despite applications by the James family who use the site.
Members of the family were banned from keeping dogs in 2014 after a raid rescued more than 70 from the farm.
Many of the animals rescued suffered from lice, skin sores and matted hair and some had to be put down when they were taken into care by the Scottish SPCA.
The court case saw Frank James, his brother Edward and 18-year-old son Sean, all plead guilty to animal welfare offences.
Aberdeen Sheriff Court heard that when the Scottish SPCA visited the farm in March 2013, the floor was so dirty with animal faeces some of the dogs had developed cysts on their paws.
All three men were forbidden from running a pet shop for one year, while the two brothers were banned from keeping more than two dogs for the next three years.
Despite the ban, authorities fear the family continued to run an illegal business at the site and even built kennels there.
And we can now reveal Aberdeenshire Council have been accused of inadvertantly assisting them.
Paperwork released using freedom of information laws shows council officials visited the site dozens of times since the 2014 court case.
The trips included officials visiting to discuss a retrospective planning application to build kennels.
That application was turned down by the council after they had originally given temporary consent to it. The released paperwork also shows vets visited to check the dogs over on two separate occasions at the farm for free.
And it shows the council micro-chipped dogs on behalf of the family.
In 2016, the law changed to make it compulsory for all of Scotland's estimated 700,000 dogs to be microchipped.
Dog breeders and traders were ordered to ensure puppies were microchipped by the time they were eight weeks old. Without the new paperwork puppies can be difficult to sell. Council officials are understood to have microchipped 43 dogs for the James family in 2016.
The dog breeds include sought-after pugs and miniature schnauzers that sell for around £1000 each.
The average cost of getting your dog microchipped and registered is £10.90 but Aberdeenshire Council charges £15.50.
Aberdeenshire Council say they never charged a penny for the work they carried out at the Fyvie farm and for the James family.
Last night, campaigners slammed the revelations.
John Robins, of pressure group Animal Concern, said: "This is a strange situation.
"All local authorities are strapped for cash and I see no good reason for Aberdeenshire Council spending public money providing a legally required service to people with a controversial history when it comes to dogs. The local council should not be providing services like this to people with a dubious history when it comes to animals."
Last November nearly 90 dogs and puppies were seized during a raid at the site.
Scottish SPCA officers executed a warrant at the farm with two members of Aberdeenshire Council's trading standards team in attendance.
Puppies, claimed to be as young as five days old, were taken to a rescue centre in Glasgow amid concern for their welfare.
However, no one has ever admitted owning the dogs that were found on the site.
A spokesman for Aberdeenshire Council said: "No payment was asked or made to the council. Chips had been provided to the council free of charge by the Dogs Trust.
"At that time the premises were subject to a Breeding of Dogs Act licence application. The premises were inspected by a vet as part of this process."
Last week there was no sign of a puppy farm at the site.
We spoke with Frank James who denied being involved in the puppy trade. He said someone else had been running the business and the dogs had been well looked after before they were seized.
Licensed breeder who fed her dogs mouldy food and kept them in cramped, filthy conditions
Council licences for breeding do not always ensure good standards in the puppy industry.
In 2016, Morag Jackson, who had a licence from South Lanarkshire as a commercial dog breeder and seller, was found guilty of four offences under the Animal Health and Welfare (Scotland) Act.
The breeder, from the village of Stonehouse near Larkhall, Lanarkshire, fed dogs mouldy, maggot-infested food and kept them in dark spaces too small for them to turn around.
The 54-year-old was banned from keeping dogs for 15 years after being found guilty on four neglect charges at Hamilton Sheriff Court.
The court heard 36 dogs were found in "cramped, dirty, unhygienic" conditions after police received a call from a member of the public.
When Scottish SPCA officials arrived at the property they found two wooden sheds with at least eight dogs, and a separate garage which housed nursing bitches with young puppies.
The dogs were removed to Scottish SPCA centres and rehomed.
Procurator fiscal Gary Aitken said: "These dogs were caused terrible and unnecessary suffering and Jackson failed to provide a suitable environment."
Despite the state of the seized animals, Jackson attempted to overturn the long ban. But that bid was kicked out.
We need an increase in the maximum penalty for animal cruelty offences
By Kirsteen Campbell, Chief Executive of the Scottish SPCA
One of the main priorities of the Scottish SPCA is to put an end to the multimillion pound puppy industry.
We've been raising awareness of the barbaric puppy industry in Scotland through our #SayNoToPuppyDealers campaign.
Our Special Investigations Unit spearhead a mutli-agency taskforce to bring puppy traders to justice through Operation Delphin which includes support from Dumfries & Galloway Council, ISPCA, USPCA, DSPCA, RSPCA, HMRC Trading Standards, Stena Line, APHA and Police Scotland Port Unit.
We have a commitment to having a positive impact on the illegal importation and sale of puppies from puppy farms and stand ready to support a modern system of registration and licensing.
We were also delighted to see our calls for an increase in the maximum penalty for the most serious animal cruelty offences to five years imprisonment addressed with the Scottish Government's ambition to amend the Animal Health and Welfare (Scotland) Act 2006.
This will provide sheriffs with more options when passing sentencing with the aim of acting as a stronger deterrent to animal cruelty offences.
We have also been looking at the prospects of a national database which would list those who have been banned from owning animals.
That would allow other agencies to ensure they are not rehoming or selling to anyone currently banned.