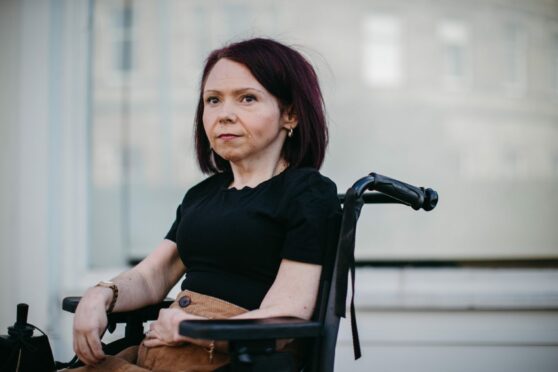 An MSP has urged a greater awareness of domestic abuse of disabled women as part of a complete overhaul of how the crimes are investigated and prosecuted in Scotland.
Pam Duncan-Glancy called for fundamental change after receiving a copy of a life-saving book revealing how failures to recognise repeating patterns in the behaviour of violent men are allowing them to escape justice and failing victims.
The book, In Control: Dangerous Relationships And How They End In Murder, by criminologist Jane Monckton Smith, was last week sent to every MSP and Scotland's senior law officers by The Sunday Post in partnership with publishers Bloomsbury. Duncan-Glancy believes it is an important work and should help trigger a sea change in official attitudes and systems.
In the book, Monckton Smith explores the particular risks facing disabled victims of abuse if men they depend on for help and support are, in fact, abusing them, mentally or physically.
Duncan-Glancy said: "I believe people will be shocked by the reality of the abuse disabled people suffer, and domestic abuse is among the worst because it comes from those the most vulnerable are reliant on. Some of the statistics are truly frightening – up to 90% of learning disabled suffering some form of sexual abuse. It's unthinkable but that is the reality for so many people.
"Disabled men suffer too but, by far, those most at risk are disabled women. Victims are reliant on those who care for them, so right away they are at a huge disadvantage. It's an extremely difficult situation. If you are disabled and you need a specially adapted house, you can't just flee because there are not nearly enough suitable houses available.
"And so very often the women in this situation feel trapped and fear that they don't have very many options. As social care continues to get cut to the bone and local authority services are also cut to the bone, victims fear who is going to provide the care for them if they report an abusive partner."
In plain sight: Expert on domestic abuse exposes myths surrounding male violence as we send her book to MSPs and Scotland's most senior law officers
Disabled people are more than twice as likely to be subjected to domestic abuse and the level of violence is far greater, lasting almost three and a half years before they reach out for help.
In one Scottish study, 73% of disabled women suffered abuse and 43% suffered sexual abuse. The MSP, the first to permanently use a wheelchair, said many disabled women fear retribution from partners claiming they can't adequately look after their children, and so many often rely on abusive partners financially, too.
She said: "We know that disabled women are already far more likely to live in poverty. We know that financial insecurity and financial inequality exacerbates hugely the amount of domestic violence women experience.
"The fact that they have to fall back and rely on the sometimes violent men in their lives makes it so much more difficult.
"That's why so many women are scared to come forward. As Professor Monckton Smith's book highlights, when they do come forward this is the time where victims are most at risk and when violence really escalates."
In England and Wales, family members and carers have been included within domestic abuse laws to protect the most vulnerable, the disabled and elderly who suffer violence and control.
Duncan-Glancy said the position in Scotland must be reviewed after Scottish Justice Secretary Keith Brown last week refused to consider amending the law despite recognising that abuse was often carried out by family members who were not partners or ex-partners.
He said: "While the Scottish Government keeps the law under continual review to ensure that it is effective, there are no current plans to amend the definition of domestic abuse in Scotland to cover abuse perpetrated by family members who are not partners or ex-partners."
Rachel Adamson, co-director of campaigning charity Zero Tolerance, said: "Disabled women are more likely to experience men's violence against women and girls but further research is needed to identify the full scale of this violence and better understand disabled women's experiences.
"For disabled women, inequality and misogyny are exacerbated by ableism: discrimination against disabled people.
"This ableism permeates our society the same way gender inequality does and means disabled women are more at risk of experiencing men's violence.
"We must make sure that support is accessible and inclusive and that policies and practices to end violence against women and girls are created with disabled women."
Even so young, I could tell how scared mum looked. She tried so hard
Her earliest memories of her mother are of a woman at bay, scared, harassed and sad and Dr Gemma Graham believes she never escaped the shadow of a controlling, coercive man, her father.
The forensic psychologist, 35, now principal lecturer at the University of Brighton, said: "I was born in Dunfermline and my mum, Linda Turnbull, was simply terrified of my father.
"To the rest of the world, even mum's own family, he was charming and wonderful. But she saw the real side of his controlling behaviour.
"I was just two years old when she left him, and I remember constantly being on the move, going from place to place living out of rented places or caravans to escape my father's constant harassment and anger.
"Even at that young age, I could tell how scared she was. And when I look back at the few photographs I have of us together, I can see how hard she was trying to make things as happy as she could for my sake. But now I can recognise the fear and sadness in her eyes."
Linda did find happiness with a new man eventually, and had a son to him but, Gemma says, the harassment continued from her father and at the age of 28, her mother took her own life. Gemma was six.
Dr Graham is now one of the organisers of the #notjustanother campaign, founded by author and criminologist Professor Jane Monckton Smith, with demands including a call for police to treat all unexpected deaths of known victims of domestic abuse as suspicious until the circumstances are properly investigated.
She said: "I believe she was just ground down and couldn't take it any longer. There were always messages from my father saying he knew what school I was at. There was no one she could turn to and there was no escape.
"I was taken from my stepfather and brother and given to my father. He cleared out after a couple of years and I ended up going to my gran.
"But the damage done to me then has stayed with me all my life. I've always found it difficult to trust in relationships, and the reason I do my job is to try to make sure others don't have to suffer the same pain and loss.
"Although we are learning more about coercive control we still need to do far more to deal with it, and that includes prosecuting cases of abuse where victims have been pushed to take their own lives. One of the most important things we need to do is count victims who take their own lives if we are ever to face the reality of these crimes."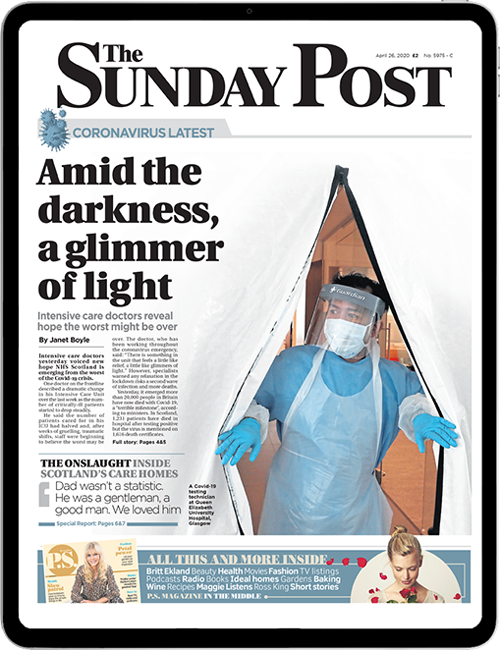 Enjoy the convenience of having The Sunday Post delivered as a digital ePaper straight to your smartphone, tablet or computer.
Subscribe for only £5.49 a month and enjoy all the benefits of the printed paper as a digital replica.
Subscribe