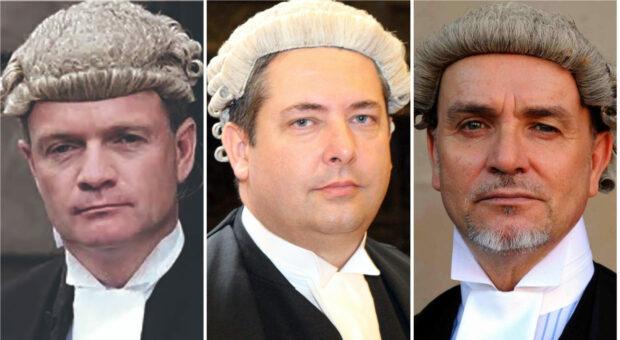 Denise Clair cannot forgive the prosecutors who, without warning or proper explanation, dropped the prosecution of David Goodwillie.
She said: "For months I'd been assured the case would go ahead, that the evidence was strong and that one of the country's top QCs would lead the prosecution. Then, out of the blue, I was told the charges were being dropped.
"Hours later, Goodwillie was being picked for Scotland, and days later was getting a £2.8 million transfer. Meanwhile, I was left broken, suicidal that a man who had raped me was being held up as a role model, a hero."
The case was dropped in 2011 despite a series of witnesses, including door stewards and taxi drivers, giving statements, backed by CCTV, suggesting Ms Claire was so drunk or drugged when she was leaving a nightclub in West Lothian on New Year's night 2011 that she could barely walk or talk never mind consent to sex.
Goodwillie's then Dundee United teammate David Robertson was never charged, despite admitting having sex with Ms Clair and despite the witness statements. He retired from football in 2017 after her civil action when Lord Armstrong ruled he and Goodwillie had raped her.
After her landmark action, the judge ruling stated: "I find that in the early hours of Sunday, 2 January, 2011, at the flat in Greig Crescent, Armadale, both defenders took advantage of the pursuer when she was vulnerable through an excessive intake of alcohol and, because her cognitive functioning and decision-making processes were so impaired, was incapable of giving meaningful consent, and that they each raped her."
New legislation had been introduced shortly before, specifically designed to prosecute rapists taking advantage of incapacitated women and, in 2018, Thomas Ross QC, a former president of the Scottish Criminal Bar Association, told The Post he could not understand why prosecutors chose not to put the case against Goodwillie in front of a jury.
He said: "Having looked at it, I find it impossible to understand why the Crown did not proceed. In my opinion, there was enough evidence and corroboration to be placed in front of a jury to decide whether or not to convict.
"I've seen many cases which have ­proceeded with much less. In this instance, not only did the Crown Office do nothing, they gave Goodwillie immunity by releasing a statement saying they would not prosecute. This is unheard of, particularly as cases can now be brought back to court. It has always puzzled me."
The case was dropped despite Ms Clair being repeatedly told the prosecution was going ahead and the evidence for a conviction was strong.
She was attacked two years after the launch of a National Sex Crimes Unit at the Crown Office, led by Derek Ogg QC specifically to tackle Scotland's appallingly low conviction rate for rape. At the time, Ogg said: "It is time the abusers felt frightened and scared. It is time they realised that we are on their case. We will treat a rape the way we would approach a murder, looking at the whole picture. Does that picture present a story of consent or lack of consent?"
He highlighted cases where predators targeted women who had too much to drink in a nightclub as being exactly the kind of case the unit would tackle, adding: "If you are a rapist picking on a woman, are you going to pick a woman who is alert or will you hang around a nightclub and spot the woman who is stumbling about, who is drunk?
"It's not just putting that suggestion in the jury speech but also looking at CCTV evidence, tracing the taxi driver who picked up an accused and complainant, finding the barman and asking how much she drank. What weight is she? What height? What impact will alcohol have on her?"
Ms Clair was finally told in July 2011 the case would not be going to trial. Ogg, who had left the unit, came back to meet her personally to claim the case, previously described as strong, was apparently now "an aeroplane without fuel".
Ogg, who died two years ago, would later say the decision was taken by then Lord Advocate Frank Mulholland but on his recommendation. Goodwillie was then being represented by Paul McBride, a leading QC. He died suddenly in 2012 and Mulholland spoke at his funeral. Ogg was close to McBride and, after his death, said: "We have been very close friends all our professional lives and a light has gone out of the life of Scotland."
The day after it was confirmed Goodwillie would not be prosecuted, then Scotland boss Craig Levein said he would consider picking him for Scotland again and, days later, the player completed a lucrative transfer to Blackburn Rovers.
In a newspaper interview in 2011, Goodwillie "relived his anguish", after the case was dropped, denied the attack and threatened to sue his victim.
The footballer, who has never ­admitted the rape or apologised for it, said: "I could have been in a jail cell for several years due to a false allegation. My life, my reputation, my career would all have been lost.
"I know what happened that night and I know that I did absolutely nothing wrong. I know all the evidence and it backs me up in everything. I will do whatever is required to prevent my ­reputation being sullied any further.
"My reputation has been tarnished by a catalogue of lies and untruths. Enough is enough."
However, despite no prosecution or conviction, Ms Clair would win £11,000 in Criminal Injuries Compensation, the maximum possible for rape, and launched a landmark civil action which, five years ago, found Goodwillie and Robertson had raped her.
MSPs questioned the decision to drop the prosecution in 2018 when the then Lord Advocate James Wolffe, who succeeded Mulholland, who is now a judge, said the standard of proof in civil and criminal cases was different. He said: "The prosecutor has to prove the case beyond reasonable doubt."
However, Scottish Conservative shadow community safety minister Russell Findlay believes that explanation is unconvincing given the strength of evidence against Goodwillie at the time.
He said: "The failure to criminally prosecute these two rapists has never been adequately explained and more than a decade later brave women like Denise Clair are still being failed.
"The National Sex Crime Unit was launched because of Scotland's scandalously low rape convictions and was supposed to be game-changing. Yet in its first big test, it failed. In light of what happened, the Crown's PR around how this unit would supposedly take a radical approach in its treatment of sex crimes rings hollow. Victims are not interested in ­grandstanding claims and empty promises but in a system that actually delivers justice. I completely understand why Denise remains angry at the decision to drop the charges. Many questions remain unanswered."
The current Lord Advocate, Dorothy Bain, has ordered another review of how sex crimes are prosecuted but, meanwhile, Ms Clair says Scottish justice failed her and is still failing women suffering male violence: "I never wanted to have to go down the civil road. I wanted them dealt with by the criminal justice system, but I feel it let me down so very badly.
"To this day, I have never received a satisfactory answer as to why one day prosecutors were telling me the case was a good one and it was going ahead only for it be suddenly dropped.
"Until we see our criminal justice ­system working properly and police and prosecutors taking these crimes more seriously, we will continue to have one of the worst conviction records for sex crimes in the world."
---
It could have been a triumph for Scottish justice. Instead it is an embarrassment
Professor Jane Monckton Smith is a leading criminologist specialising in crimes against women
The irony is that this case should have been an absolute triumph for Scottish justice. Instead, it became an absolute embarrassment.
The prosecution and conviction of the men who raped Denise Clair in 2011 would have been the perfect way to illustrate how the country was determined to improve an abysmally low conviction rate for crimes of sexual violence.
A new Sex Crimes Unit, led by talented QCs, promising to pursue rapists like murderers had just been launched armed with new legislation making the issue of consent central to prosecutions.
It is hard to think of a crime more suited to showcase the new will to pursue rapists than the attack inflicted on this brave young woman. It could – and should – have been a watershed moment in criminal justice.
Instead, an incompetent police investigation and an inexplicable decision to drop the prosecution meant it has become a landmark case for all the wrong reasons. We have had too many landmarks like this, too many cases of women failed by police and prosecutors, too many empty promises of change and action.
With every case, however, the voices of anger and protest get louder, demanding to know why our police and criminal justice system is not by now better at essential issues like the efficient gathering of evidence in cases of male violence against women.
We have some of the lowest conviction rates for sex crimes in the world, and that is shameful given that we know the number of these crimes that are actually reported in the first place is only the tip of the iceberg. It's quite staggering when you contemplate the true scale.
When Denise Clair was raped, there was more evidence, witness statements and CCTV, than is collected before many trials which end in convictions for rape and it remains baffling why it was not put in front of a jury.
Anyone looking at the evidence would be under no illusion that she was capable of consenting to sex. She was barely able to stand. Witnesses said she was close to comatose. Her attackers knew that, of course, that was why they drove her to an empty flat, raped and abandoned her.
Justice failed her and this courageous woman was finally forced to launch her own civil action to put her attackers in a court.
This case and many others pose very serious questions about who is investigating and prosecuting these crimes. Day after day we hear more stories about police officers who have been involved in murder, rape, or texting inappropriate messages.
I believe the violence we see being perpetrated against women and girls will never change until we have properly vetted and specially trained police officers investigating these kind of crimes, and prosecutors who use the law to robustly pursue predators like Goodwillie and Robertson every time.
It is clearly unacceptable that victims feel they have to turn to the civil courts for justice. The criminal justice system should not be letting them down. We need to change how we treat these crimes against women and transform how we discuss them.
We need an end to victim shaming, an end to excusing perpetrators and predators. Football clubs and the sport's authorities allowed David Goodwillie to continue his career as if nothing had happened.
Instead of being prosecuted and possibly jailed, he was being applauded for his goals.
Lessons need to be learned. All of us have a responsibility to ensure our public life, our public debate, confirms the gravity and appalling nature of these crimes.
We must no longer turn a blind eye. Women like Denise Clair can no longer be expected to carry the burden we all should share.
---
Soldier still in the Army after being ruled a rapist
A soldier remains in the army weeks after a civil action ruled he had raped a woman he met in a nightclub.
Sean Diamond raped the woman after meeting her on a night out in Dundee in 2015. The case went to trial in October 2017 but the jury found the case against him not proven.
However, the victim, known as Ms AB, launched a civil action which last month found in her favour, with a sheriff ordering that Diamond should pay her £119,250.
But despite the ruling, the soldier continues to serve in the Queen's Dragoon Guards. After meeting Diamond in a nightclub on her birthday, the victim, now 30, went to sleep on a friend's sofa fully dressed. She woke up pinned down and being raped.
She said: "It started a spiral of hell in my life which led to two very traumatic court cases and six-and-a-half years of a very long fight for justice."
The Army says it considers every case in which a soldier is convicted of a criminal offence or there is an outcome against them in a civil court, where it is relevant to their employment in the Army. Where appropriate it can take sanctions including discharging them.
However, when approached on Friday to ask if Diamond, who was ordered to pay his victim £100,000, would face any sanctions, it repeated a statement it had released earlier, saying: "We are aware of the judgment regarding the civil case against a soldier in The Queen's Dragoon Guards and this will be subject to further review by the chain of command to determine what action if any is appropriate.
"Soldiers and officers at all levels of the British Army are held to the highest standards. If individuals fail to meet these standards then appropriate action is taken."
It is understood Diamond is currently on deployment in Mali.
Scottish Labour justice spokesperson Pauline McNeill said: "Serious questions need to be asked about why women are being forced to take cases to the civil courts for justice. It's clear that a radical overhaul of the criminal justice system is needed to put victims first.
"Serious questions need to be asked about whether men who have been proceeded against for sexual offences in the civil courts should be allowed to continue in positions of power and influence."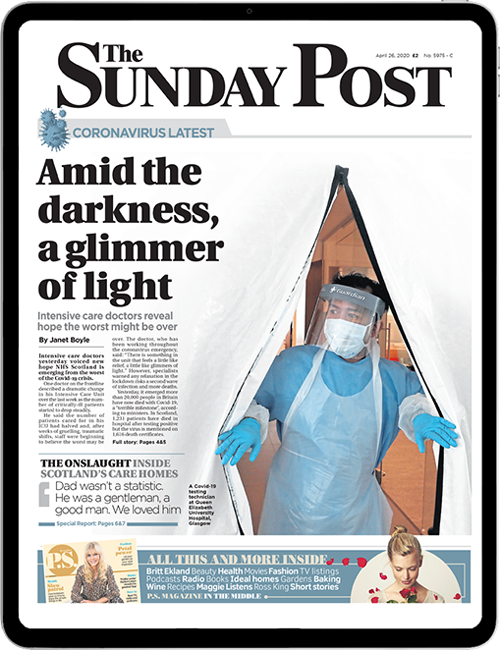 Enjoy the convenience of having The Sunday Post delivered as a digital ePaper straight to your smartphone, tablet or computer.
Subscribe for only £5.49 a month and enjoy all the benefits of the printed paper as a digital replica.
Subscribe