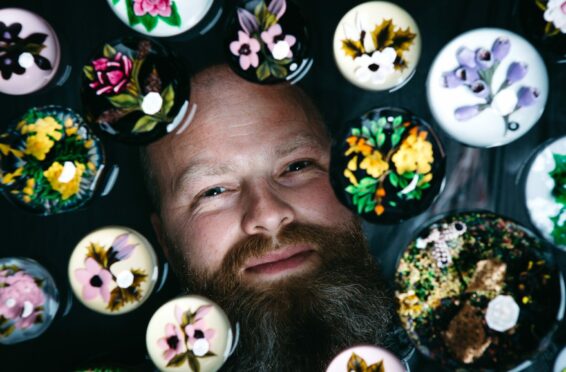 Handling a Glock 17 pistol or a Colt C8 rifle requires a cool head and a steady hand. However, those are also vital qualities for those working in the highly-skilled world of glass making – as police firearms officer William Manson knows only too well.
When not meeting the demands of his day job, he sets himself a different challenge: creating exquisite glass paperweights in a tiny garden studio where he crafts molten glass at scorching temperatures of up to 1,200˚C.
"They're very different jobs but precision is required for both," he said. Manson first tried glass making as a bored teenager 30 years ago under the watchful eye of his dad, also called William.
His father was apprenticed to Paul Ysart, a world-renowned glassmaker with huge influence on Scottish paperweight making. Now retired, his father remains an important name in the field.
Now, 100 years after Ysart started his career glass making in Scotland, his techniques are still very much in use in Manson's workshop.
He said: "A lot of the work I do now is a lot more intricate, three-dimensional designs. It started off as passing some time during school holidays. I was fed up one day and watching what my dad was doing. He set up another work station beside him. So that was what started it, passing some time on a rainy summer's day in the school holidays.'
Manson specialises in lamp-work, using a blow torch to melt coloured glass rods about the size of a pencil. He then cuts and pulls them into small shapes and combines those to create flowers.
They are encased in molten glass which he puts into a special oven, like a pottery kiln, overnight. He said: "I made some very simple lamp-work designs, very simple flat flowers. My dad had a small studio at home, kind of similar to what I've got now, and he also worked with Caithness Glass at the time. With his assistance he let me encase them in the glass.
"Even now when you make something there's this sense of satisfaction and excitement to get out the next day and see what's been made.
"Also none of the people I knew could do anything like that. It's a unique line of work. It's quite a hot job, there's a risk of getting burnt and things like that so there's a kind of adrenalin rush to it as well. I was getting this opportunity to try things that my friends were never getting the opportunity to do.
"There were people wanting to buy my work even at that young age and also people in that field were saying that's really good and it gave me the incentive to keep going."
Aged 17, he began working for his dad, putting in long hours to perfect his skills. A downturn in the trade prompted his dad to downsize in 2002 and Manson pursued a police career but he always knew he'd return to glass.
"I thought it was a shame for it to just fizzle out. That was what spurred me on to get back up and running." He estimates 10 people at most in the UK, and just 30 worldwide, do his type of work.
He makes the paperweights in batches, producing 10 over a week using two ovens – one which reaches 1.300˚C and is used to keep the glass soft and the cooler annealing oven – as well as four grinding and polishing machines.
An array of 20 tools includes six sets of tweezers, three big shears and a pucellas for detaching the paperweight from the iron. Manson said: "A lot of people ask how many times have you burnt yourself and the honest answer is once because you tend not to do it again."
Parts of the process require two people so he drafts in mum Joyce, 64. He said: "It's almost like a choreographed dance move. She knows I'm going to go to this machine and be there for maybe 15 seconds and then when I come out I'm going to turn this way and I'm going to do this and I'm going to do that. She knows as soon as she hears me or sees me moving.
"You don't see a lot of paperweights in art galleries but it is a form of art. It's something not everyone can do and definitely deserves a bit more recognition for what it is. There's such a tradition of it in Scotland, it's nice for it to still be here in this country."
Visit mansonglass.co.uk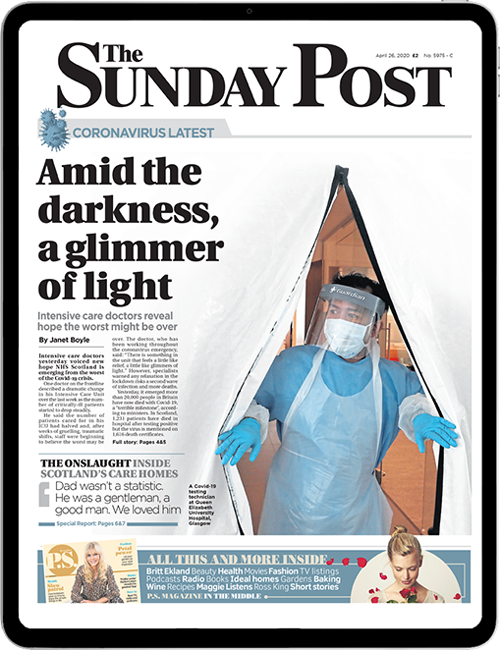 Enjoy the convenience of having The Sunday Post delivered as a digital ePaper straight to your smartphone, tablet or computer.
Subscribe for only £5.49 a month and enjoy all the benefits of the printed paper as a digital replica.
Subscribe