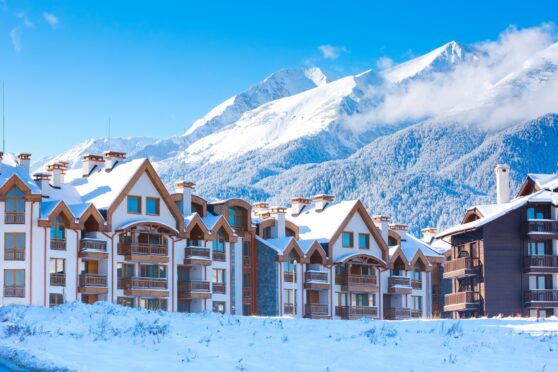 You could hear a pin drop in the silence as we climb higher on the retro ski lifts in Dobrinishte, the serenity punctuated only by the call of birds and falling snow from the branches of trees below.
We're just half an hour away from the bustling slopes and streets of Bansko, but we could be in a completely other world and time. We see only a handful of other people on these tranquil pistes – some of the snow so fresh the only evidence of life are the animal footprints from the night before.
We've been taken to Dobrinishte by our chalet rep, Luben, who is looking after us during our stay at Diana Ross, the quirky name of our Snomads Ski Chalet in Bansko.
At first we are a little apprehensive to leave the groomed and modern routes peppered with cafes and bars we have become accustomed to for a far less developed ski area Luben describes as "fully natural, with old-style ski lifts and like you have gone back in time 50 years."
But we trust him, and our trust is rewarded.
Located in the Blagoevgrad Province, Dobrinishte is one long 5km ski slope divided into two sections by a halfway lift station, manned by workers who physically hold the lift for you to quickly jump on to the chairs – there are no fancy mechanics here. We meander down blue and red slopes, enjoying the tranquillity and views of the Pirin National Park, finishing off with a cold beer in the sunshine and blinding white vista of the snow around us.
While Dobrinishte is 100% worth a visit during your trip to these Bulgarian slopes, you of course cannot miss the more populated area of Bansko itself. There is one gondola which operates from the base of the mountain in the main square of the town, and while we were told the queues can reach upwards of an hour, we never waited more than 30 minutes. This is something to bear in mind on your trip, however – we were advised to get there early (pre-9am) to avoid long queues.
Unlike the Alps, Bansko is a small resort and as such is a perfect spot to get to grips with pistes and practice. It's a good place for beginners and more advanced skiers and snowboarders alike, and again, unlike the Alps, you will not be completely out of pocket by the end of your trip. It is slowly getting more expensive as its popularity grows we are told, but it is still a much more affordable option than heading to Switzerland or France.
During the height of the winter season, you are able to ski right down to the base of the mountain on the ski road – the case too in Dobrinishte. However, as our visit fell in March, the ski road was closed as there was not enough snow remaining. It would of course be amiss to not touch on the impact of climate change, which Bansko – just like the Alps – is not immune from. Luben tells us last year's winter was good, but this season the snow has not been what would usually be expected for this time of year. At the bottom of the mountain in the town of Bansko itself, for example, not even an icicle hangs from a pretty chalet, let alone any snow lying on the ground.
But thankfully, the snow cover high up is good, and we spend two days traversing the Pirin mountain, stopping in at 180° Cafe more than once for an Aperol Spritz and a pizza to refuel. A brilliant DJ keeps the fun vibes flowing and even if you decided you'd had enough skiing for the day, you could while away an afternoon here in jolly bliss in the sunshine, recharging your aching muscles.
Speaking of aching muscles, Izgreva, a hot mineral pool spa in Banya village – a 10-minute drive from Bansko – is the perfect place to relax and soak tired bodies. Three thermal pools of differing temperatures provide steaming bliss, reminiscent of the blue lagoon in Iceland. We enjoy this serenity before heading back to Diana Ross for afternoon cake.
The chalet itself is comfortable and cosy, with sauna and a hot tub and, with 10 en suite bedrooms, hosts up to 25 people. Conveniently, there is a ski-hire workshop in the compound as well as the other Snomads chalet – The Supremes, and it's just a short 15-minute walk into Bansko's old town, where Luben takes us one evening with the other guests. He's also a tour guide, and delights us with tales of the local area and wider Bulgarian history on the walk. We finish our tour at Obetsanova Mehana Tavern – a traditional Bulgarian building located in the old town, enjoying a rambunctious evening with local folk musicians, amazing food and our fellow Diana Ross residents, all organised by Luben and the chalet team.
It's a perfect end to our stay in Bulgaria and, as Diana Ross herself says, there really Ain't No Mountain High Enough, to keep us from coming back.
Factfile
Direct flights London to Sofia from £50 return. Diana Ross, Snomads Ski Chalet Bulgaria from £279 per adult, £239 per child. snomads.co.uk/diana-ross-ski-chalet-bansko/
P.S. Bansko is situated on the territory of Pirin National Park, a Unesco World Heritage Site, which offers much in the way of summer activities as well as winter. The area has the longest water slide in Europe, stretching over 400 metres. There is also the annual jazz festival, as well as numerous routes for mountain biking and hiking.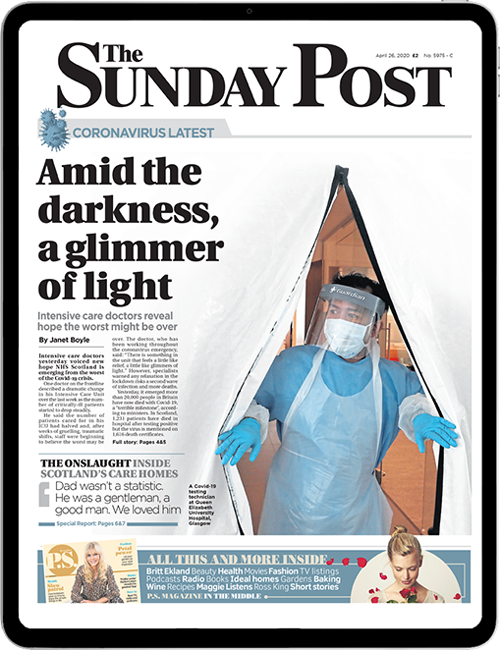 Enjoy the convenience of having The Sunday Post delivered as a digital ePaper straight to your smartphone, tablet or computer.
Subscribe for only £5.49 a month and enjoy all the benefits of the printed paper as a digital replica.
Subscribe