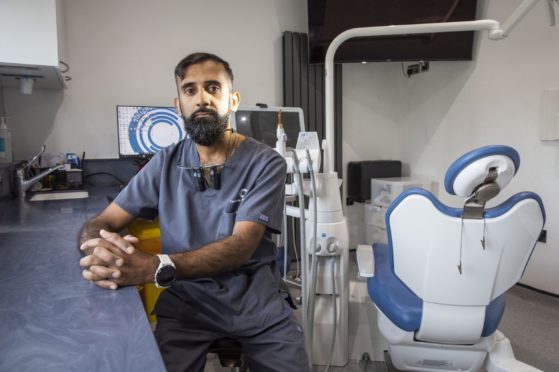 Scotland's dental health will take five years to recover to its pre-lockdown state, dentists have warned.
And they say up to half of the ­country's NHS dental surgeries could close by next year as the current ­restrictions on what procedures can be carried out are making them financially unsustainable.
Now dentists are demanding a meeting with Scotland's Chief Dental Officer Tom Ferris to try to avert ­irreversible damage to practices.
Dental surgeon Mohammed Samad, an executive committee ­member of the Scottish Dental Practice Owners' Group, said: "The ­service is at breaking point now. If things don't change very soon, Scotland could lose around half its NHS practices because it is simply not sustainable to keep going as we are.
"While dental surgeries were closed across the country, practices in Europe kept going, treating patients, and there was no evidence that caused any increase in Covid-19 infection.
"Scotland's dental health was already worse than other countries before lockdown. We reckon it could take us at least five years to repair the damage done to patients not being able to access treatment, and fear a major spike in oral cancer and other serious health issues."
Dr Samad, whose organisation represents about 400 practices with four million patients across Scotland, said government orders to triage and diagnose patients by telephone rather than face to face, and hand out antibiotics and painkillers to keep as many as possible away from the handful of "dental hubs" across Scotland offering emergency treatment only, has been a "dangerous disaster".
He said: "Oral cancer is an often deadly disease which patients are usually unaware they have, and diagnosing them necessitates examining them. You simply cannot do that over a phone."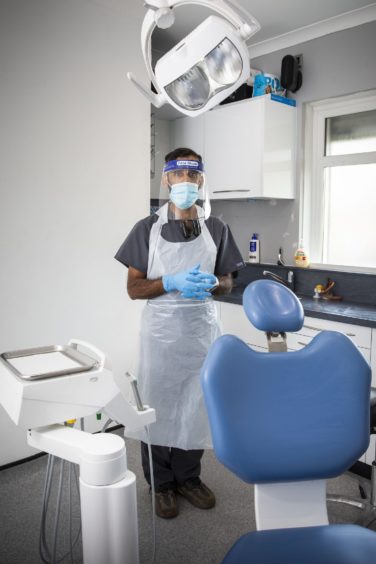 Dr Samad, who runs the Tollcross and Carntyne Dental Care surgeries in Glasgow, said: "Even now we're back working in surgeries, offering extremely limited NHS treatments, government restrictions mean I still cannot do much more than look at a patient's mouth.
"I can't carry out proper ­explorations, or testing for NHS patients, and I still can't do fillings or most of the other treatments we used do routinely. But, if a patient pays privately, I can treat them.
"This has created a two-tier service patients are struggling to understand. And, frankly, so are we."
David McColl, chairman of the British Dental Association's Scottish Dental Practice Committee, said: "The future of Scotland's dental services still hangs in the balance. Over six challenging months, our teams have responded well, but at considerable cost. Staff are stressed and facing information overload from all quarters. What they need is definitive guidance and support.
"The pandemic has shone a light on the broken model at the heart of NHS dentistry. It's the right time for ministers to look afresh and provide firm foundations and fair funding."
Cameron McLarty of the Scottish Dental Association, who runs a practice on Bute, said: "We need to sit down with the Chief Dental Officer (CDO) and work out a way forward before this situation gets completely out of hand and we lose more dentists from NHS practice."
He said about 500 dentists wrote to the CDO calling for a meeting, but he said: "We got a dear John-type reply around two months later. It's been hugely disheartening because all we want to do is do the best for our patients and keep going through this crisis.
"Instead of setting up expensive hubs, it would have been far more practical to give practices a one-off grant of around £500 to buy whatever extra PPE they needed and we could have stayed open for business as usual and prevented all the damage done to patients' long-term oral health. Covid-19 may be a new virus, but we all operate strict infection-control practices to combat HIV or hepatitis C, and the correct PPE would have allowed us to keep going as other countries such as Germany did.
"With no consultation with frontline practitioners and no firm evidence that dental practices could play a role in the spread of Covid-19, Scotland chose to operate a no-risk strategy that has left patients losing teeth they didn't need to lose, children not being able to access specialist paediatric services, and the elderly and those with serious health issues such as oral cancers being left at greater risk because we couldn't possibly diagnose them over the phone."
Dental surgeon James Millar, of the Scottish Dental Association, said: "There is a worrying uncertainty as to how dental services in Scotland will be provided on the NHS."
Donald Cameron, Scottish Conservative Health spokesman, said: "Patients are being abandoned and there is a clear disparity between those who can and cannot pay, which is completely wrong. Many dentists and patients feel that nobody is on their side."
Scottish Greens health spokeswoman Alison Johnstone said: "We already had a deeply unfair two-tier system before this pandemic hit, and it seems this has only deepened. In the short term, dentists need access to regular Covid testing and adequate PPE so that the nation's oral health doesn't fall behind. In the long term, we need to look at why this vital part of the NHS is not always free at the point of use."
A Scottish Government ­spokeswoman said: "As most dental procedures involve the generation of a fine spray of moisture droplets, they are considered high-risk procedures for the transmission of coronavirus. We have therefore taken a precautionary approach to remobilisation of NHS dental care in Scotland.
"To ensure the continuity of NHS ­dental services, the Scottish Government is making substantial payments to the value of £12 million per month to support NHS dental incomes. On top of this, we are investing an additional £2.75m per month in dental services."
---
I'm struggling to feed my family, so can't afford private treatment
Taxi driver Joe Weir, 55, from Springboig, Glasgow, suffers from chronic gum disease and is at high risk of oral cancer because of his family medical history.
After six months of being unable to access his usual NHS dental care, he has lost a front tooth, needs a bridge, and is in constant, agonising pain.
But Joe says he is already struggling to feed his family, and simply cannot afford the £1,000 it would cost to treat him privately.
He said: "I feel like I'm playing Russian roulette with cancer because I can't afford to pay for treatment, and it's a terrifying thought.
"I'm in a high-risk category because my mum Annie had mouth cancer, and if it hadn't been for the quick actions of her dentist 20 years ago, she wouldn't still be with us today.
"I've suffered years of problems with gum disease, and because I've not had the three-monthly deep cleaning and treatments needed to keep my mouth healthy over the last six months because of lockdown, I'm even more at risk.
"Right now, my front tooth has fallen out because of gum disease, I desperately need a bridge, a filling, and a veneer replaced, never mind anything more sinister which could be happening.
"But I've never seen the taxi business as bad as its been these last six months.
"I'm struggling to feed my family and keep the taxi on the road, so I simply can't afford to pay for private treatment.
"I don't blame my dentist. I know he's only following the government rules, but they are wrong and need to be changed.
"I know just how dangerous mouth cancer can be after seeing what my mum went through, but I've no choice but to wait and hope I've escaped because I simply cannot afford to pay."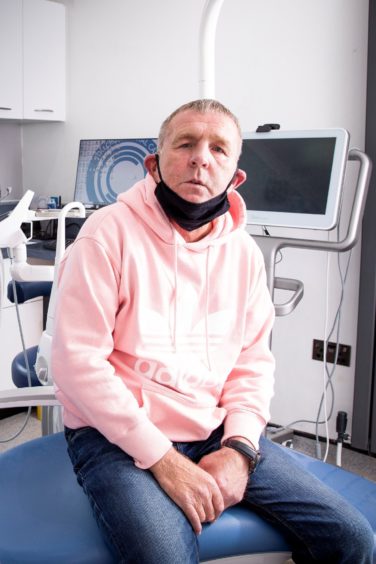 Joe's dentist, Dr Mohammed Samad, said: "Joe is at high risk of oral cancer because of his family medical history, and right now he needs immediate treatment which I can only do if he pays privately.
"Under NHS rules, I simply cannot do anything more than look at mouth, or prescribe antibiotics or painkillers if that is appropriate.
"This is demoralising for us as dentists and devastating for patients like Joe who are being forced to go without treatment unless they can pay.
"Dentists across the country and organisations like our Scottish Dental Practice Owners Group have been expressing concern about a number of issues like this to the government, but what we get in return is copy and paste replies. Nobody is taking responsibility for what is happening."
---
I'd been in agony for over a week with agonising pain in my mouth
Joanne McFadden was left in agony with toothache for more than a week because she refused to pay privately for treatment.
The mum of two, 53, who works as an administrator for a renewable energy company, said: "I'd been in agony for over a week with agonising pain in my mouth, but couldn't get an immediate NHS appointment.
"If I wanted to pay, I could have been seen privately right away at any number of other local dental surgeries, but I'm opposed politically, morally and every other way you can think of to be forced into paying for an NHS treatment, and that includes dentistry.
"It's the thin edge of the wedge if we all stand back and allow our NHS dentistry service to be dismantled the way it currently is. I passionately support our NHS dentists and don't blame them for the debacle we are currently seeing, and I hope the public understand it's not the dental practices making the rules, it's the government.
"I was in a lot of pain, but I was prepared to wait almost 10 days to see my local NHS practice on principal. I was eventually lucky to get a cancellation within a week."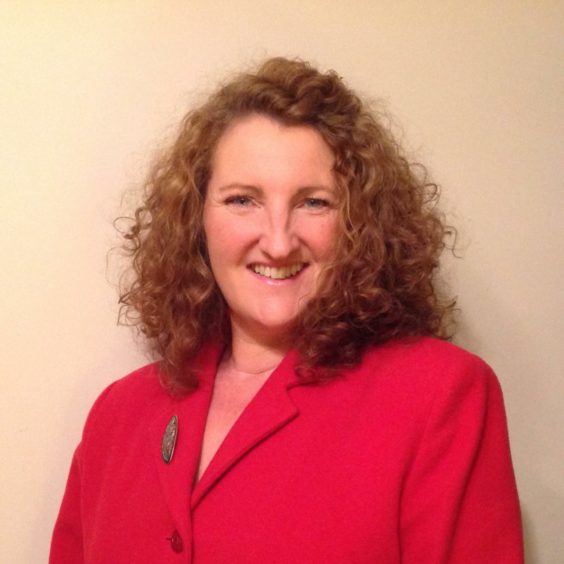 Joanne, from Easthaven, near Carnoustie, was seen at the Carnoustie Dental Care surgery last Wednesday and discovered the agonising pain in the right side of her jaw was caused by an invisible fracture. Another tooth suffered enamel loss.
She said: "My dentist was fantastic, and luckily I didn't need any filling which meant I could be treated and my pain levels have gone down considerably.
"I feel really bad for the dental practices because they are bearing the brunt of people's anger over not being able to access treatment all these months.
"Dentists get the blame because people don't understand the restrictions being placed on practices are as a result of government orders.
"No wonder people are confused. It's hard to get your head round that the same dentist in the same surgery can't carry out NHS procedures, but they can if you pay privately.
"My own dentist is very proud to be an NHS dentist, but I could see like many others she's worrying about how they will all manage to keep going.
"The government must look again at the whole provision of NHS dental services, invest properly in them and ensure people get the same high-quality treatment they would expect in a private clinic, or we will end up losing a vital service which has ensured good dental health for generations of Scots.
"Sixty per cent of Scottish workers are already classed as 'working poor' because wages have been driven down so much and things have got far worse under lockdown.
"These people will really struggle to pay for private treatment if we lose our NHS dental service.
"We're going to end up with dental poverty which will put our long term health at huge risk."
---
OPINION: It's been frustrating trying to meet all the rules
By Martin Allan, dentist
With the current restrictions we're only able to see a fraction of the patients we used to, and to do that we're working until 8pm at night to try and fit them in.
Even though we have four surgeries in our premises – and we've got modern clinics with excellent air ventilation systems which allow us to turnaround quicker after each patient than many other practises in older buildings – it's hard to see how we can continue to sustain this.
Like most other Scottish practices, we have a mixture of private and NHS patients, and we are determined to continue offering that for as long as we can.
But it's been frustrating and difficult trying to meet all the rules issued by the government on NHS care.
Trying to explain to patients that if they pay we can offer all sorts of services, but if they are an NHS patient we simply can't unless it's deemed an emergency, is stressful and upsetting.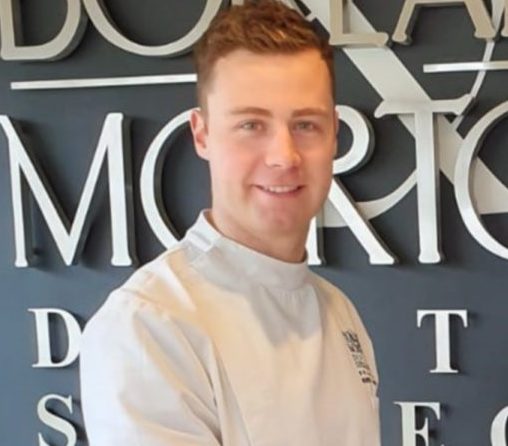 We worry that if things don't change soon, practices will decide that it's just not sustainable to continue offering NHS treatment and it's the most vulnerable people who will lose out.
Only being able to diagnose a patient over the phone is not something that any of us want to do because so many things, like oral cancer or other serious illnesses, can easily be missed unless you can actually examine the patient.
Oral cancer in particular can be present without the patient being aware and of course we have concerns that there will be a spike because of the restrictions in not being able to see patients.
We were under orders to prescribe antibiotics and painkillers for everything, but that's not something we'd recommend as it simply increases community resistance to antibiotics and that is not at all helpful.
Martin Allan runs Borland and Morton Dental Care in Hamilton with his brother Paul.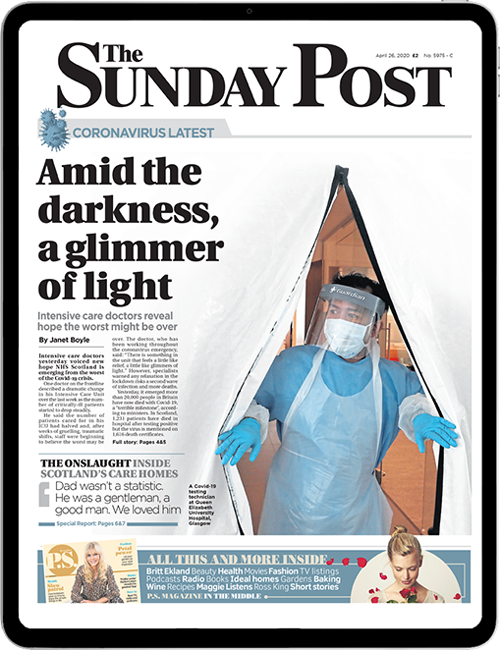 Enjoy the convenience of having The Sunday Post delivered as a digital ePaper straight to your smartphone, tablet or computer.
Subscribe for only £5.49 a month and enjoy all the benefits of the printed paper as a digital replica.
Subscribe