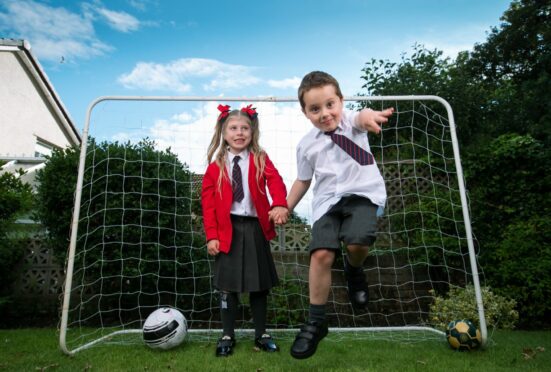 More parents than ever before are relying on school uniform banks and handouts as the cost of living crisis deepens, according to community groups.
Volunteers, who have been running uniform banks throughout the summer holidays, say donations of shirts, shorts, skirts, blazers and backpacks have increased but are being requested at "an incredible rate". Meanwhile, swap shops, where you can trade old uniforms for the next size up have become a growing trend and parents are rallying by offering used uniforms on social media channels for free.
Norah Mooney, who set up a uniform bank in Uddingston during Covid and now runs a service with Thorniewood Community Council, said: "I believe very much in reuse, reduce and recycle and also knew of a great need within the local area, where people had been put on furlough, lost jobs and reduced income.
"There was a wide range of people, some brought blazers in that their children had grown out of hoping to find a larger size, some whose school clothing grant had not come in one time, and others who would rather reduce waste with a second hand uniform than buying new.
"This year with the cost of living crisis we are facing, it is affecting everyone regardless of income. People who perhaps last year had a little spare cash for school clothes are finding that this year they are struggling. Those who were already struggling are finding it harder this year too. In this time of high inflation, price hikes in food and fuel, never has a school clothing bank been needed more."
Emma Selway-Grant, chief officer of Huntly-based community group Gordon Rural Action, which runs a school uniform exchange, says demand this year has been "crazy".
"This is the second summer we have run the exchange and it's been steady, but this year it has been off-the-scale busy, with probably more than double the amount of parents coming in," she said.
"We have no eligibility criteria so it's a real mix of people using the exchange. For some it's financial but for others it's because they want to be more environmentally friendly.
"Parents bring their kids' old uniforms and swap for the next size up. And it means they can get more for their kids, so maybe four second hand ones instead of two new ones. Everything is in great condition. As a mum of four, I use it myself. For the first child I bought everything new, but now with four at school, I've realised the expense – and the benefits of the uniform exchange."
The latest figures from The Schoolwear Association show the average cost of a school uniform is around £100. But as any parent knows, the true cost is higher. Factor in the latest trendy shoes, schoolbags, stationary, jackets and gym kit and the total can spiral to more than double that amount. And often children grow out of their garments before the term-time is out, adding to the financial burden.
Supermarkets have responded to the cost of living crisis by offering low-cost alternatives. Budget stores Aldi and Lidl have both launched uniform bundles, with a jumper, polo shirt and skirt or trousers, for just £5.
But retail experts have warned budget buys could be a false economy and costly to the environment. Matt Easter, chairman of The Schoolwear Association, which represent retailers who supply school-specific uniforms, said: "School uniforms are vital to the fabric of schools.
"Unifying all students regardless of background, they promote pride and belonging among pupils and the wider community, acting as social leveller and helping to reduce bullying. They have also been shown to boost productivity and concentration in the classroom, ultimately improving children's academic performance.
"Members of The Schoolwear Association are committed to providing value-for-money school uniforms by ensuring the garments we produce are high quality, long-lasting, and durable.
"This creates savings for families over the longer term, as the uniforms we make don't often need to be replaced due to wear and are also better suited to be sold on in second hand uniform sales or passed on to younger siblings."
Dr Cara Connell, lecturer in retail and marketing at Glasgow Caledonian University, said that you often have to pay for quality and warned cheaper alternatives are likely to end up in landfill rather than being handed down.
She said: "Lots of people ask me about M&S being so much more expensive than other uniforms, but the difference is down to the fabric quality. M&S is one of the leading lights in retail when it comes to fabric technology. Grannies used to say they bought their jumpers from M&S because they last longer and the same is true of school uniforms.
"They have hems on trousers you can lengthen and adjustable waists. And things like stain and water proof materials. If my memory serves me correctly, M&S was the first retailer to develop permanent pleats, which really are permanent. You might spend more to begin with, but you can pretty much guarantee the boys trousers will last the year and not come home with a hole in them after a couple of days."
She added: "The worry with school uniform becoming so cheap is that it will be thrown in the bin when it is felt to be at the end of its life. The issue with this is that school uniforms are typically made of manmade fibres which do not degrade quickly in landfill.
"The 1970s is known as the decade of polyester and every single garment made then is still in existence on the planet unless it has been burnt or recycled. So it is hugely important that at the end of its life school uniform is either passed on or put in a clothing bin.
"In years gone by school uniform was typically passed from child to child and from family to family, increasing its lifespan. This is not happening with the cheaper versions available today. Thinking about the environment when it comes to school uniforms is a new area, but people have to balance that with the cost of living and what they can afford."
---
The budget stores
Aldi
Quality: The fabrics feel a little thin but everything is well made and the polo shirts are super soft and bold in colour. Sweatshirts are cosy, but lightweight. The trousers have reinforced knees while the polo shirts and sweatshirts have colour last technology. Everything comes with a 150 day satisfaction guarantee. The downside is items only come in two colours.
Durability: Everything is machine washable, easy iron – and safe to tumble dry. The items seem to withstand games of football, rolling around in the grass and tomato ketchup stains at dinner.
Price: The £5 bundle, which includes a sweatshirt, poloshirt and skirt or trousers is an amazing deal if you don't want to spend too much.
Lidl
Quality: The material for the skirt feels cheap and thin. Cardigan is a nice soft wool and the sweatshirt, feels cosy inside. Polo shirts are a nice bold colour but not the thickest fabric. The skirt has adjustable waist and the skirt and trousers are water repellent.
Sadly, colours are limited to red and black for jumpers and grey and black for trousers/shorts/skirts and pinafores.
Durability: Lidl's uniform stands up as well. Smears of beans and blackcurrant juice from lunch wash out well. The items hold their colour and shape well after being laundered and they're pretty easy to iron.
Price: The £5 bundle is good but chances are you'll need to top up with shirts and other things so it's not really a whole uniform for a fiver. But still, some great basics. Sadly it's only available in-store.
The supermarkets
Sainsbury's
Quality: Sweatshirts are nice and thick. Knitwear isn't the softest but good enough for the price. Reinforced seams are a great feature, as well as stain resistance, non or easy iron and colourfastness. There's a good range with plenty of colour options. Nice traditional uniforms as well as some with a contemporary twist, be it buttons or ruffles, or cargo pockets.
Durability: This uniform wears well. It stays clean – a missed mouthful of chicken curry and even paint disappear in the wash. Items hold their colour and shape well after washing and tumble drying and there is no noticeable shrinkage.
Price: Around £18 for two full uniforms. The beauty of the supermarket uniform is multipacks. You get more uniform for your buck at Sainsbury's with the choice of two, three and even four packs.
Asda
Quality: Not as thin as the budget uniforms. The trousers/skirts/pinafores are great quality, nice sturdy fabric. Knitwear is pretty soft. Shirts are a little starchier. Pretty much every school colour is catered for in a one-stop shop. Lasting colour, reinforced knees, longer length, plus fit, skinny and slim fit, playsuits, summer dresses and shorts for girls.
Durability: Looks good and launders well. Everything gets caked in mud from playout outside on a wet day but thankfully all the stains wash out, even from the white shirts which seem to hold their colour despite repeated times in the machine.
Price: Two skirts or pairs of trousers for £7 and a pack of two shirts from £3 is excellent value and perfect if you don't want to spend too much. If your kids are growing too fast it means you won't be too upset if you end up having to buy a bigger size in the middle of the year.
The High Street
Next
Quality: The cardigans, jumpers and tank tops are made from a gorgeous soft wool, and the trousers, pinafores, skirts and shorts feel luxurious and expensive. Polo shirts are a little starchy at first, but soften in the wash. Next has a vast, modern range, including added details like ruffles and puffy sleeves. Skirts come in slim fit. Trousers and shorts for boys come in slim fit, plus adjustable waist.
Durability: With reinforced knees, the boys' trousers successfully survive a few playground falls, and the stain resistant girls' pinafore lives to fight another day after a spaghetti bolognaise massacre at lunch. Everything washes well and even the jumper can go in the tumble drier. Items seem to hold colour well.
Price: Just over £20 for a full uniform, but very nice quality and great availability.
M&S
Quality: The fabrics feel thick and hardwearing. Love the shirts from M&S which have softer collars. Jumpers have a velvety feel and sweatshirts are thick and cosy. Lots of easy or even non-iron items which are crease, stain and weatherproof. Adjustable waists and grow proof hems – which you can let down as your kids legs get longer – are welcome features.
Durability: Even toothpaste marks come off with a wet cloth which is great for avoiding last minute stains as you race out of the door. The trousers even survive a skint knee!
Price: A full uniform – including shirt, jumper and skirt/trousers – comes in at around £30, although there are cheaper options and multipacks to spread the cost a little.
---
'Perhaps we need to go back to the future'
While parents hang the flags out the window when school starts back after summer, it is a costly business kitting the kids out for the new school term, writes Tracey Bryce.
For two years, my eldest, Emily Rose, was the only uniformed member of the household – and kitted out from head to toe every summer with the latest Smiggle bag and matching lunch box.
It's always been a nice shopping day for us girls, letting her choose her bag, pens and kit but this year, little brother Ollie is starting P1.
As a working mum, I like to have five of everything so I don't have to worry about spaghetti bolognese spillages or paint stains until I have time to do the laundry.
However, with two schoolies this summer, we're looking at 10 – and a doubling of expense. In a cost of living crisis, it feels like a lot.
It makes we wonder whether we actually need to buy new every year. If the pinafores still fit and last year's rucksack is still good, why replenish? I guess it's the best time to stock up as it's hard to get uniforms at any other time of the year. But when every other child in the playground is comparing their new purchases on that first day back, you definitely don't want your little one to be singled out.
Saying that, when I was at school, I got my sister's old skirts and blazers and they were still in such pristine condition that you'd be hard pushed to tell.
So perhaps parents should look back to our own school days and reuse and recycle?
We'd have more money in our pockets and that would be as good a reason as any to get the flags out!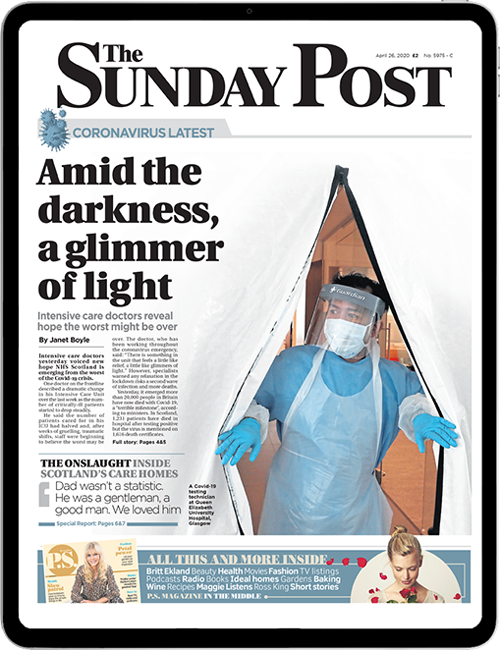 Enjoy the convenience of having The Sunday Post delivered as a digital ePaper straight to your smartphone, tablet or computer.
Subscribe for only £5.49 a month and enjoy all the benefits of the printed paper as a digital replica.
Subscribe