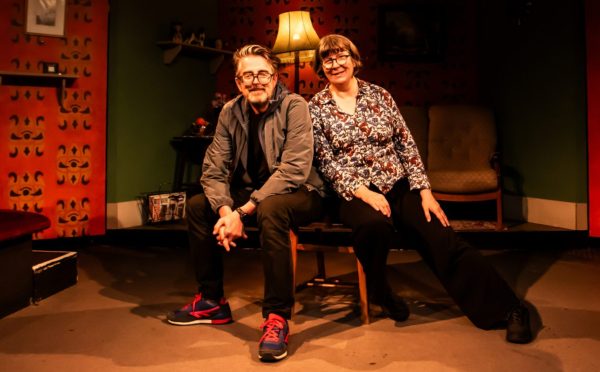 In the early 1980s, amid a backdrop of Thatcherism, recession and unrest, Scotland had a cultural awakening.
Venues around the country would present mixed bills of bands, poets, comics and actors – all with something to say and many going on to do so on the international stage.
Part of this exciting scene was John McKay, member of the Merry Mac Fun Show – named after The Sunday Post's old funny pages – a comedy troupe that would diversify into theatre.
One of John's earliest theatre productions was Dead Dad Dog, a play written one Christmas which became a hit, later to be performed by Robert Carlyle, Brian Cox and Alan Cumming.
The play's success led John to the screen, where he became a successful writer and director, working on primetime shows such as Life On Mars, Red Dwarf, Shetland and The Good Karma Hospital.
Now, as the play receives a long-awaited revival, John has been reminiscing about Scotland in the time Dead Dad Dog was written and how its themes resonate with today's society.
"I was 22 when I wrote it. I was in The Merry Mac Fun Show and we were a radical Scots comedy act – a lot of our material was about what it is to be Scottish," he explained
"We did pretty well for a bunch of young guys aged 19, 20, 21. Within a year of founding, we were nominated for the Perrier Award and we went on Wogan – I think we did that on my 21st birthday.
"Back then, Edinburgh and Glasgow councils had an arts budget and they'd put on bills with poets, rock bands and comedy acts. We'd be on events with Victor and Barry – played by Alan Cumming and Forbes Masson – Craig Ferguson, The Proclaimers, Wet Wet Wet.
"Scotland had gone through a bad recession and bad Thatcher era by the mid-'80s, but there was an upswing in people doing good things in the arts – people like Alasdair Grey, Liz Lochhead and Jim Kelman. We played gigs with these people, too. There were Scottish pop stars by the mid-80s and it felt like there was something going on. A kind of optimism, of '**** ye, Margaret Thatcher, we're doing our own thing'."
As the scene grew, Merry Mac diversified into theatre and one of John's shows was seen by the Traverse Theatre in Edinburgh, who asked him to write a play. While staying at his mum's for Christmas, he retreated to his childhood bedroom and wrote most of Dead Dad Dog in a notepad in one sitting.
"It was about a cock-of-the-walk young man called Eck who is on his way to an interview with BBC Scotland to pitch a comedy called It's No Ma Accent, It's Your Ears, when the ghost of his 1970s dad arrives and ruins his day. Everyone can see the ghost and Eck can't escape him, they're joined together like elastic."
The show, starring Hamish Macbeth's Ralph Riach and Sam Graham, was a success and transferred to London. A national tour followed, featuring a young Robert Carlyle, then STV commissioned John to write a TV version, which was sold to Channel 4 and starred Forbes Masson.
It wasn't revived again in a professional setting until now – although it did receive the A-list Hollywood treatment one evening in New York.
"About 10 years ago I got a message from Alan Cumming. We'd been running mates in those early days, but I didn't realise he was a fan of the play. He told me he was doing a series of performed readings off-Broadway and he would like to do Dead Dad Dog, with Brian Cox. I went over to see it and it went down a storm with the Manhattan audience. I wanted to ask the audience what it was they understood about mid-'80s Edinburgh, which the play is very specifically about."
The initial success of the play allowed John to make his way to London and become a screenwriter and then later a director after he studied at the National Film School.
"Getting the tap-up to write a play was like making the crossover from being part of a gang doing our own thing to becoming part of a world where people pay you to make stuff," he said.
The first film he wrote and directed after film school was Crush, starring Imelda Staunton, Andie MacDowell and Anna Chancellor.
"Actors of that calibre, you're hardly helping at all. It's about removing any obstacles and letting them do what they do," he said. "Imelda is one of Britain's most emotional and skilled actresses and no one was happier than me when she was crowned Queen in The Crown."
John is also an independent film producer, with his latest, a co-production between Germany and Scotland called Falling Into Place, due for release. But when the call came to revive Dead Dad Dog, this time starring Angus Miller and Liam Brennan, he couldn't resist.
"My old friend and director Liz Carruthers said to me earlier this year that she had a space going in Edinburgh and London (it's currently playing at the Finborough Theatre) and would I mind if they revived it.
"I'm always amazed that anyone remembers the show, but it seems to have imprinted itself on a certain generation – of Scots in particular. It put in my mind that it was time for a part two.
"I'm now older than the dad in Dead Dad Dog and I have sons, so I've written a sequel about Eck in the original now being grown up and having conversations with his sons.
"It's called Sunny Boy and was supposed to be part of a double bill with Dead Dad Dog, but had to be postponed due to illness, but we'll have news about it soon."
---
Dead Dad Dog, Traverse Theatre, Edinburgh, November 1-4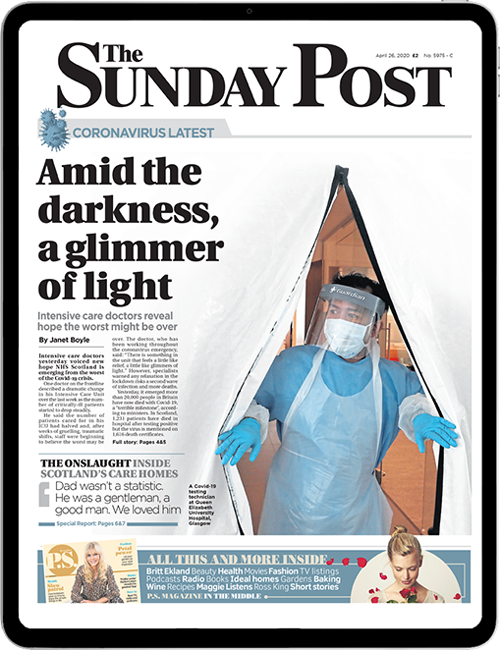 Enjoy the convenience of having The Sunday Post delivered as a digital ePaper straight to your smartphone, tablet or computer.
Subscribe for only £5.49 a month and enjoy all the benefits of the printed paper as a digital replica.
Subscribe