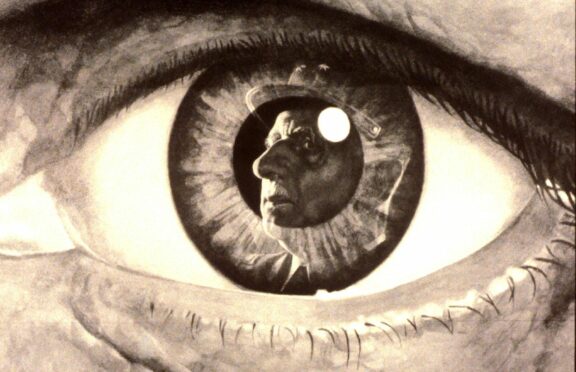 It was Friday, January 2, 1970. He was just back from Biafra, sacked by the BBC and smeared by the Government. He had no savings, no place of his own, no job, and no prospect of one.
But a girl put him up in her flat – well, let him doss on the sofa – and the 31-year old's "situation was so miserable that I decided to do something that even then was seen as crazy by all I knew…I might get out of this mess by writing a novel".
And an idea had been rattling in his head for over seven years: what might have happened had the Organisation Armée Secrète – France's far-right lunatic fringe – hired a top, off-the-radar professional assassin to take out President Charles de Gaulle, instead of blundering endeavours to do it themselves?
One of which, indeed, he had witnessed. He now set up a rickety card-table, plonked his beloved portable typewriter atop – there was even a bullet-hole in its case – rolled in a sheet of paper, and typed THE JACKAL. He typed every day for the next 35 days – 10 pages a day – until he had a complete 350-page manuscript.
Then he looked at the first page again, rolled it back into the machine, and made one alteration – THE DAY OF THE JACKAL. "If I say it myself," he recalled in 2015, "not a single word has been changed since."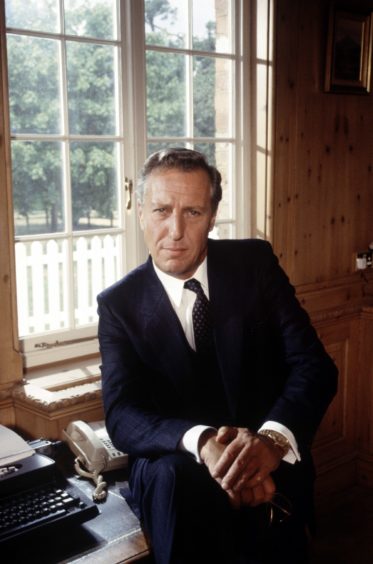 Frederick Forsyth knew nothing about the publication of fiction. That a literary agent is a must. That you have to draft and revise and redraft until your head hurts. That most publishers will not even glance at an unsolicited script – and, of the five he approached, three turned him down and one never bothered to read it.
But this battered young journalist had just reinvented the thriller – taken a whole new approach drawn on deep research, immediate personal knowledge and, as Forsyth likes to joke, "friends in low places".
A bestseller
Fifty years after its publication, in July 1971, The Day Of The Jackal has sold tens of millions of copies, continues steadily to sell, and has been translated into more than 30 languages. And this summer a new, jubilee edition has been released with an introduction by Lee Child – a hymn to "the book that broke the mould".
In 1973 The Day Of The Jackal became an Oscar-winning film, directed by Fred Zinnemann and starring Edward Fox, Michael Lonsdale, and Cyril Cusack as a reptilian gunsmith. A whole new generation would soon follow Forsyth's example – Robert Ludlum, Ken Follet, Tom Clancy, Jack Higgins and Andy McNab – though none has ever equalled his laconic discipline.
"Before," Charles Cumming reflected in 2011, "thrillers were self-evidently works of the imagination. Forsyth changed all that; never before had a popular novelist created a world that seemed indistinguishable from real life. His debut had a documentary sense of realism that all but convinced the public they were reading a work of non-fiction." Outlined as a concept, The Day Of The Jackal simply should not work. In 1971, everyone knew that, far from being assassinated, de Gaulle had but months earlier died peacefully in his bed. Indeed, as Forsyth hawked his script about in the spring of 1970, the tall, haughty French statesman with the huge nose was still alive.
That was bad enough but publishers balked, too, at a hero who is not just a cold-blooded if meticulous killer but whose name is never divulged. Nor had anyone before made real people – policemen, administrators, even Harold Macmillan – characters in a novel, interacting with fictitious ones.
But so brilliant is Forsyth's craftmanship that The Day Of The Jackal is an all-absorbing experience; the Jackal himself – blond, English, beautifully mannered, thirtysomething and wholly without scruple – so coldly terrifying that you begin to wonder how Charles de Gaulle can possibly survive.
Even minor characters – that gunsmith, an embittered French countess, an unlucky young policeman – spring living from the page. There are deftly judged flicks of humour; loving accounts of cars, style, food and drink. And, as the Jackal draws ever closer to de Gaulle, the deceptively mild Deputy Commissioner Claude Lebel closes ever closer on him.
Always, too, in detail absorbed over the years from friends in low places, the touches of dark expertise – how to secure a forged British passport; how to break a man's neck; how to break down (and ingeniously conceal) a collapsible "barebones" rifle.
"It is a perfect example of the adventure story," says Robert Harris of The Day Of The Jackal, and in his own work an evident protégé. "It is very well written, entirely believable, with this intriguing, enigmatic character at its centre."
And, most unusually in this genre, it bears repeated rereading.
Scotland's role
Scotland has a proud place in the history of the adventure story. Sir Walter Scott practically launched such tales – and, of course, the genre of the historical novel – and thus accidentally invented Scottish tourism.
Things were taken to another level by Robert Louis Stevenson and, subsequently, John Buchan: The Thirty-Nine Steps is so gripping it has been filmed three times.
But, as Frederick Forsyth himself has acknowledged, the true father of the modern thriller is the late Eric Ambler. By the 1930s a tired, cliché-clotted post-Buchan style was one of jingoistic, Empire-building improbability: its typical hero "a tweedy fellow with steel-grey eyes and gun pads on both shoulders," explained Ambler. "All he really needed to function as a hero was abysmal stupidity combined with superhuman resourcefulness and unbreakable knuckle bones."
In the late-1930s Eric Ambler wrote six perfectly crafted thrillers, each about an ordinary man – a journalist, an engineer, a writer of whodunnits – who, somewhere in a roiling pre-war Europe, lands himself in serious trouble and has to dig himself out of it.
Usually believers in black-and-white verities, as they tangle with Nazis and Fascists, thugs and psychopaths, they learn that life is but a transactional business and in infinite shades of grey.
Others followed Ambler in this grounded realism – Hammond Innes, Alistair MacLean, and the sadly neglected Desmond Bagley. And then, half a century ago, The Day Of The Jackal changed everything – a new, hyperdetailed documentary approach.
The first of many
It would be the first of, to date, 18 thrillers by Frederick Forsyth, who periodically announces his retirement and then unleashes another one – most recently The Fox in 2018, about a brilliant but autistic computer-hacker. And as long ago as 2006 he had sold more than 70 million books.
Forsyth is not a typical blockbuster author. Save for a brief Irish sojourn – Charles Haughey was so keen to keep him, he offered the author a seat in the Senate – he has eschewed tax exile. In person, he is assured, beguiling, plummy. His politics are Tory and, in 2016, he campaigned for Brexit. But, the only child of middle-class Kent parents, he enjoyed boyhood holidays on the continent and, by his 20s, was fluent in French, Spanish and German – and with a penchant for getting into scrapes.
"During the course of my life," he drawled, "I've barely escaped the wrath of an arms dealer in Hamburg, being strafed by a MiG during the Nigerian civil war and landed during a bloody coup in Guinea-Bissau. The Stasi arrested me, the Israelis regaled me, the IRA prompted a quick move from Ireland to England."
As an 18-year-old he narrowly escaped being raped in Paris when he produced a bigger knife than his attacker. Forsyth became the youngest pilot ever to attain his wings in the RAF, as Reuter's man in East Berlin once nearly triggered the Third World War and, in September 2014 and at the age of 76, finally achieved his boyhood ambition in flying a Spitfire.
But if Forsyth is a thriller-writer by acclaim he is, by craftsmanship, a journalist, by 1970 long honed in the habits of meticulous research, the amassing of contacts, and in producing crisp, clear prose at first asking and by the decreed deadline.
A fluke?
In hindsight, it was by a fluke that The Day Of The Jackal was published at all. Unless it is from an established author, or a celebrity, or punted by a respected agent, no publisher reads an unsolicited script. The "slush-pile" is instead left to the mercies of junior readers – often, today, unpaid interns. Two of Forsyth's rejection slips were but printed forms. Another bore the friendly scrawl "No reader interest" (Forsyth wishes he had kept and framed it). Then, at a party, he was introduced to Harold Harris – editorial director at Hutchinson's.
The following Friday, unannounced, Forsyth managed to talk his way into Harris's office and persuaded him, on the spot, to read a three-page synopsis of The Day Of The Jackal. Harris then asked for the full script; Forsyth had hastily to retrieve it – the only copy – from another publisher.
On Monday, Harris rang him. "If you can be here at four, with your agent, we can discuss a contract." Forsyth had no agent, but went anyway.
"I am toying with the idea of offering you a three-novel contract. Do you have any other ideas?"
"Mr Harris," Forsyth lied, "I am brimming with ideas," and days later he produced synopses for The Odessa File and The Dogs Of War.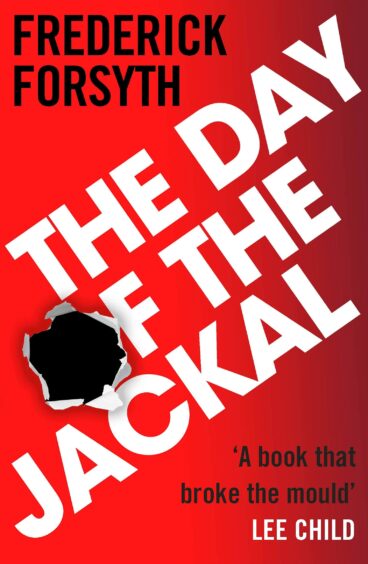 Political assassination, he points out, is mercifully rare: there has not been one with a rifle since the 1970s. Anyway, most countries boast institutions robust enough to survive the sudden murder of a head of government.
In 1963, however, France was not, in the wake of the collapse of the Fourth Republic, de Gaulle's widely resented withdrawal from Algeria – even though it had been tying down half a million French troops and was bleeding her white – and the abiding humiliation of 1940.
As Forsyth recalled – he was based in Paris at the time – for most reporters, it was not if de Gaulle would be slain, but when; and they trailed him everywhere lest they miss it, and the societal collapse that would surely follow.
It is this true jeopardy that sustains The Day Of The Jackal, in an era when there was simply not the technology to ensnare a nameless, unknown assassin – no computers to search birth certificates in minutes, no mobile phones for police quickly to liaise, no CCTV to record all cars entering France.
On some details Forsyth has actually been accused of furnishing a terrorist manual – and, incredibly, not till 2007 did Britain tighten passport rules to preclude what was famed as the "Day Of The Jackal fraud", applying for one with a fake reference and the birth certificate of a long-dead child.
Indeed, several maniacs – including the murderer of an Israeli prime minister – have been found in possession of the book. Forsyth counters that in all his stories, when describing something particularly fiendish – like, say, building an atom bomb – he draws on expert advice to insert a deliberate flaw.
Forsyth only mildly regrets letting Hutchison's buy him out of The Day Of the Jackal for £70,000 – "In retrospect, I could have retired on that one book. I suppose I created a genre…I was the first novelist to set fiction in the factual setting."
But it is the cool, informed authority that makes that debut so compelling – and how, half a century ago, young, broke Frederick Forsyth transformed the literary landscape. "Sweeping the country," panted the covers of an early edition, "the novel that may not be one."
---
It begins with a firing squad and ends up a classic read
Fifty years after being published, The Day Of The Jackal still grips from the first sentence. Here is how Frederick Forsyth's landmark thriller begins…
It is cold at six-forty in the morning of a March day in Paris, and seems even colder when a man is about to be executed by firing squad. At that hour on 11th March 1963, in the main courtyard of the Fort d'Ivry, a French Air Force colonel stood before a stake driven into the chilly gravel as his hands were bound behind the post and stared with slowly diminishing disbelief at the squad of soldiers facing him twenty metres away.

A foot scuffed the grit, a tiny release from tension, as the blindfold was wrapped around the eyes of Lieutenant-Colonel Jean-Marie Bastien-Thiry, blotting out the light for the last time. The mumbling of the priest was a helpless counterpoint to the crackling of twenty rifle bolts as the soldiers charged and cocked their carbines.

Beyond the walls a Berliet truck blared for a passage as some smaller vehicle crossed its path towards the centre of the city; the sound died away, masking the "Take your aim" order from the officer in charge of the squad. The crash of rifle fire, when it came, caused no ripple on the surface of the waking city, other than to send a flutter of pigeons skywards for a few moments. The single 'whack' seconds later of the coup dê grace was lost in the rising din of traffic from beyond the walls…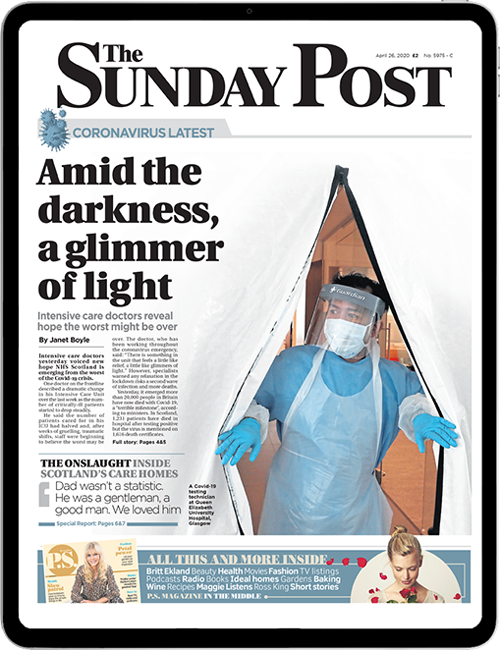 Enjoy the convenience of having The Sunday Post delivered as a digital ePaper straight to your smartphone, tablet or computer.
Subscribe for only £5.49 a month and enjoy all the benefits of the printed paper as a digital replica.
Subscribe