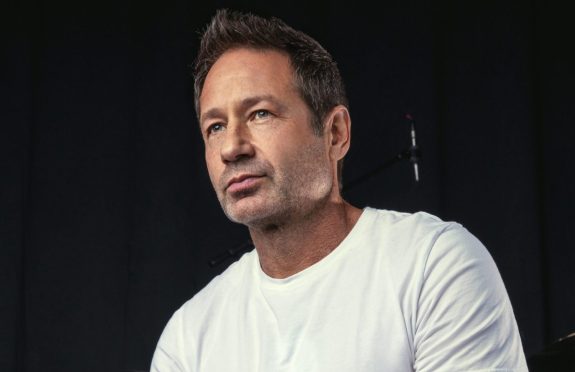 The mid-morning California sunshine bathes David Duchovny's home in light as our interview begins, but his mind is already in wintry Scotland.
The X-Files star is returning to his mother's homeland next week for the first time in seven years, and this visit will be one of his most poignant.
"My mom died about a year ago now. She was 92," David says about Meg Miller, who came from the Aberdeenshire village of Whitehills, before moving to the States as an adult. "The first concert I played in Europe – probably the first concert I played to more than 50 people – was in Glasgow and it was on my mom's birthday, and I got the crowd to sing happy birthday to her."
David's return to Scotland next week kicks off his latest tour, as he continues his unlikely but acclaimed music career. It begins in Edinburgh next Monday and moves on to Glasgow 24 hours later.
"I'm looking forward to being in Edinburgh," he continues. "My mom went to the University of Edinburgh, and I know they have the cannon up on the hill, Mons Meg, and that was her name."
I warn him to be aware of the gun going off at one o'clock, should he visit.
"Just like my mom used to go off," he laughs, adding: "We had a film premiere when I was in my 30s which Prince Charles, as he was at the time, hosted. I got to bring my mother to that, which was special for her."
David, now a youthful 63, wore the kilt for the premiere. It's an outfit he's been seen in many times over the years.
"I wore it at the last gig in Glasgow. I don't know if I'll bring it this time. I'm not above any of that easy pandering," he smiles. "I do like a kilt. It's become more popular as less formal wear, and I like the less formal look of it."
He has childhood memories of visiting Scotland and still has cousins dotted around the country.
"I was there when I was four and again when I was 10. My uncle took me golfing, and I cheated on the first day, so I'm an actual golfer! I remember going off green and hacking away at the ball, saying I took two shots when I probably took eight."
Career longevity
Last month marked 30 years since The X-Files premiered on American TV. It quickly became a global phenomenon, making its previously unknown stars household names. David, as supernatural believer Fox Mulder, played opposite Gillian Anderson as Dana Scully, a sceptic; two FBI agents who investigated paranormal cases each week.
It ran from 1993 to 2002, produced two big-screen movies, and then returned to the small screen for a further two series from 2016 to 2018.
Due to the ongoing actors' strike in Hollywood, David is currently unable to chat about The X-Files or his other past projects like Californication, but I ask him what he reckons is behind his career longevity.
"I'm not precious with what I decide to do," he admits. "I like to say yes; I don't vet stuff severely. If there's some kind of a spark, I'll feel it, or if there's something I see that's interesting to me or something I want to try that I haven't done."
He remains close friends with The X-Files' creator Chris Carter.
"I'm going to see him today. He's stopping by later on," David says. "We were texting yesterday and he sent me an article that I thought I'd sent to him, which is something we do a lot. It was an article by a professor of psychology who says there is no such thing as free will – we are somewhat mandated firstly by chemicals, then nurture or upbringing, to basically do whatever it is we have to do.
"I texted Chris back and said, 'does that mean you had no choice but to cast me 30 years ago?' and he said, 'yes, against all my better instincts, I had to do it'."
Dad-of-two David has released five critically acclaimed novels since 2015, one of which, Bucky F***ing Dent, he recently adapted into a movie, which he starred in and directed. It premiered at the recent Tribeca Film Festival to good reviews.
He credits Chris Carter with giving him an appreciation of story, after spending his academic years reading plot-light literature.
"I'd been in graduate school studying until I was 26," explains David, who has a BA in English literature from Princeton University and an MA in English literature from Yale University. "I didn't read for plot. That's not what you do in graduate school – plot is beside the point. But TV and movies are about plot.
"Acting in Chris' world, I began to ingest the glory of plot and I stopped looking down my nose at what happens and opened myself back up and out of the graduate school mindset I had. I really began to fall in love with a well-made plot. I needed that. Without it, I don't think I would have found my voice as a fiction writer."
Over the years, David thought about writing a novel but wasn't sure it would ever happen.
"That was probably my vision in my teens and during college. If I was an academic, I would write fiction in my downtime. That was my plan. But when I became an actor, I didn't know if I would get back to it. All my creative writing focus was on TV and movies, which is very different from writing fiction."
While writing was always in his blood, his music career was as much of a surprise to David as it was to everyone else.
"I started teaching myself guitar around 12 years ago. I felt comfortable writing lyrics and I have a good ear, and I started to hear melodies over the chord progressions. And, as I became a better singer, I could satisfy what my inner ear was hearing a little better."
His third album, Gestureland, was released during the pandemic, which means his Scottish shows will be the first time he plays those songs live.
He believes he is a better musician now than when he last played here.
"I'm way more comfortable now and more confident singing live. It's fascinating to think back on that first European tour. I was probably less confident that the music was legitimate on its own."
What Happens Later
Alongside writing and music, he is still as busy as ever as an actor. As well as Bucky F***ing Dent, he has also been seen this year alongside Eddie Murphy in You People, horror prequel Pet Sematary: Bloodlines, and will soon be back on the big screen in What Happens Later, a romcom co-starring and directed by one of the masters of the genre, Meg Ryan.
The movie has been granted an interim agreement with the SAG-AFTRA union, meaning David is allowed to talk about it.
"As an actor, it was really great to work with Meg," he says. "She's so natural and charming in her work. A lot of the movie is in these long takes – five-page scenes – which is so satisfying as an actor, because you get to see your work in real time, especially in a comedy.
"I didn't know if it was going to work, but it does. She pulled it off. When I watched the movie, I thought it was the type of comedic timing I've been looking for, but it had felt impossible to get because it's not the way movies are cut any more."
David and Meg play a former couple snowed in at a regional airport overnight who realise they are still attracted to each other – but still equally annoyed with each other. It's the perfect set-up for a romcom, a genre he wanted to play when he first left The X-Files more than 20 years ago.
"I was yearning for what I'd call a Tom Hanks role, a good guy in a romcom, but they didn't come my way. It wasn't the zeitgeist; this was when we turned to what Judd Apatow does, the harder R-rated kind of romantic comedy. They're not of the ilk I thought I was going to get into, so I was sort of flailing around looking for a comedy I could do."
That was when Californication came along, with David playing chaotic writer Hank Moody, who is desperate to get back with the mother of his daughter but can't help messing up. He won a Golden Globe for his performance, becoming the first actor to win Golden Globes for both comedy and drama, having previously won for The X-Files.
"This movie harkens back to a tone I wanted to try a long time ago but didn't get the chance to. It's like the screwball comedies of the '50s, when the rapid dialogue was the star."
He adds: "For Meg to trust me to do that, for her to trust us to do that, with no real reason to know it would work, was great."
---
David Duchovny, Assembly Rooms, Edinburgh, Old Fruitmarket, Glasgow, November 6-7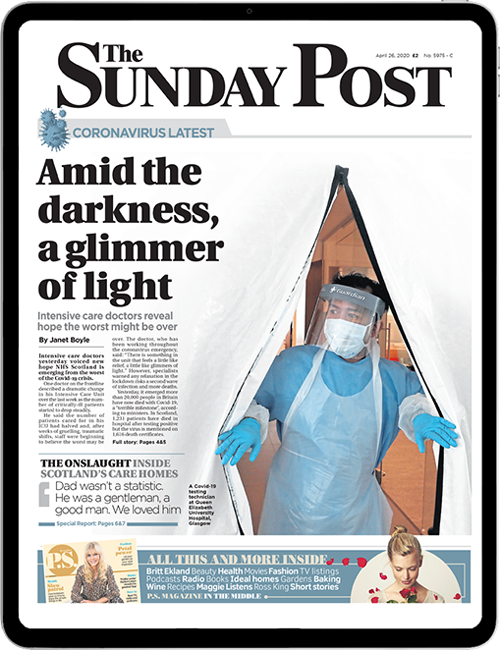 Enjoy the convenience of having The Sunday Post delivered as a digital ePaper straight to your smartphone, tablet or computer.
Subscribe for only £5.49 a month and enjoy all the benefits of the printed paper as a digital replica.
Subscribe