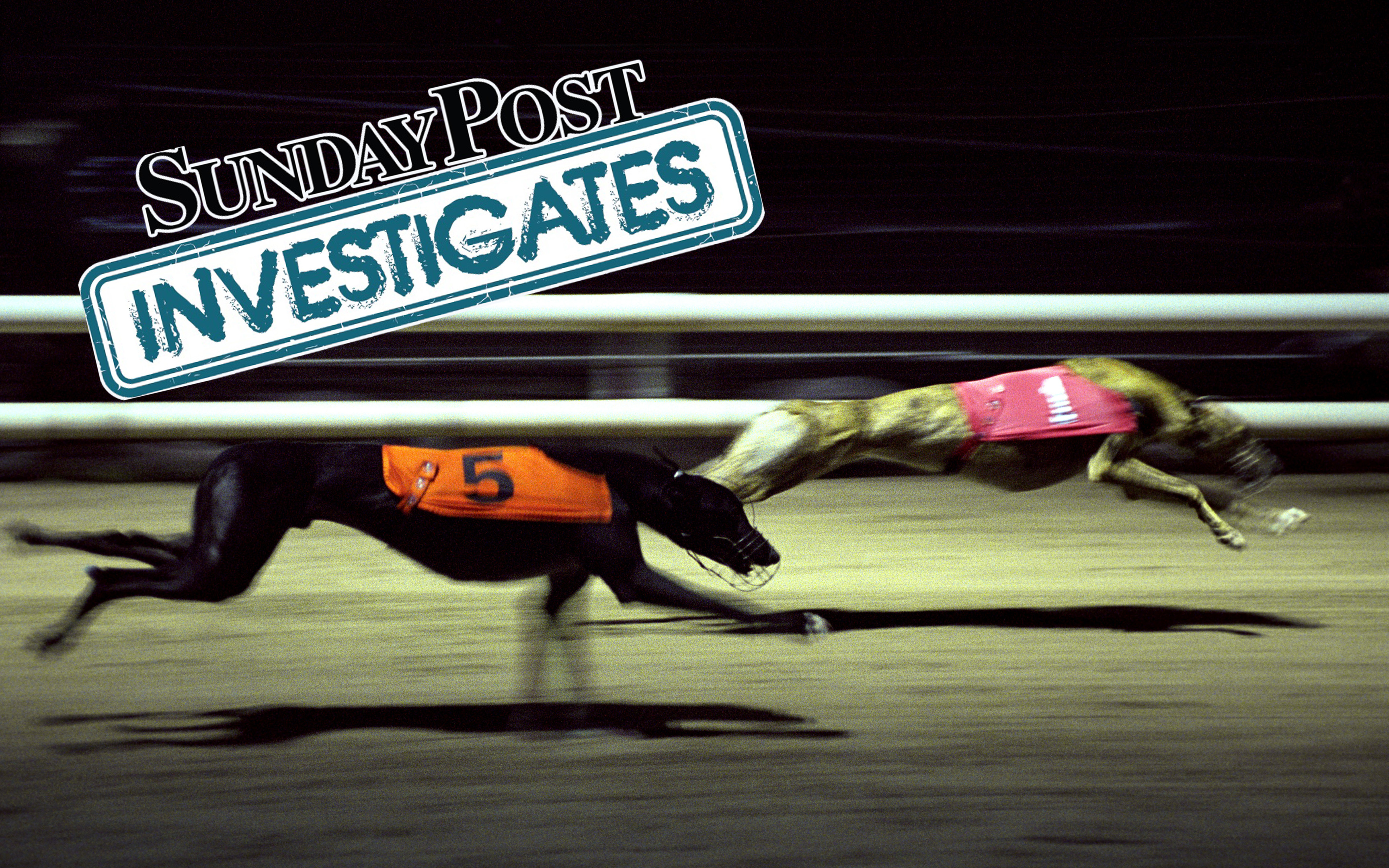 INNOCENT dogs are being drugged and made to run in rigged races by greedy and corrupt greyhound trainers, a Sunday Post probe reveals today.
In a three-month undercover investigation, we have discovered that greyhounds are given dangerous drugs to make them run either faster or slower. The illegal practice means races can then be fixed – with huge profits coming from betting on the rigged outcomes.
This drugging of defenceless animals is openly talked about on the greyhound circuit.
We caught one greyhound trainer on video boasting how he deliberately slowed down his dogs in order to rig races to get better odds.
Willie Finnie, 50, said he used prescription-only valoids to slow down his racing animals.
Keen to cash in, he then made arrangements to get some for our reporter, who was posing as someone looking to get involved in the sport.
Valoids are a human drug used to treat vertigo and should only be given out by a doctor. They should never be given to animals.
Finnie said: "Give me a list. If I can't get it here, I'll get it in Ireland. I go over to Ireland every couple of weeks. Anything you need – injections or anything – I'll get it."
Quizzed about why anyone would want to slow a dog, he said: "Everybody will then think it can't run and you get a good price for it when you go to bet on the dog."
He added: "That's what we do. But if you get caught with them you're snookered."
Valoids have the chemical name of Cyclizine and are an anti-histamine drug given to treat humans for nausea, vomiting and dizziness.
But in racing dogs they are used to sabotage performance – with reckless disregard for the dog's welfare.
By slowing a dog, a trainer can lengthen the odds on it. Then, once it has been categorised as a long shot, the dog can run without drugs, vastly increasing its chances of winning.
This is race-fixing and is illegal.
Meanwhile, selling prescription medicine on the black market and doping dogs is a contravention of the Veterinary Medicines Regulations of 2013 and the Animal Health and Welfare Act of 2006. Breaking those laws could result in a prison sentence of up to six months and a maximum £2000 fine.
Finnie is a well-known trainer who regularly races his four dogs at tracks across Scotland.
The grandfather operates from a semi-detached ex-council house on the main street in Law, Lanarkshire.
Sources told us he was one of the biggest drug-dealers on the Scottish circuit – and so it proved when we met him. We filmed him selling us drugs and boasting how he could get us anything we wanted in Ireland. Discussing a deal to buy valoids for a greyhound, Finnie said: "You can get different stuff. You can get valoids. It slows the dog down."
He also illegally sold our reporter medication to speed up greyhounds, which he said he had bought in Ireland, where he travels every couple of weeks in his Peugeot van.
He advertises himself on internet forums as a transporter of greyhounds from Ireland into Scotland – but it's his drugs sideline which appears to be more lucrative.
Handing over 100ml of Intravit 12 vitamin injections which he said would give our dogs a "wee boost" before a race, he said: "If you get caught with this, don't say I gave you it. You are only supposed to get them from vets."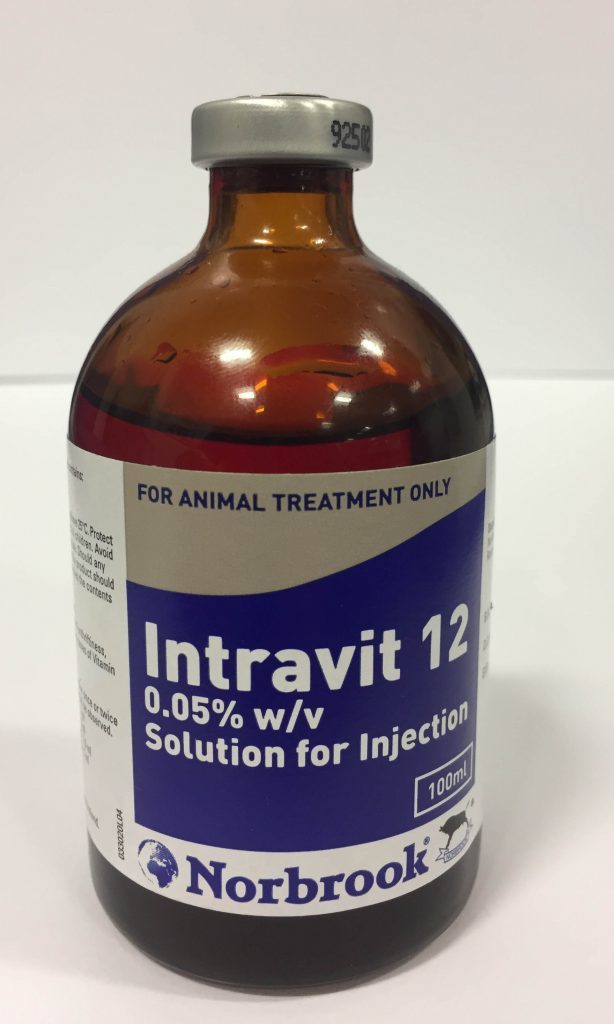 We followed Finnie to Thornton in Fife and Gretna dog tracks. He was also a frequent racer at Armadale track before it closed in October.
Finnie openly admitted to our reporter that he had been raided by police at Armadale – but no charges had followed. He said: "I got turned over not that long ago.
"They emptied my van. They took eight bags of stuff from my shed. They turned my house over and got all the veterinary stuff I was selling."
Then he added: "I'm feart to bring anything back now – but I'll do my best."
Finnie also sold us packets of Primolut – a hormone treatment for human females – to prevent racing bitches coming into season and stop them racing.
Gudrun Ravetz, president of the British Veterinary Association, said last night: "This is a big no-no. No-one should be giving a dog drugs without a vet's clinical input. The results could be catastrophic."
The closure of Armadale leaves three tracks in Scotland – Halcrow Stadium in Gretna, Thornton near Kirkcaldy and Shawfield in Glasgow. Only Shawfield is registered with the sport's regulator, the Greyhound Board of Great Britain (GBGB).
The other two are known as "flapping tracks", which often act as feeder stadia for bigger meets. The majority of racing greyhounds in Scotland compete at these tracks which don't require vets to be present or dogs to be tested for drugs.
Sources say it's at flapping tracks that drugged dogs are likely to run. Flapping track races aren't televised, but hundreds keen for a flutter flock there.
Across the UK more than £2.5 billion is wagered on greyhound races each year, a substantial part of which is spent at flapping tracks. Household name betting firms, such as William Hill and Ladbrokes, don't operate at flapping tracks, where cash-only bets are placed with independent bookies operating in front of blackboards with chalked odds.
John Robins, of Animal Concern, condemned the doping of greyhounds and said: "Congratulations to The Sunday Post for your work. Animal Concern will ask Police Scotland to look into your findings and take action against anyone illegally drugging greyhounds.
"We will also ask the Government to licence all greyhound racing tracks and close down any where it has been proven dogs are being drugged.
"If punters aren't put off by the cruelty and abuse greyhounds are subjected to, perhaps they might not be so keen to part with their cash when they realise how much cheating goes on.
"Greyhounds are friendly, timid dogs and do not deserve to be abused in this way."
Last night a spokesman for the GBGB defended the sport's track record at registered tracks.
He said: "Issues of integrity that can occur on unlicensed tracks are extremely rare at GBGB- licensed tracks. We have a rigorous regime of drug testing. We spend over £1 million a year on drug testing and 99.4% of samples are returned negative. The vast majority of the remaining positives are not performance enhancing."
The Sunday Post also confronted Finnie, who said: "Don't think so, don't think so mate. I don't even do any of that. I don't know where you got your information from."
The findings of our investigation will be made available to Police Scotland.
Factfile
THE medication Finnie sold us can be used in greyhound racing legally. But only via a vet – not a back-street dealer like Finnie.
Primolut is a hormone treatment, used primarily by human females.
Surprisingly, greyhound trainers have been permitted to use it to suppress a bitch's menstrual cycle since 2011.
According to the British Small Animal Veterinary Association, the drug is used to allow a bitch to race, regardless of where she is in her cycle.
But its website warns: "Careful consideration needs to be given to the method of medical oestrus suppression to comply with the requirements of both the Veterinary Medicines Directorate and the Greyhound Board of Great Britain (GBGB)."
The GBGB's rules say it should only be prescribed by a vet.
Intravit B12, a man-made vitamin shot whose main active ingredient is cyanocobalamin, also falls into the same boat.
We sent both drugs to the accredited firm IPOS, based at Huddersfield University, to test.
After being examined by experts, both were shown to be the real thing.
Do you have information on drugged dogs? Email mail@sundaypost.com or call 0141 567 2812
---

Do you have an issue or a story which you think our investigations team should be looking into? Send your tip offs, in full confidence, to the following:
By email: investigations@sundaypost.com
By mail: Investigations team, The Sunday Post, Room PM.04, Scottish Parliament, Edinburgh EH99 1SP,
By secure messaging: @Apicken on Telegram
By telephone: 01382 223131 (9-5, Mon to Fri)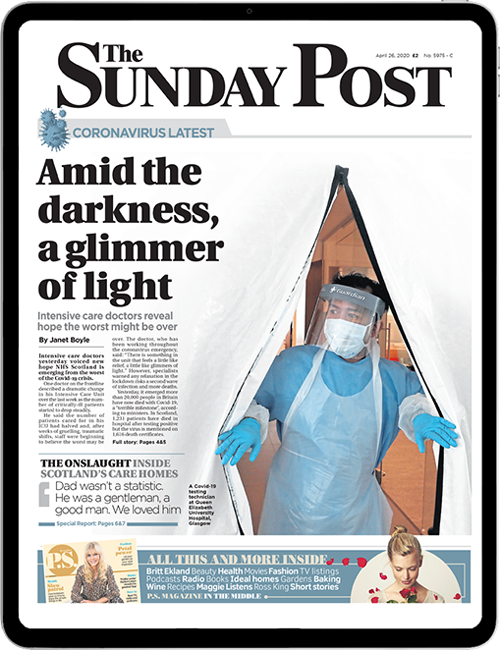 Enjoy the convenience of having The Sunday Post delivered as a digital ePaper straight to your smartphone, tablet or computer.
Subscribe for only £5.49 a month and enjoy all the benefits of the printed paper as a digital replica.
Subscribe