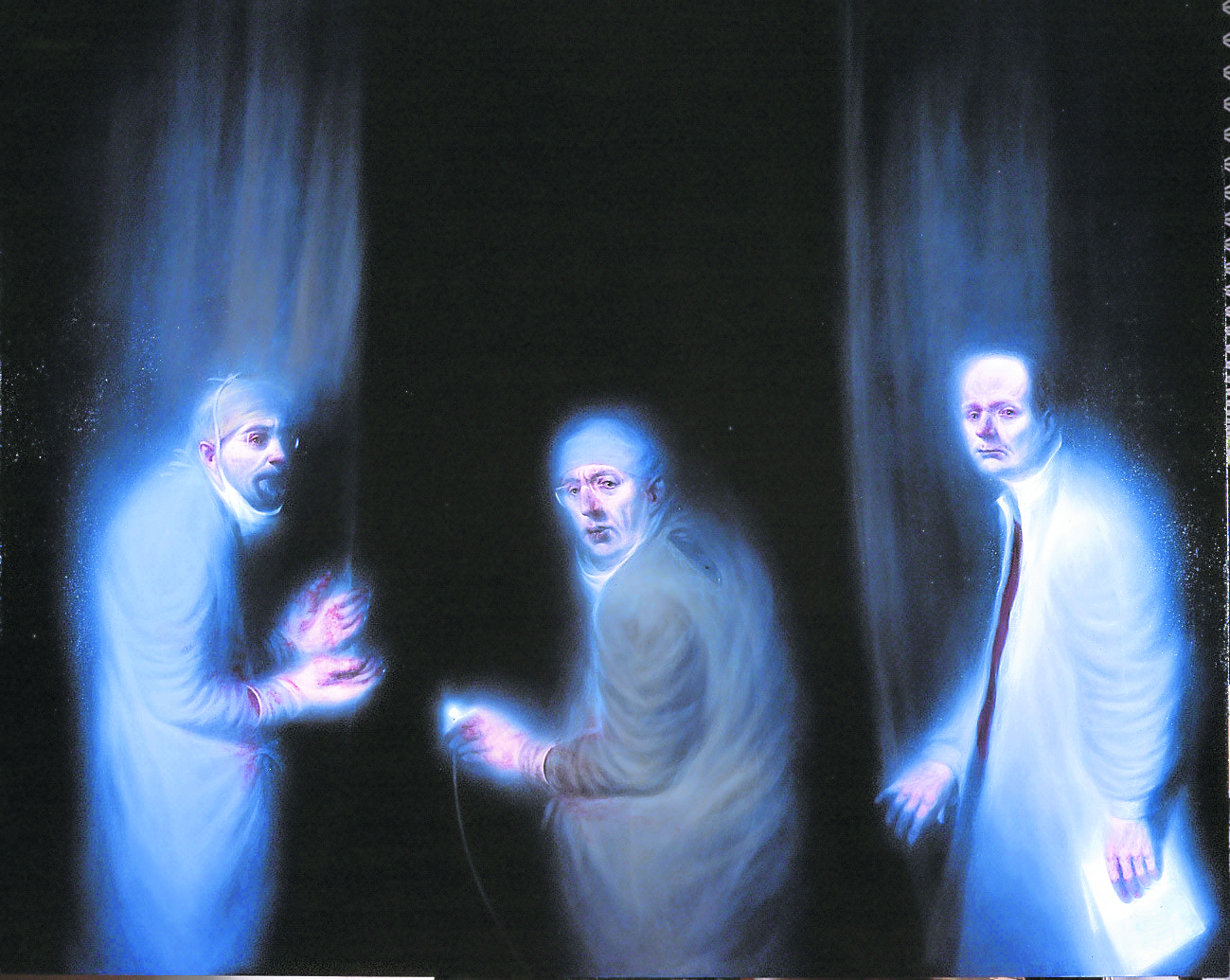 OVER 15 years, it has become one of the most iconic paintings in one of Scotland's most famous galleries.
The Three Oncologists has fascinated visitors to the National Portrait Gallery in Edinburgh since being completed by artist Ken Currie in 2002.
The red-rimmed eyes of three of Scotland's leading cancer specialists look out of the vast painting as they prepare to go into the darkness.
Currie – one of the acclaimed New Glasgow Boys – created the masterpiece after watching them in the operating theatre and lab. Two of the professors, Sir Alfred Cuschieri and Robert Steele, are surgeons trained to attack cancer by cutting it out.
The third, Professor Sir David Lane, is credited with the landmark discovery of a cancer gene.
He helped inspire the artist's vision after suggesting that many patients spoke of cancer as a darkness and that it  was the role of the surgeon to go in and, hopefully, bring them back into the light.
The trio all worked together at Ninewells Hospital and Dundee University, helping to lift the Tayside institutions to world prominence.
Here, 15 years after their portrait was unveiled, we speak to them.
PROFESSOR ROBERT STEELE
ON the left of the portrait Professor Robert Steele looks up, his gloved hands covered in blood.
The esteemed surgeon's bowel cancer screening service has saved hundreds of patients.
His research led to the introduction of the faecal occult blood test which detects bleeding and suspicious polyps.
Professor Steele, 65, said: "As a registrar in Aberdeen in the 1980s I saw too many patients die from bowel cancer and knew if we could detect it early we could save lives.
"Evidence tells us that taking the test improves survival by 30%.
"I take part in it too, and send a kit to myself for my two-yearly test.
"On my wrist is a watch which tells me if I have taken 10,000 steps a day to keep up my exercise.
"I also try to keep a healthy diet, greatly helped by my wife Annie, a nutritionist with a real interest in cancer prevention."
Well over half (57%) of patients return their tests but Prof Steele admits it's an ongoing battle to persuade the rest.
Many are too busy with families and work to remember.
However, Prof Steele's own family story highlights the importance of early detection.
He revealed: "I had to nag my wife to complete hers.
"The test lay on her dressing table for days but I persisted until she completed it.
"It showed she had a pre-cancerous polyp which was removed.
"It brought home to me that busy lives do get in the way of cancer screening and chances to be diagnosed early can be lost."
The surgeon now serves as the independent chairman of the UK National Screening Committee.
He misses the hands-on battle to cut out cancer but not the endless hours in the operating theatre.
So does he still dwell on his profile in the painting?
"My mum Betty, 93, is thrilled. When she was more mobile she used to visit the painting regularly and point out her son to visitors.
"I feel honoured but also delighted to be able to contribute to the immense work against cancer."
PROFESSOR ALFRED CUSCHIERI
Professor Alfred Cuschieri remains at the forefront of the fight against cancer as he examines how robots can support surgeons.
He introduced minimally invasive operations, known as keyhole surgery, to the UK.
The pioneering techniques reduced patients' recovery time from months to days. Now he is looking into the use of robotics in surgery at the Institute of Medical Science and Technology in Dundee.
"Surgeons can operate robotic arms which reduce even the tiniest tremor and make surgery even more precise," he explained.
"We are also looking at mini robots which will be able to search for cancer in patients' intestines."
Now 79, he has no plans to give up work. "I don't feel that working a full week is especially tiring.
"My grandmother lived until 105 and my mum, 93.
"So I will work until I drop because the thought of retiring is alien to me."
Prof Cuschieri was born in Malta just before the start of the Second World War.
He recalled: "My earliest memories were the sound of bombs as I hid as a toddler with my family in bomb shelters as the Luftwaffe bombed the island.
"The shelters were often caves.
"Ironically, my middle name, Pacic, means peace.
"The heavy bombardment flattened the island, making it impossible to grow any food, and I remember what it was like to feel hungry.
"All the animals were killed and nothing was grown for a while after the bombardment. But the most important factor in making me who I am today was that I was the fifth of eight children.
"That was a huge lesson in learning to compromise, as anyone from a large family will tell you."
He won a scholarship to study in Oxford and afterwards London.
Then, while working as a young surgeon in Liverpool in 1975, he was seriously injured in a car crash. "A police Land Rover crashed into my car while it was chasing some criminals," said Prof Cuschieri.
"I spent a year in hospital with a bad central fracture to my pelvis.
"That taught me a lot about being a patient."
He had to attend a job interview at Ninewells Hospital on crutches.
"I was accepted and have been here ever since."
As the UK's leading expert on minimal access surgery, he was responsible for training other surgeons.
Even now, Prof Cuschieri is determined to keep fighting on behalf of his patients.
One still writes to him 45 years after he saved his life.
"It's nice to have made a difference to people's lives," he smiles.
"The portrait is a huge honour."
PROFESSOR SIR DAVID LANE
Professor Sir David Lane is revered by the world's top scientists for his discovery of a cancer-preventing gene.
The p53 "guardian of the genome" can help beat the disease by switching off damaged cells that can cause tumours.
Sir David and his wife Birgit worked as scientists at Dundee University until 2009 and helped establish it as a world-renowned research centre.
Now aged 65, he is chief scientist at the Agency for Science, Technology and Research in Singapore.
But his early schooldays gave no indication of his scientific ability.
He happily admits he was a poor student who only just managed to get into grammar school.
Being one of five children taught him the importance of family.
"I cannot overemphasise the impact of family environment," he reminds students.
It was while he was a student at University College London that his father died from colorectal cancer.
His mother Celia was left to bring up her young family.
Losing his father proved a significant turning point in his life.
His old professor Avrion Mitchison deemed him the best student he had ever taught at University College.
Today Professor Lane has 350 research papers to his name. His work is widely referenced by leading scientists.
Describing his role to artist Ken Currie, Sir David explained that people saw cancer as a darkness.
It was therefore the job of oncologists to go in and retrieve people from it.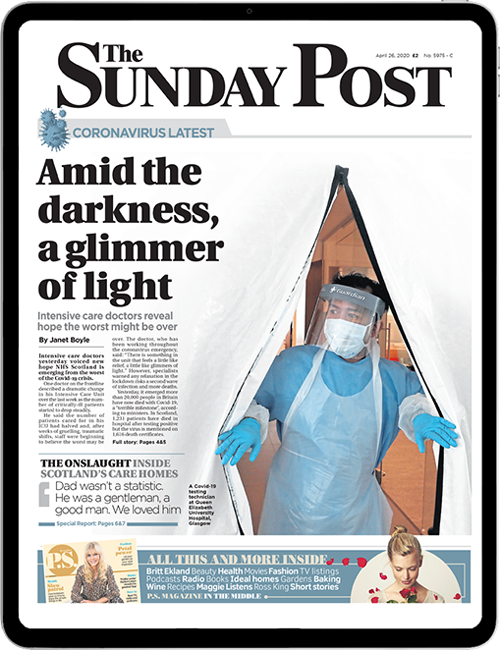 Enjoy the convenience of having The Sunday Post delivered as a digital ePaper straight to your smartphone, tablet or computer.
Subscribe for only £5.49 a month and enjoy all the benefits of the printed paper as a digital replica.
Subscribe