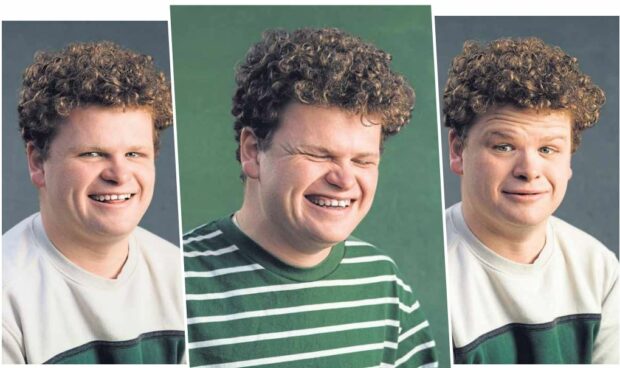 For rising star Dan Tiernan, his comedy career and living with dyspraxia have formed a symbiotic relationship.
Living with the developmental co-ordination disorder, which affects his movement, has led to stories central to his hilarious, high-energy stand-up.
But it's also allowed him to learn to take ownership of the way he is and use it to help find the humour in life.
"Comedy and dyspraxia have gone hand in hand for me," he said. "With my act I'm very physical and I've learned to just embrace my movement and my dyspraxia.
"I think it makes you learn to be quite funny, you're always falling over and stuff and you learn to sort of find the humour in life.
"Comedy has been massive for me, really. There was a period in my life where everything I tried to do, I felt I couldn't get a career in it because I wasn't organised enough. Don't get me wrong it was really, really hard, with times when my lack of time planning really got me in pickles.
"With comedy, though, I felt like I just slotted right in. On top of that, I get to talk about dyspraxia and make people laugh about it, which is really nice. It's never really my intention, but maybe I educate people a little bit about it, which is no bad thing."
Dan says he got lucky with his diagnosis. It was picked up by a teacher, who happened to have been researching dyspraxia when Dan was in his first year of primary school.
"I was really, really struggling," he recalls. "I remember just being a bit different, really. Luckily my parents really wanted to understand what it was and help me.
"Right now, at the age of 27, I probably have the handwriting of a six or seven-year-old. My spatial awareness is bad, I'm always pushing into people by accident, dropping things, holding things in weird ways, forgetting short-term memories. That's pretty bad.
"You could get me to hold something and then 10 seconds later it's gone and I don't know where or why.
"Obviously there's loads of other things that have happened as a result, my relationship with education and exams and all of those kind of things probably add up to why I've ended up in this career path."
EDINBURGH FRINGE POSTER 🤩🥳@_drewforsyth is incredible 📸 pic.twitter.com/cnUgsKrc2q

— Dan Tiernan (@tiernancomedian) June 8, 2023
Having supported Micky Flanagan and Fern Brady on tour, the Fringe show is the next step in his career progression.
He followed in the footsteps of Josie Long, Peter Kay and Alan Carr by winning last year's BBC New Comedy Award and, as the current reigning British Comedian of the Year, Dan has now been able quit his job dishing out school lunches and go full-time in comedy.
"It's the thing you're gunning for since you start. It's obviously a huge step but you spend years trying to get there.
"It just happens. You start cutting down your hours of work and when you get enough gigs to pay your rent, you think 'gosh, I can do this'.
"I'm really proud. I wish I could tell my 12-year-old self that I did it. Even if I have to go back to another job after the end of the show because no-one's watched it, I'd still be pleased that I got that bit of time to do this as my job."
His debut Fringe show, Going Under, covers a lot of heavy ground but also promises a whirlwind, gag-heavy hour.
It sees Dan process a big year for him career-wise, all while dealing with his younger sister's cancer diagnosis, and the new-found freedom and struggles of moving out of his parents' home.
"A lot of it is basically all the best jokes I've ever written since I started comedy," he said. "I'm gay, I'm dyspraxic. I'm struggling to find independence. And then there's also some quite dark personal things that me and my family went through.
"It sounds a lot more arty than it is. My style is really daft jokes. It is just an hour of absolute chaos, loads of jokes, a lot of screaming… I'm really happy with it!"
Dan has already started his run and is aiming to focus his energy on performing while also enjoying the festival.
With the Fringe an intense experience for anyone involved, he's particularly keen to find himself a routine to help keep things on track.
"In other years, I could do up to 10 spots a day, literally rushing around the city all day," he said.
"The big thing I'm going to do is try and not take on as much and not go to bed too late. It's very easy to get carried away and being tired is really not going to help me.
"I'm really bad at implementing it, but hopefully I can get a nice routine in place, maybe go for a little run before my show or something like that. I've never worked out any set way to manage dyspraxia stuff, I kind of just work it out as it goes. I've built up a resilience – you just have to accept not having a lot of control over things."
Despite attracting people from all around the world and covering so many sectors of the arts scene, accessibility at the festival still continues to be an issue. It's something Dan is keen to see improve.
"If you've got a physical disability, it is a really inaccessible place," he said. "I speak to new comics in chairs all the time, asking if they're going to the Fringe and it'll be tough.
"You've got cobbled streets, everything's uphill and then on top of that, a lot of the venues are really inaccessible if you want to watch or perform.
"In the last week, I've spoken to three disabled people who have all complained about the accessibility. The venue stuff are all great, but you have to ask for them and they will help. It's just a just a shame something so amazing like this is difficult for people to access. It should be for everyone."
Appearing on TV panel shows has been quite surreal
It's been quite a year for Dan Tiernan, who is now able to live out his dream of doing comedy full time.
He won the £10,001 top prize in the British Comedian Of The Year 2022 competition, and also triumphed in the televised BBC New Comedy Awards the same year. The latter saw more than 1,000 comedians apply, with 80 selected to appear at showcases across the country, and 30 then progressing to the six regional heats, screened on BBC3.
The awards certainly put Dan on the map – and he's still trying to get his head around some of the opportunities they've led to.
"To be honest, I still can't quite believe that I'm working full-time in comedy.
"I've done some things I never thought I'd do, recorded TV panel shows, supported Micky Flanagan on tour, and I did a photoshoot for Hello Magazine. It's mad.
"My mum said to me recently that she can't even ask me what I'm doing with my day because she's scared of what the answer would be! Which is a bit of an over-exaggeration. I'm often not doing much that's very exciting, but it's all completely changed my life."
One of the most surreal moments for Dan was being invited along as a panellist on the upcoming series of QI.
He pitted his wits against Zoe Lyons, Josh Widdecombe, Alan Davies and host Sandi Toksvig for an episode airing this autumn.
"I like to think I've got to a point where I can be presented with a really mad opportunity in stand-up and know how to deal with the nerves and just go out and do it," he said.
"Doing QI or any of the panel shows I've done has been so different because I'm just not used to the actual process of sitting behind the desk.
"It was weird, the nerves beforehand and then, on top of that, I was with heavyweights, panel show stars, people I was watching as a kid on TV.
"QI took me a bit of a while to get into it. I think I'm getting a bit better at becoming a bit more desensitised to who these people are, you can't think about it too much or it freaks you out.
"You feel like, actually, at times you're watching the part of the show and then you realise, no, you're on the show, you need to say something now. It's really stressful, but everyone was absolutely lovely and I had a great time.
"I'm hopefully starting to learn how to kind of deal in that environment a little bit more."
---
Dan Tiernan: Going Under, Monkey Barrel Comedy – Monkey Barrel 2, Aug 1-13, 15-27, tickets.edfringe.com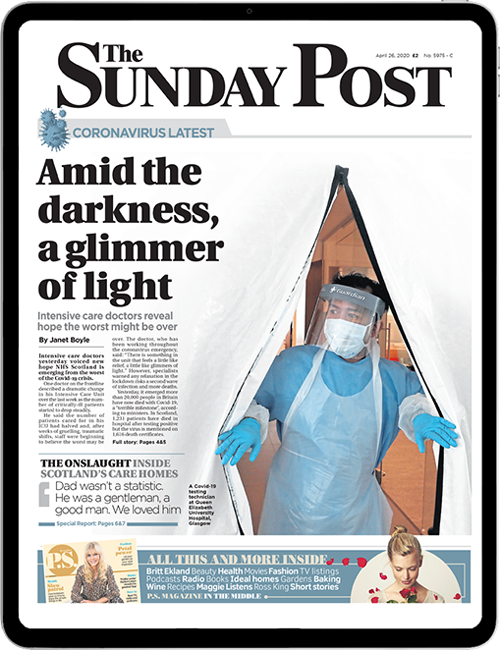 Enjoy the convenience of having The Sunday Post delivered as a digital ePaper straight to your smartphone, tablet or computer.
Subscribe for only £5.49 a month and enjoy all the benefits of the printed paper as a digital replica.
Subscribe