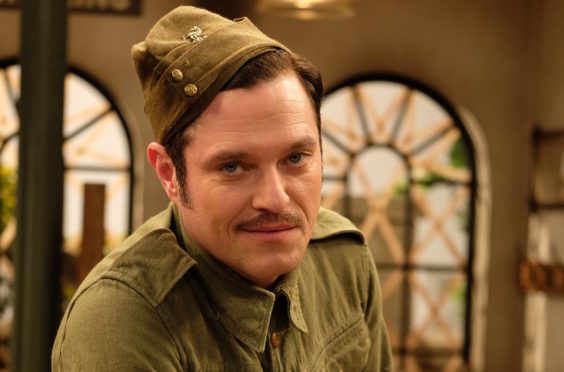 He's about to face the pressure of being judged on bringing not one but two comedy classics back to our screens, Dad's Army and Gavin & Stacey.
Three lost episodes of the much-loved Home Guard sitcom have been made for the small-screen, while Gavin & Stacey is already tipped to be the biggest show this Christmas.
But Mathew Horne has the perfect way to ease the strains – getting back to his beloved Scotland.
Although he's from Nottingham, Gavin is an Essex boy and Private Walker a Cockney spiv, there's nowhere Mathew feels more content than when he's north of the border.
"Scotland is my spiritual home," said Mathew, 40.
"It's the best country in the world. My shoulders drop and I feel free. It is where my heart lies and hopefully one day I will have a place of my own there so I can retreat as and when I need to. I do anyway, I get back just as often as I can, but I stay in hotels and Airbnbs.
"Most of my downtime when I'm not working is now spent in Scotland.
"I live bang in the middle of central London and have done for the past 15 years. It can get quite oppressive, so Scotland is my place of sanctuary.
"I love the peace and tranquillity and the people. The food is wonderful, the weather is nowhere near as bad as everybody says and midges don't like me, so that's good."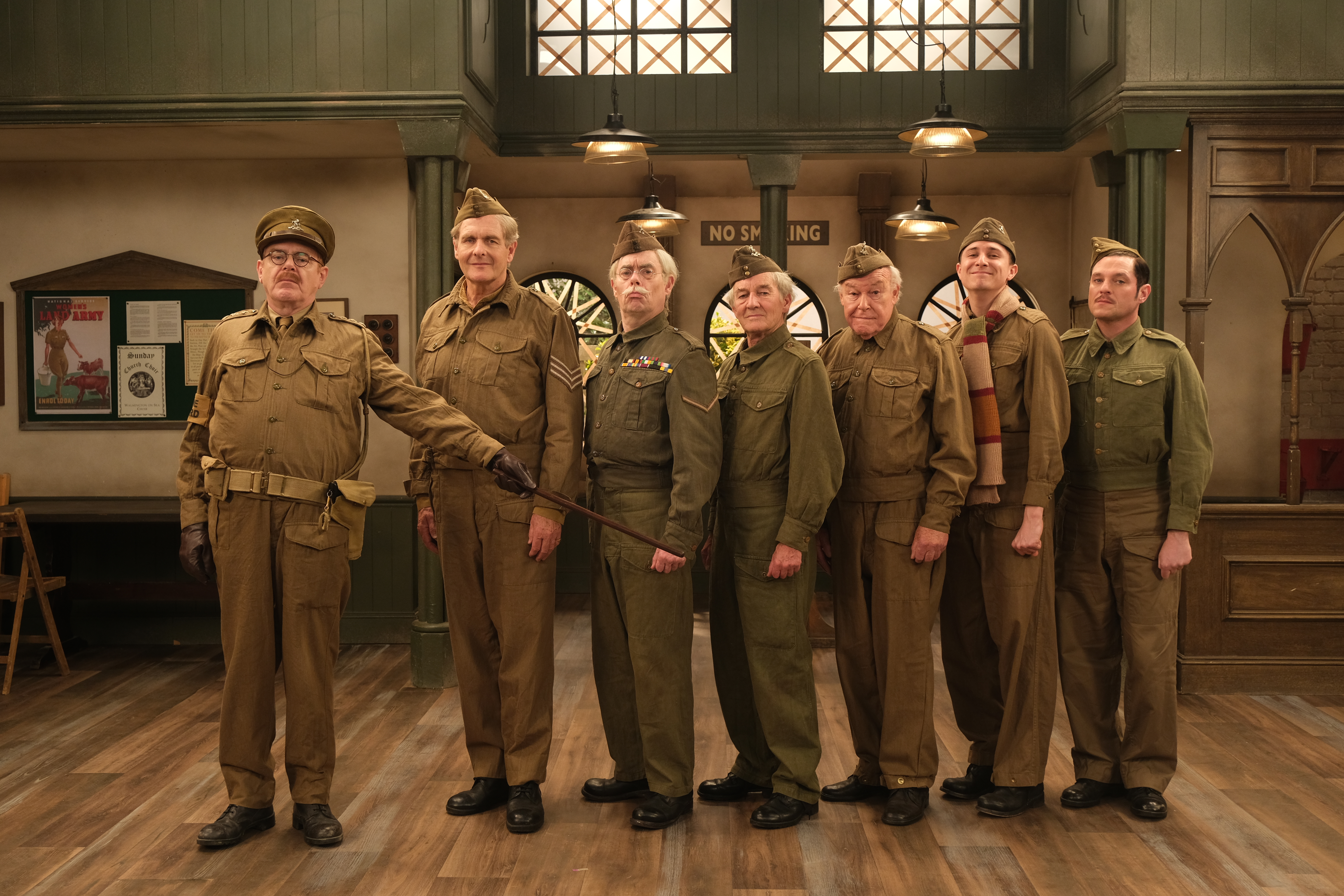 Mathew has spent the past decade touring every part of Scotland, right up the west coast and through the Highlands as well as knowing both Glasgow and Edinburgh very well.
Helmsdale, a village on the east coast of Sutherland, is where he'd love to have his bolthole, and became the focus of his visits because of a family connection.
"I have a very special relationship with Helmsdale," said Mathew. "It's partly because of discovering it when I was in the Highlands because of my ancestry through my great-great-grandparents who were from Huntly.
"That makes me one eighth Scottish, although I wish I was more.
"My great-great-grandfather, Charles Horne, wrote a book called The Kingdom of Forgue. I've got a copy and it's partly poems and partly short stories, including a true tale about him witnessing a murder.
"I wanted to see where he lived and wrote and I found Huntly still quite bohemian and artistic to this day."
Mathew will pay another visit when he tackles the North Coast 500 but although he's become smitten with the north-east of Scotland, Edinburgh is another part of the country for which he holds great affection.
He made his comedy debut at the Edinburgh Fringe Festival in 2000 and it was a life-changing moment."I was 20 and if it wasn't for Edinburgh I wouldn't be an actor, I wouldn't be where I am today," he said.
"The festival holds a special place in my heart. I try to go back as much as I can as a punter, although I'm not entirely sure I'd want to go back as a performer. That's purely because it's like a business expo these days, although it's still the most incredible festival in the world.
"It's such a beautiful city but I love Glasgow just as much because 30 minutes north and you're on the banks of Loch Lomond."
Dad's Army: The Lost Episodes consists of three episodes from the second series of the sitcom which, despite finishing in 1977, is still a fixture on BBC2 on Saturday nights.
They were recorded over, as happened to a number of classic BBC programmes from the past, and these remakes will use the original scripts by Jimmy Perry and David Croft.
Kevin R McNally takes on the role of Captain Mainwaring, Robert Bathurst is Sergeant Wilson, Kevin Eldon is Lance Corporal Jones, David Hayman is Private Frazer, Tom Rosenthal is Private Pike and Timothy West is Private Godfrey.
"It was a real surprise at first but when I looked into it, there was every reason to do it," said Mathew.
"There is a huge responsibility because you want to do it justice. You want to remain faithful but it's impossible to replicate it authentically because we're not the same actors.
"The fear, though, didn't outweigh the excitement and challenge of doing it so I felt it was a bit of a no-brainer. It was an honour to be asked."
Like several generations, Mathew grew up with the show which he says is "part of British television culture."
While he had obviously watched it as a boy, Mathew says he settled down for some binge viewing to ensure he was as well prepared as possible.
"I watched hours and hours of it," admitted Mathew. "It wasn't specifically to do an impression of James Beck, who played Walker. I didn't want to mimic what he was doing, it was more to get a feel for his character and how he fits in the gang.
"As well as the preliminary work I did, when we were rehearsing as a gang we did a lot of research, only some of which took place in the pub.
"We'd watch episodes and pick things up about mannerisms and little ticks to use. It was very much a team effort."
The other screen return will be that of Gavin & Stacey. The sitcom, written by James Corden and Ruth Jones, starred Mathew and Joanna Page in the title roles.
It started on BBC Three in 2007, but by the time it finished on New Year's Day in 2010 it was pulling in more than 10 million viewers on BBC1.
"I've known about it for a while and I knew people would be excited," said Mathew. "But to see the comeback announced on the One O'Clock News and the Six O'Clock News after headlines about Brexit was just bizarre and extraordinary.
"I don't think any of us expected people to react in such an intense and positive fashion.
"For the last 10 years the first question any of us has been asked is if Gavin & Stacey was coming back.
"I know that Ruth and James never wanted to do it unless they had a story they felt would do it justice.
"They finally did that a few months ago and I think it's really beautiful."
Corden now has a millionaire lifestyle in Los Angeles as host of the Late Late Show, and although he and Mathew used to appear inseparable, there were reports of a rift between the two sitcom stars.
"That was followed by stories that we'd healed the rift," added Mathew.
"The truth is that there was never any rift and everything is fine.
"James and I have always been friends and we always will be. I talk to him quite a bit given the time zones and it was great to see him and be acting with him again."
---
The episodes
One of the three lost episodes remade is A Stripe for Frazer.
The episode, written by Jimmy Perry and David Croft, originally broadcast on Saturday, March 29, 1969. It was the fifth episode of the second series and fans say it was a biggie.
It was in this episode that Captain Mainwaring gets to wear his officer's hat for the first time, and we discover what happened when Sergeant Wilson jilted Mrs Pike at the altar.
It tells of the intense competition for a corporal's stripe as Private James Frazer, played by John Laurie, who died in 1980, vies with Lance Corporal Jones to win a little power over their colleagues.
After the show aired, the videotape was returned to the BBC engineering department where it would be wiped and new programmes recorded on top. A Stripe For Frazer was presumed lost until a fan came forward with a private collection of audio tapes in 2008, allowing an animated version to be made.
The new remakes are the first dramatised version since the originals were screened.
Dad's Army was broadcast on the BBC from 1968 to 1977, ran for nine series and was regularly being watched by 18 million viewers.
---
The remakes
Scots actor David Hayman, who plays Private Frazer in the remakes, revealed how the audience at the filming of A Stripe For Frazer stood and cheered at the famous anti-German line: "They don't like it up 'em!"
Hayman, whose character was known for his "we're doomed" catchphrase, said: "I'd never seen anything like it. They were on their feet. They unleashed the beast. No wonder we are heading for Brexit."
In the episode, actor Kevin Eldon delivers Corporal Jones's now non-PC line.
Producers had to stop the show's recording twice to ask the audience to calm down.
He said: "Joe, our floor manager, had to say, 'Ladies and gentlemen, can we ask you not to cheer? It certainly is a Brexit age."
---
Dad's Army: The Lost Episodes, Gold, August 25-27, 8pm. Gavin & Stacey will be screened on BBC One on Christmas Day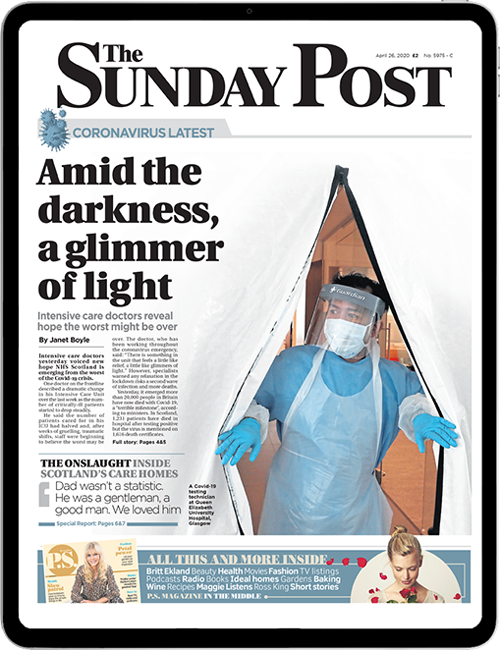 Enjoy the convenience of having The Sunday Post delivered as a digital ePaper straight to your smartphone, tablet or computer.
Subscribe for only £5.49 a month and enjoy all the benefits of the printed paper as a digital replica.
Subscribe