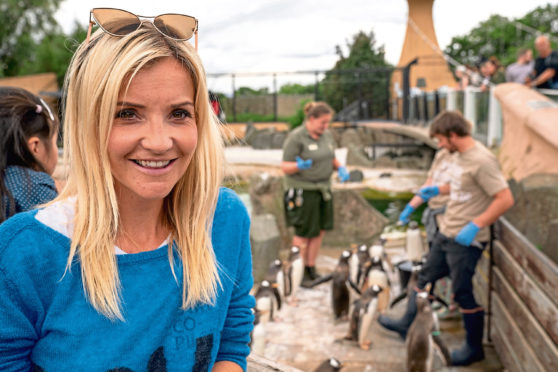 Having grown up around animals, Helen Skelton is used to being up close and personal with nature.
But a farming background couldn't prepare the former Blue Peter presenter from coming face to face with an angry leopard.
Helen is presenting Big Week At The Zoo, which begins tomorrow night on Channel 5 and runs all week.
And her encounter with the big cats – a couple of Amur leopards – at Yorkshire Wildlife Park was nothing compared to dairy cows.
"I come to the Yorkshire wildlife park so often I wasn't surprised by the Amur leopards – my kids love watching them," she said.
"We come all the time! They love it!
"I was so lucky to get so close to them and Kim, the head of carnivores, let me assist her in some training with them.
"It was pretty intimidating when the leopard really growled at me, a good reminder that, although beautiful, they are wild animals!
"I grew up on a dairy farm and spent my childhood trying to tame wild farm cats and bring injured birds back to life, so it's fair to say animals have always been part of my life.
"I have two dogs but as soon as I can afford a small holding to fill with rescue donkeys, I will be a content lady!" Helen sees the work of wildlife parks as vitally important in the modern age.
"I am an annoyingly positive person so I love any chance to celebrate what British zoos are doing to protect captive populations of endangered animals such as polar bears," she said.
"Television and animals are an unpredictable and exciting mix so it's never a dull day at work.
"The significance of being so close to a polar bear is not lost on me – they are literally the poster boys for why we should be changing our habits are trying to preserve the planet.
"There is a real risk polar bears will become extinct because they have nowhere to live so a chance to see and celebrate a first-class polar bear exhibit where they are behaving as near to natural as they can in captivity."
Helen also hopes the Channel 5 show inspires the next generation. "How can we expect our kids to get excited about the planet and take responsibility to protect natural habitats if we can't get them excited about what lives here?
"You only have to spend a day with the keepers here to know how much they love and care for the animals here."
---
Big Week At The Zoo, Channel 5, Mon-Fri, 8pm